Aloe vera has become synonymous with hair care. But what is aloe vera? What makes this humble cactus-like plant a superstar in the hair care industry?
Aloe vera is a cactus-like plant that grows in tropical countries. It is widely cultivated in Asia, Africa and the Middle-east and don't need special care to grow. Its leaves contain a gelatinous substance that is used in different industries including food, cosmetics, hair care and skin care. It can also be used raw for skin and hair care.
Aloe vera can be use to solve almost every hair issues you have with its amazing benefits. You can DIY hair mask of aloe vera for hair or you can find the best hair care products with aloe vera for curly hair. 
Benefits of using aloe vera for curly hair

Promotes hair growth
Aloe vera has enzymes that can help cleanse and soothes the scalp. This gelatinous substance when applied to the scalp helps in removing excess sebum that can clog the hair follicles. Amongst the many pros of using aloe vera for curly hair, this is considered the best benefit of using aloe vera on curly hair. We all know that if the scalp and hair follicles are healthy, strong and healthy hair follows.


Prevents dry and itchy scalp
The gelatinous substance in the aloe vera leaf has a soothing and cleansing effect that helps in preventing irritated and dry scalp. A dry and irritated scalp causes flaking and itchiness.


Strengthen the hair strands
Aloe vera contains Vitamins A, C and E that promote cell repair on damaged hair strands. Vitamin B12 and folic acid present in this plant help in preventing hair fall. 


Promotes a balanced pH level on the scalp
Aloe vera has a pH of 4.5 which helps in balancing the pH level of our scalp. Some hair care products in the market contain surfactants that can affect the pH level of the scalp. Applying aloe vera on the scalp can help lower the pH level of the scalp.


Prevent frizz and makes hair shiny
The gelatinous substance in aloe vera is usually used as a natural conditioner that prevents frizz and moisturizes the hair strands.
How to use aloe vera for curly hair?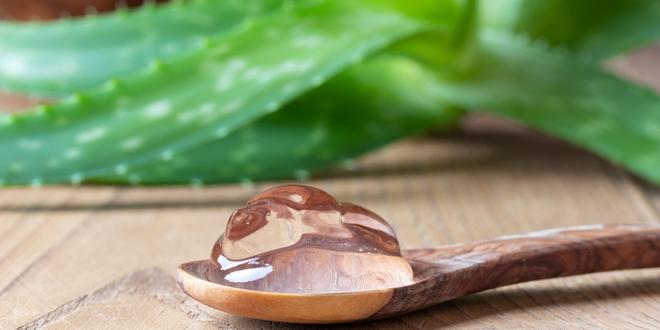 There are many ways how to use aloe for your hair care routine. You can use it as a natural leave-in conditioner, aloe vera hair mask and a curl refresher. Here are some ways how to use aloe vera for your curly hair.
The simplest way to use aloe vera is to squeeze out all the gel from the leaves and massage it directly to the hair and scalp. You can do this on your dry or wet curly hair. Do this as a pre-cleanse before you wash your hair with regular shampoo.  
DIY Hair Mask
Combine aloe vera gel, 6-8 tbsp coconut oil and 1-2 tbsp honey to a paste consistency. Apply on your hair making sure to coat every hair strand. Wrap your head with a shower cap or a towel and leave for 30 minutes. Rinse thoroughly. This hair mask can help in moisturizing your curls.
DIY Aloe Vera Curl Refresher
Combine a half cup of water, aloe vera juice, 1 tbsp jojoba oil and 1 tbsp conditioner in a mixing bowl. Mix them together and strain to remove clumps before putting them in a spray bottle. Be careful not to use aloe vera gel or else your mixture will be too thick and will not come through the spray nozzle. Use this curl refresher for instant conditioning and frizz-free hair.
5 Best Aloe Vera Products for Curly Hair
Tips to care for your curls with the help of Aloe vera
If you are on a tight budget and still want healthy and cleansed curls, you can just buy aloe vera leaf in the grocery and harvest your own gel. You can add other ingredients in the pantry for added benefits.




Aloe vera plant is very easy to cultivate. You can plant your own in your garden so you can have an unlimited supply of this natural hair product.

If you are using natural aloe vera, it is best to do a spot check before applying it to a large area of your skin. 
FAQ
Is Aloe vera good for curly hair?
Yes, aloe vera is good for curly hair and for all types of hair.

How do you use Aloe vera for curly hair?
You can use aloe vera as a hair mask or a pre-shampoo cleanser for your curly hair. You can also use aloe vera as a refresher for your curls.

Is Aloe vera good for frizzy hair?
Aloe vera is good for combating frizzy hair. The gelatinous substance of aloe vera leaves is a good moisturizer to keep frizz away.

Can you leave Aloe vera on your hair?
Use aloe vera as a hair mask and leave it on your hair for 15 minutes. Rinse well with your regular shampoo. 

Does Aloe vera help in hair growth?
Aloe vera contains enzymes that remove product build-up on the scalp. It can also remove excess sebum that clogs the hair follicles promoting hair growth and healthy hair.

Can Aloe vera damage your hair?
Everything that is used in excess can damage your hair and skin. Before using aloe vera, do a spot check to see if your skin will react well to this natural product.

Can we apply Aloe vera to the hair daily?
Pure aloe vera gel is generally safe, although some curls may not take is due to the composition of curly hair strands. For curly hair, it is recommended to use aloe vera a few times per week instead of every day.

Does Aloe vera thicken the hair?
Aloe vera can help in hair growth. It contains enzymes that can lift dead skin from the scalp and help unclog pores producing healthy hair growth.


Takeaway
Aloe vera is a very versatile product that can be used for the hair and the skin. Its gelatinous substance has a cooling and cleansing effect making it suitable for dry hair and skin. This humble ingredient is a superpower when it comes to hair care. It works for all types of hair and makes your curls bouncier and healthier. If you haven't tried this superstar plant, then you are missing a lot of good for your curls!