Heat protectant sprays are a must for any hair texture. It is very important to protect your hair from the heat of the blow dryer, curling iron, and other hot styling tools.
In order to find the best heat protectant spray for your curly hair, you need to know what type of curls you have. The best heat protectant spray for curly hair will be different from the best one for straight or wavy or thin hair.
There are many brands on the market that offer heat protectants but it is important to find one that will work specifically with your type of curls. These protection sprays can also be used to help maintain and repair hair texture.
What is a heat protectant spray? Why do you need to use a heat protectant spray for your curly hair?
Heat protectant spray are products that reduce the damage from heat styling. They protect hair from heat during styling. It works by adding a heat protection layer between your hair and the styling tool preventing damage.
They often come in spray, mousse or serum form that you can use on your hair while you style them. But they cannot reverse the damage so if you feel like your hair is getting dry, it is a sign that it is time to give your hair a break from heat-styling.
How can they save your hair from damage?
As we said, heat protectant spray creates a barrier between your hair and the heat styling tool. This protective barrier also smoothens the cuticle, making hair less frizzy and shiny. Some heat protectants can also serve as a styling cream and a leave-in conditioner.
The ideal temperature to use your protective product. The lowest temperature setting is the most ideal for heat styling. Less heat, less damage. But it is still best to read the package before using the heat styling product of your choice.
5 Safe Ways to Use Heat Styling Product without Damaging Your Hair
1. Avoid heat as much as possible
We understand that heat styling really does wonder to your hair. But it can also damage it. Limit your heat styling and when you feel like your hair is starting to look dry, then stop heat styling and give your curls a break.
2. Dry your hair before heat styling
Using heat on wet hair is like frying your hair. All the moisture from your hair strands will evaporate when you iron your curls wet. So the best way to use heat protectant is to apply it on fully dry hair.
3. Use a heat protectant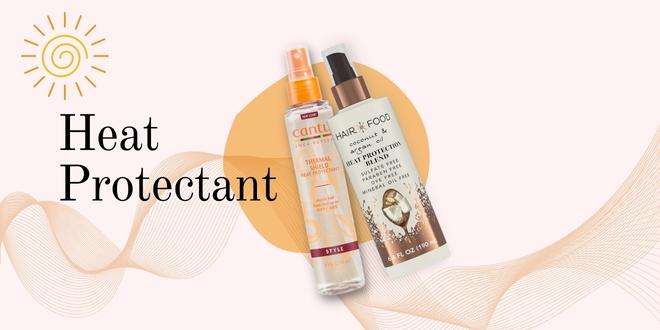 Heat protectants are your hair's best friend when it comes to heat styling. They help in preventing heat damage and they also make the hair shiny and less frizzy.
4. Heatless hairstyle
There are many different ways to style your curls without heat. You can do many different hairstyles for your curls without heat but still get a fresh new look like braids and ponytails.
5. Know when to stop
Listen to your curls when you style them. When your hair feels dry, give it a break from heat styling and let it heal and get back to life. Create a good hair care routine to manage the damages from heat styling.
5 Best Heat Protectants for Curly Hair
This product works best for normal hair. It is suitable for relaxed, colour-treated and permed hair. Spray on damp hair before blow-drying the hair. Dry hair completely and spray on the hair before using any heat styling tools.
This product works for all hair types. After a hair wash, spray this product on damp hair then blow-dry until completely dried. Once the hair is dried, you can use a flat iron and curling iron to style it.
This product is for those who want to style their curls without losing natural hair moisture. Place a few drops onto the palm and rub them together. Apply on your hair from roots to tips.
This product is suitable for all types of hair including human hair extensions. You can apply both on damp or dry hair for protection.
This product works for all types of hair. Liberally spray on the hair section by section before applying heat.
Frequently Asked Questions
How do I protect my hair from heat damage?
Use a heat protectant every time you style your hair with heat to prevent heat damage.
Does hair protectant make hair frizzy?
Hair protectants are effective agents against frizz. They seal hair cuticle that helps eliminate frizz.
Can coconut oil be used as a heat protectant for curly hair?
Coconut oil is one of the most common oils used as a heat protectant. Because of the thickness of coconut oil, it makes a good barrier between the hair and the heat. Just make sure to use a few drops to prevent product build-up.
What is the natural heat protectant for curly hair?
Natural oils like argan oil, coconut oil and shea butter can be used as natural heat protectants for the hair.
What is the best drugstore heat protectant for the hair?
There are many heat protectants available in the market. We highly recommend the 5 heat protectant sprays that we mentioned in this blog.
What is the best silicone-free heat protectant?
If you want a silicone-free heat protectant, we highly recommend SheaMoisture Anti-Breakage Spray, Jamaican Black Castor Oil Heat Protectant with Shea Butter.
Takeaway
Styling the hair with heat is not uncommon. It is a quick fix to refresh your look and to get a different hairstyle temporarily. Although it is the go-to when it comes to styling the hair, it comes with its own disadvantages. Using heat to style curly hair can further the dryness of the hair that can cause damage and breakage. This is where heat protectants come in. Heat protectants help prevent damage brought about by heat styling. Remember to always apply heat protectant on damp hair before blow-drying. Dry the hair completely before using a flat iron or curling iron to style the hair.