Welcome to our delightful collection of 40 Adorable Braids for Kids! We're excited to present an array of cute and stylish hairstyles that will make your little ones look absolutely charming. From classic braids to creative twists, these hairstyles are perfect for any occasion, whether it's a fun playdate or a special event. Get ready to explore a world of cute and easy-to-maintain braided hairstyles for your kids!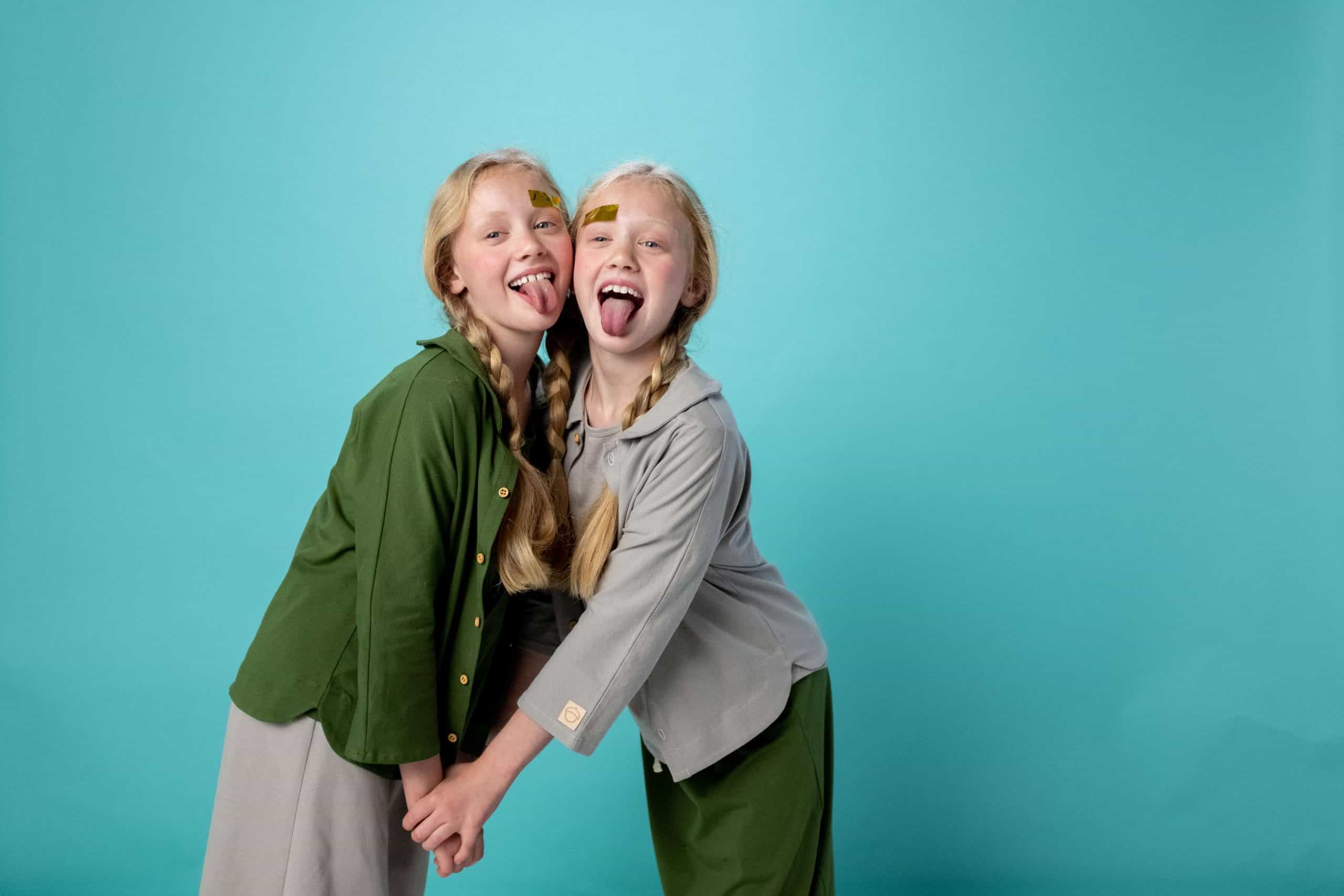 Braid is one of the staples when it comes to styling your kid's hair. Not only does it look extremely cute on your princess but it is also super stylish. Braids for kids have evolved from simple braids to more intricate styles. Some need more effort than the others but with a little practice and you can perfect the next hairstyle for your cutie. Get creative with styling your kid's hair when they go to school or just play with their friends. Braids for kids will not only keep their hair in place but also add cuteness to your little ones. For kids with naturally curly hair, this can also be a protective hairstyle. 
Braided hairstyles for kids come in many different styles and designs. But don't worry! We listed down 40 of the cutest hairstyles for your kids. Here are some braided hairstyles that you can do for your little ones.
Twisted Mohawk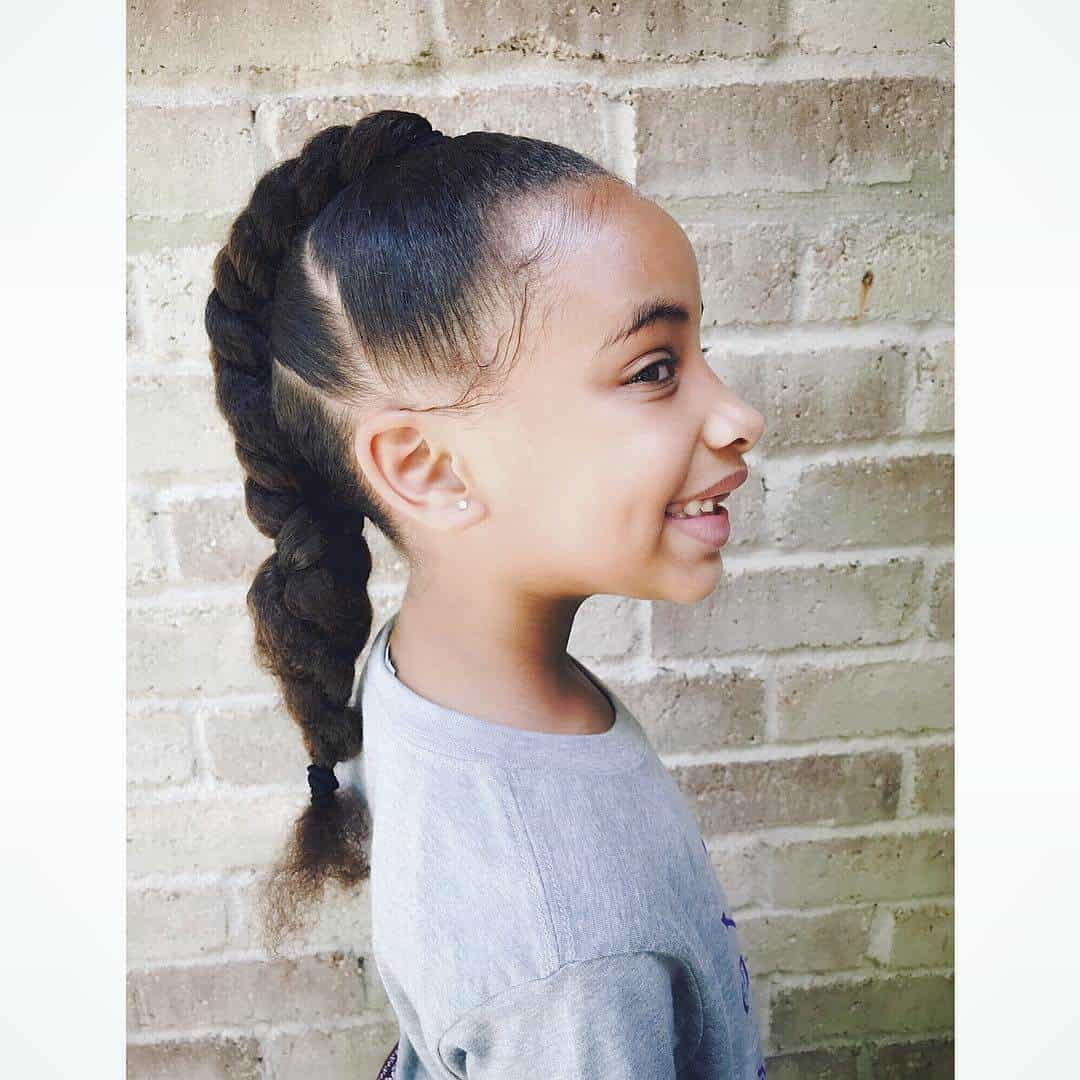 This hairstyle works best for kids with naturally curly hair. This protective hairstyle is perfect for active kids who always want to run and play. This keeps their hair tidy while keeping a stylish look. Add fun to this hairstyle with beads and colourful ribbons!
Braided Ponytails for Girls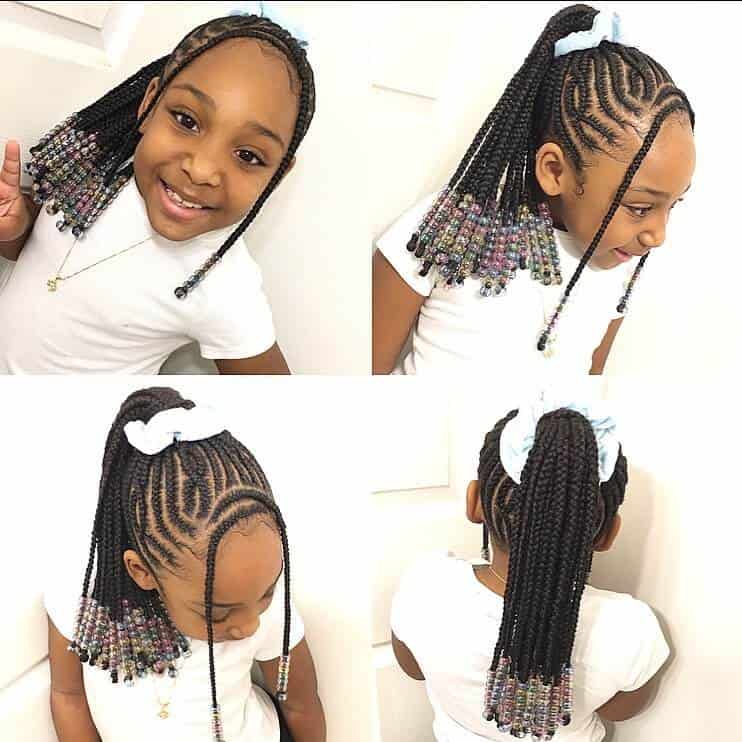 Braided ponytails are best for your teens. Make your teen look like a blooming lady while keeping the child in her. Braid her hair to neat cornrows and tie it in a ponytail to give her that young and sweet lady appeal.
Natural Pigtails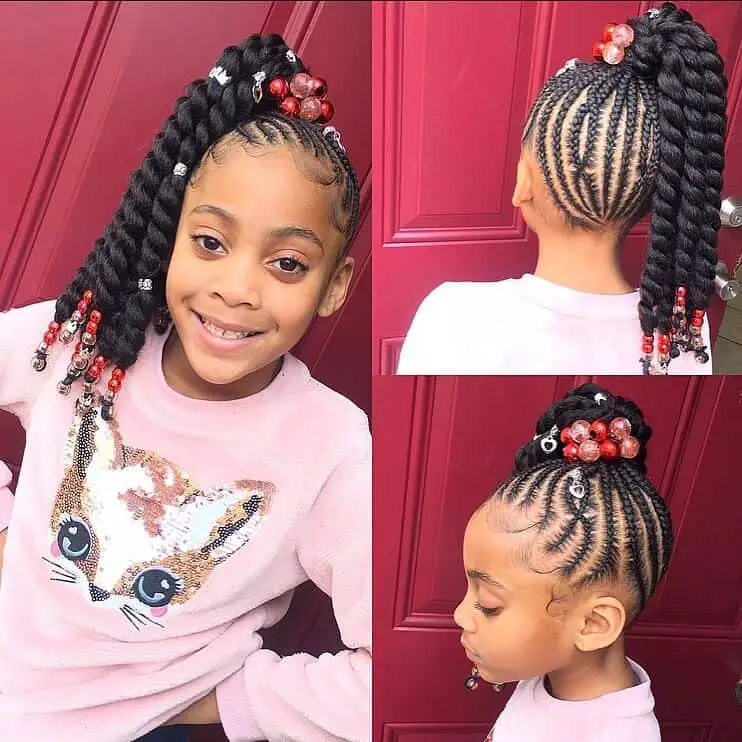 If pigtails are not cute enough, add braids to make it even cuter and stylish! Part your kid's hair in the middle and braid the strands. Once all the strands are braided, tie them in pigtails. Extra cuteness for your special one!
Natural Braided Hairstyle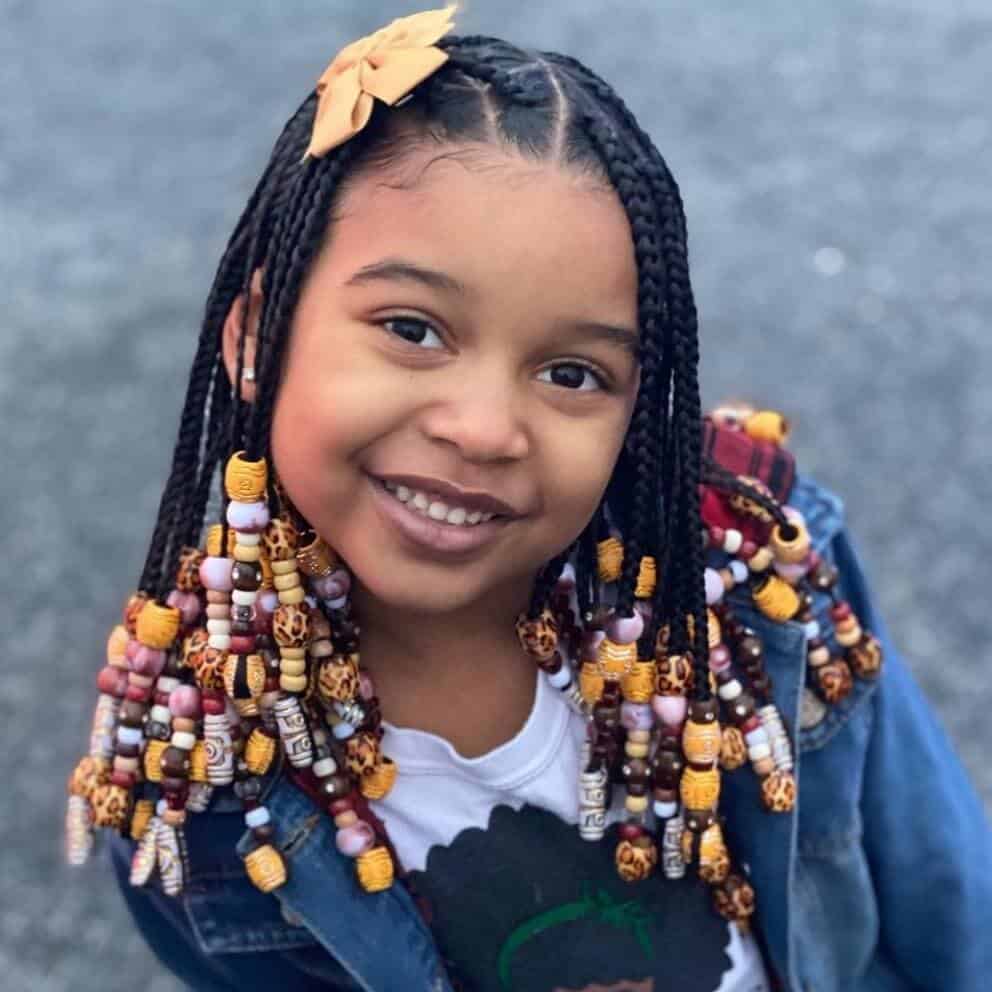 Natural braid is an adorable hairstyle for kids with naturally curly hair. Create clean cornrows with fun patterns and tie them in a bun! This protective hairstyle is for playful and active children to keep their hairs from their faces.
Spiral Fishtail Bun
Fishtail is one of the cutest hairstyles to give your kid. This looks complicated and intricate, and yes it is! But with lots of practice, moms can do this trendy hairstyle for their little princesses. 
Colourful Braided Pigtails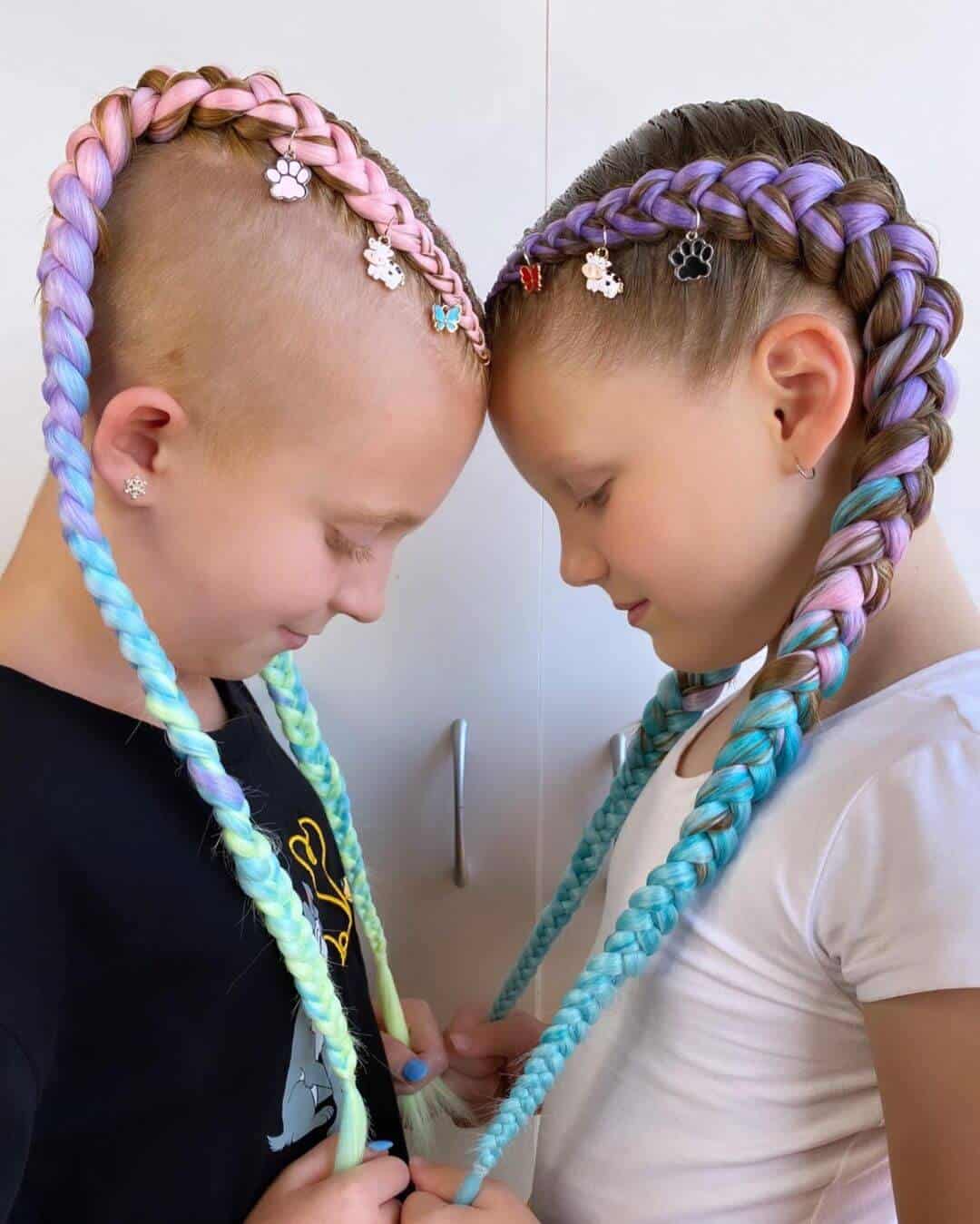 For more fun and stylish pigtails, go for braided pigtails. Add colour with beads and ribbon to make it more fun and exciting. For children with naturally curly hair, you can create cornrows with fun patterns and tie them in a pigtail.
Ghana Cornrows for Girls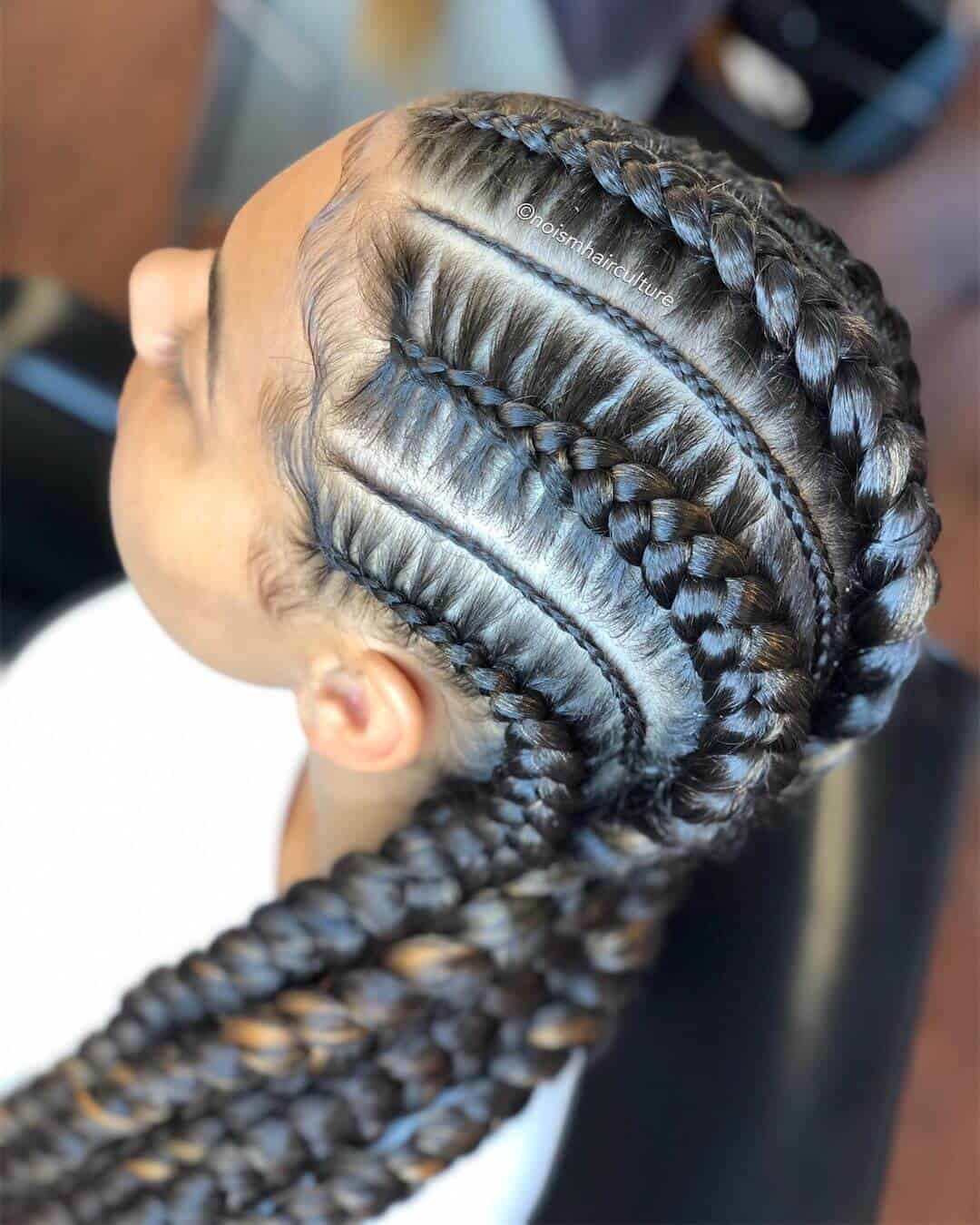 One way to style naturally curly and thick hair for kids is by doing ghana cornrows. These thick cornrows braided in a curving pattern creates a stylish and protective hairstyle for your kids.
Lovely Cornrow Hairstyle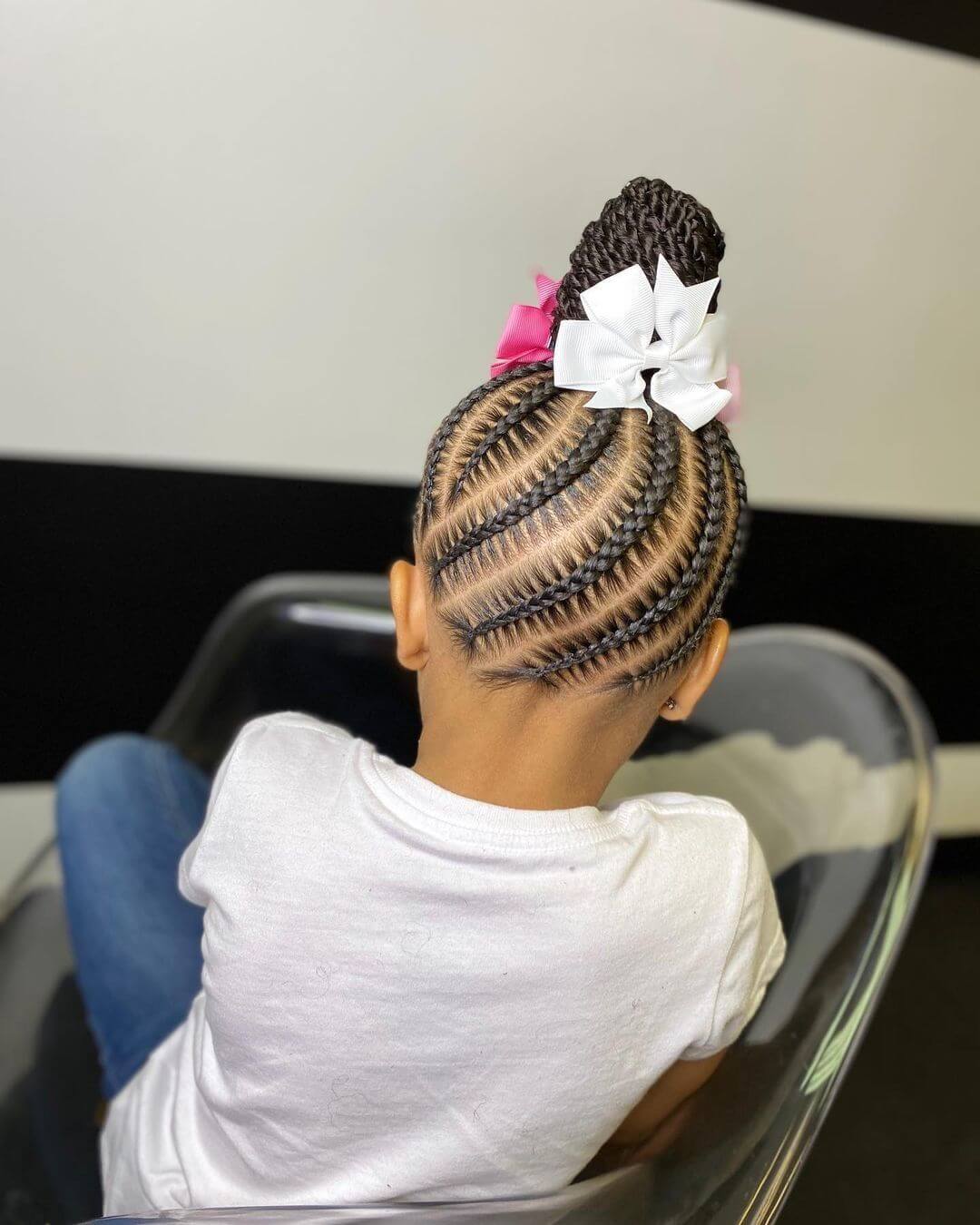 Add style to your kid's cornrows by doing clean and curve lines. Then tie them in a high bun so they can run the whole day without any strand falling from their faces. This protective hairstyle is very comfortable especially at night when sleeping. 
Unique Braided Mohawk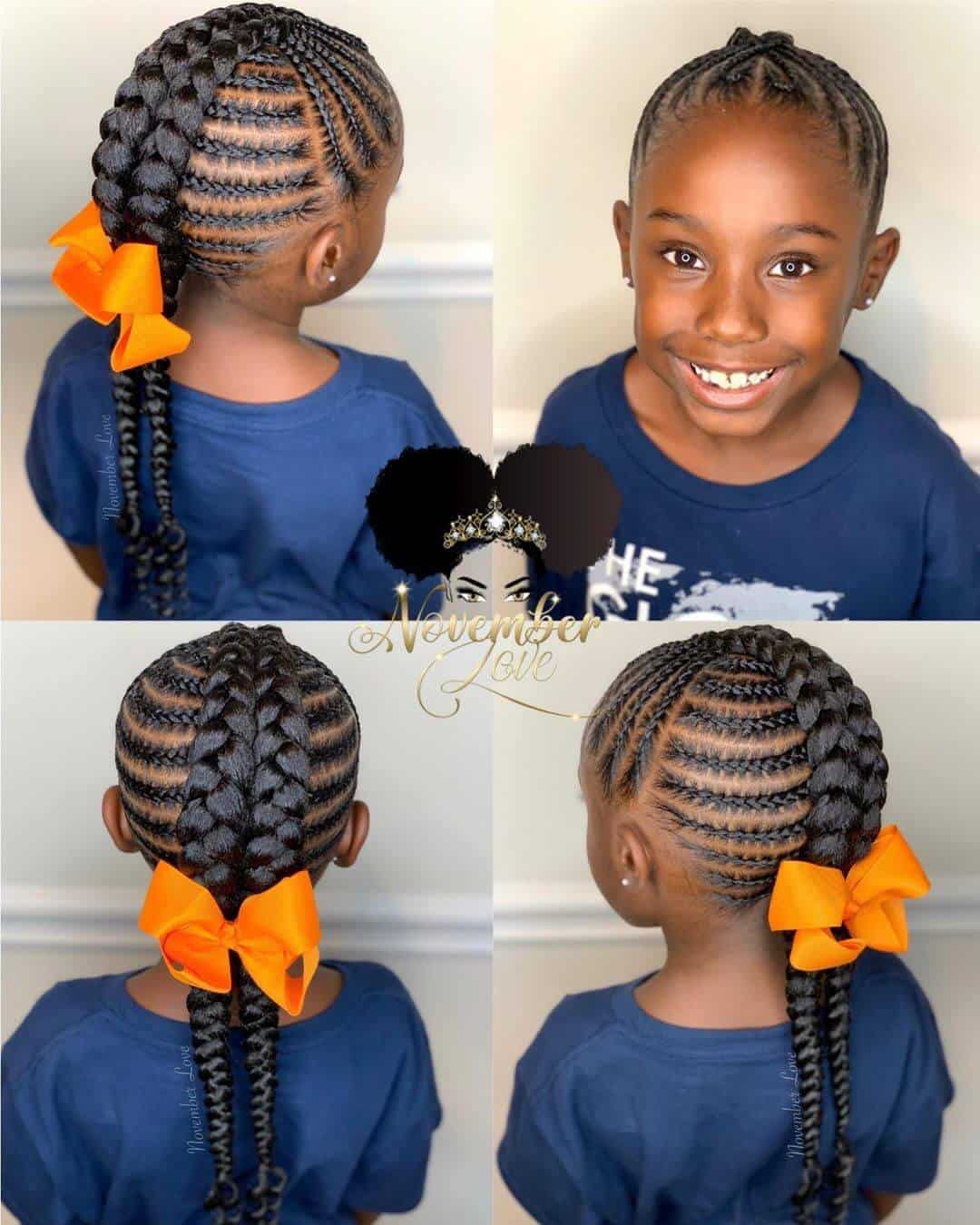 Add uniqueness to your child's mohawk by creating cornrows with fun patterns and tying them in a stylish mohawk. You can create flower patterns on the mohawk to make it even more fun!
Adorable Cornrows in a Bun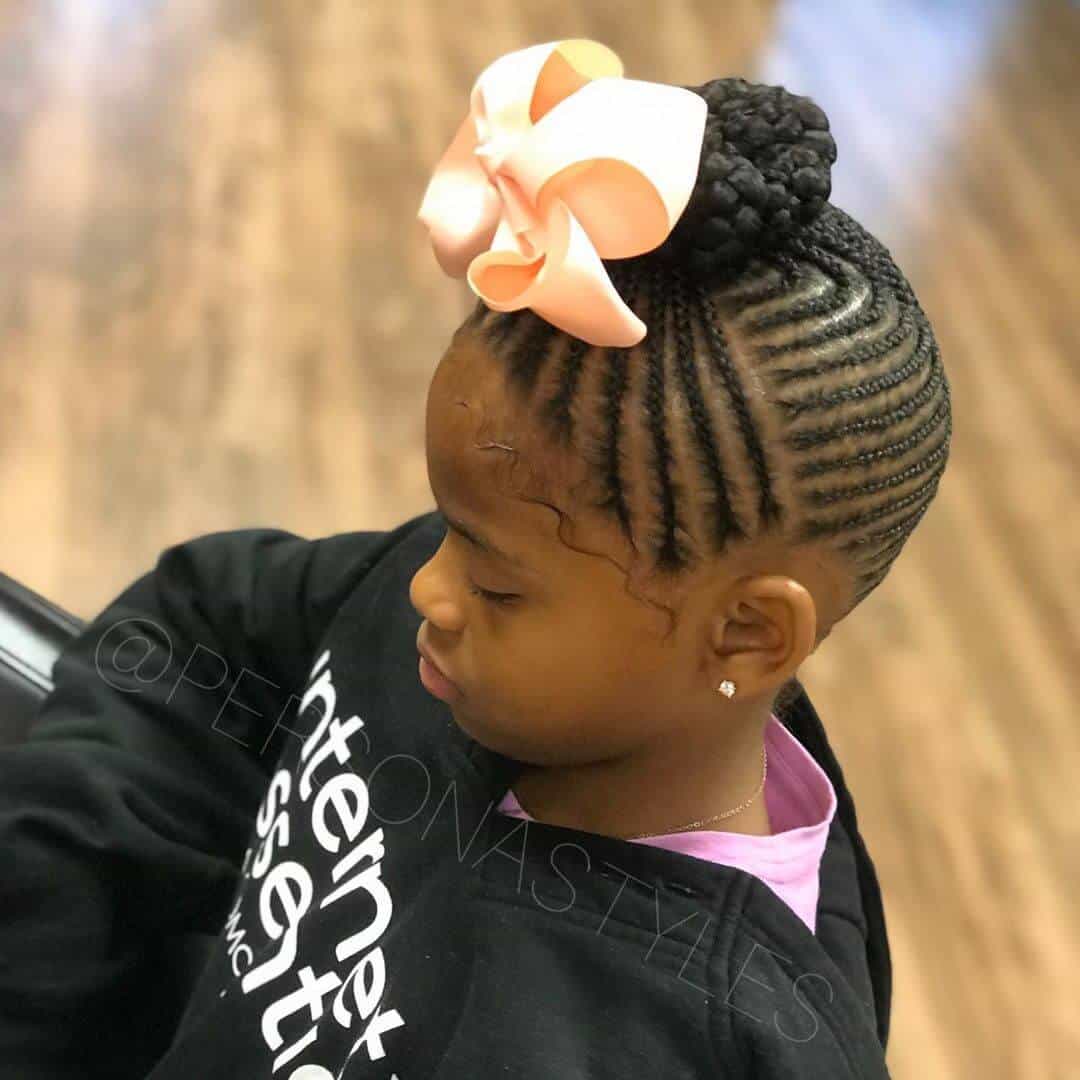 For a sweet yet cool hairstyle, go for an adorable cornrow in a bun. This is a simple hairstyle so all you moms can try this hairstyle for your little ones. Braid your kid's hair in clean cornrows and tie them in a bun. Simple yet stylish!
Top Knot with Cornrows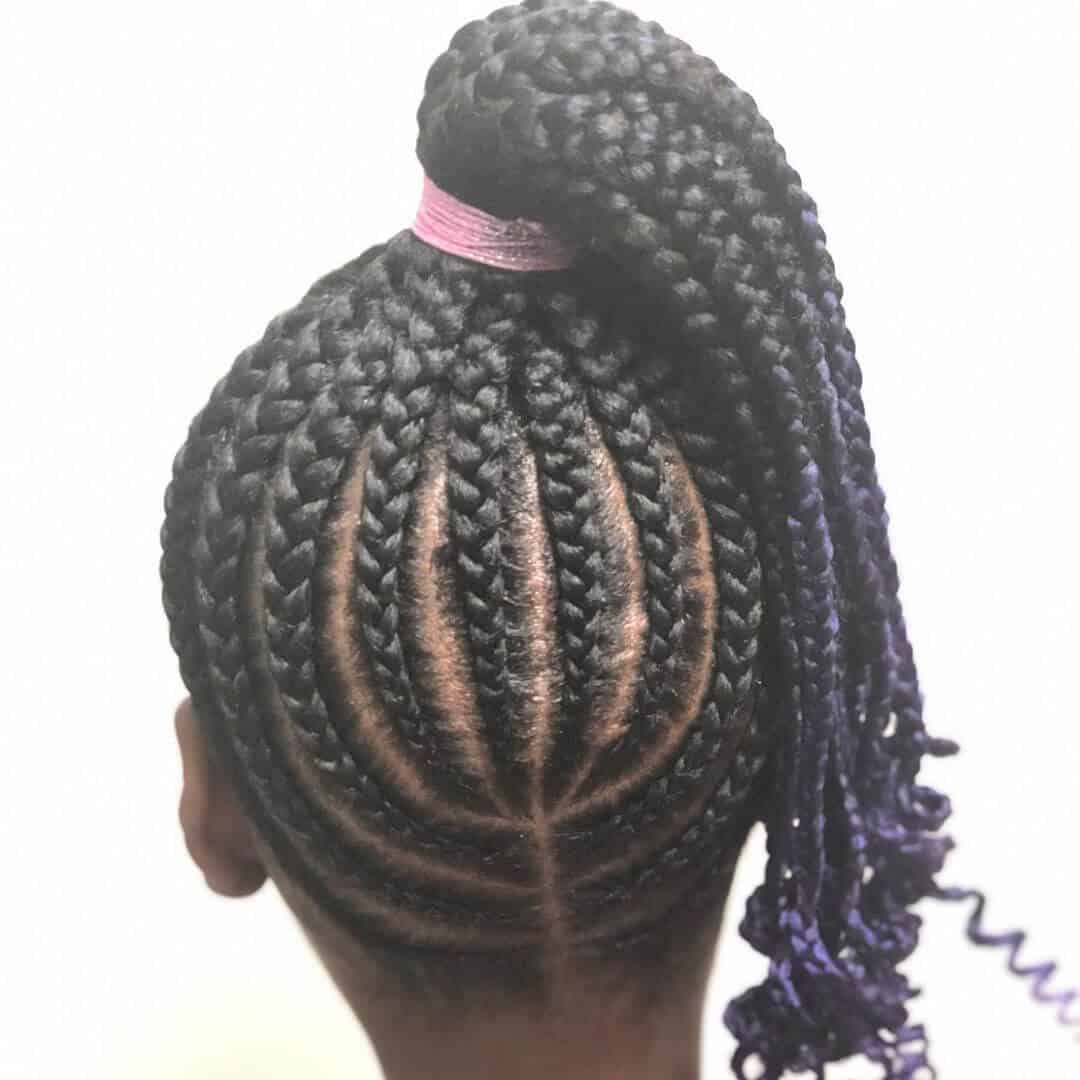 This is another protective hairstyle for your kids that is fun and very comfy at night when sleeping. Add fun to your kid's cornrows by tying them into a high bun and style them with beads and ribbons to add colours to her hair.
Natural Dutch Braid Style
If you want a simple yet cute hairstyle for your kid, then you need to try this classic. Natural dutch braids are good for kids with naturally thick hair. Once the hair is braided, it will look thick and full.
Criss Cross Mohawk with Beads
Make your child the envy of all her playmates with this super cool and super stylish criss-cross mohawk. Add beads for more fun and colour!
Short Box Braids for Kids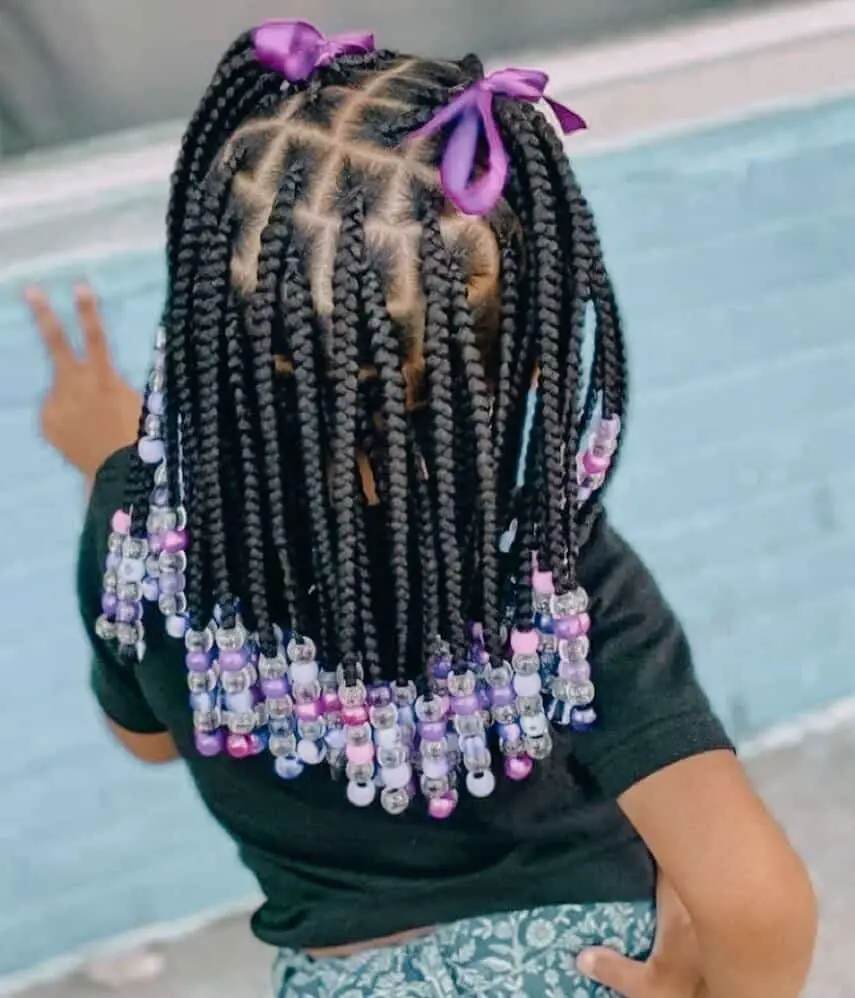 You do not need to wait for your little girl's hair to grow long! Style them with short box braids and add beads and ribbons for colour and fun! Braid your kid's hair and just let them down gracefully!
Cute Floral Crown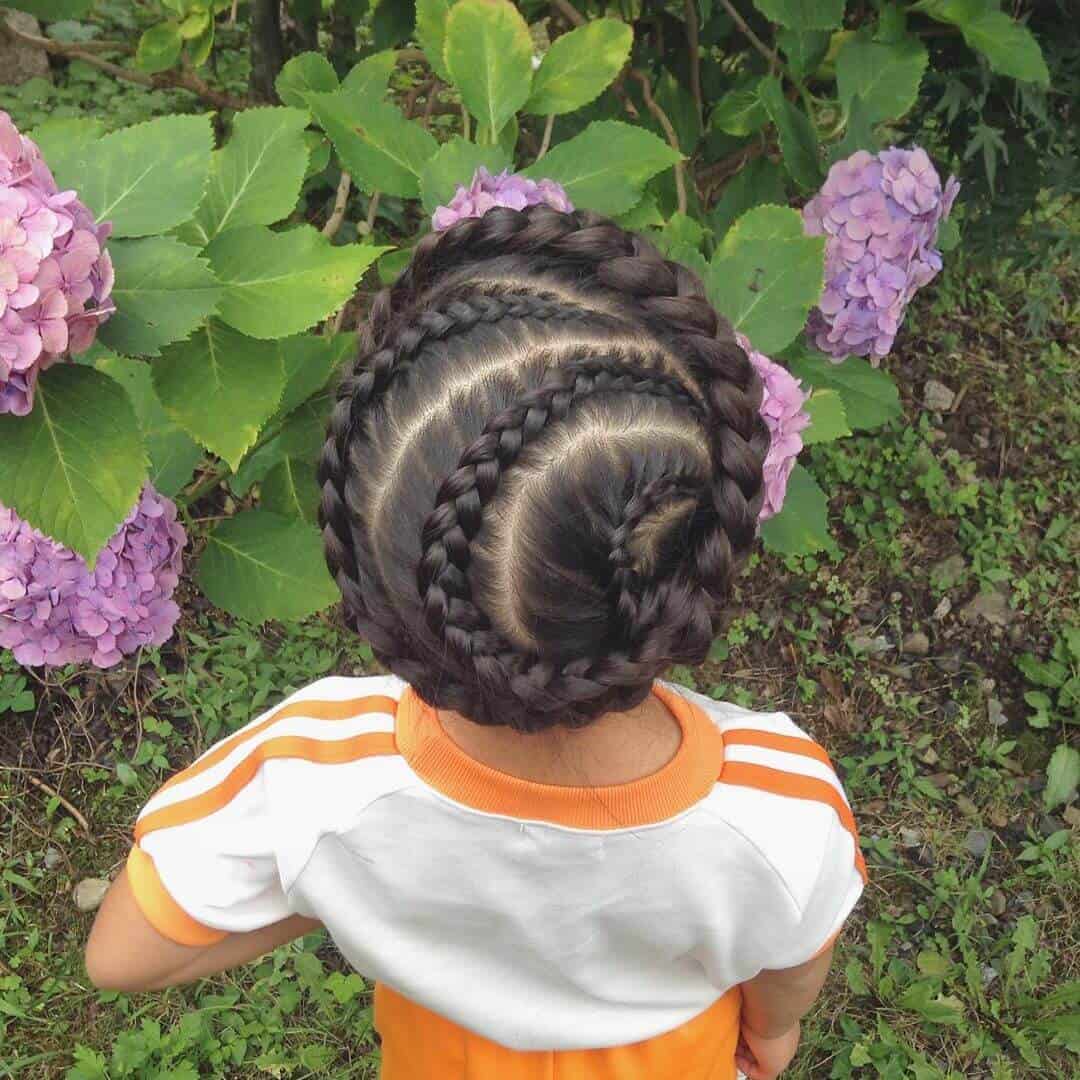 A cute floral crown is a perfect hairstyle for your cute little princess. Do a loose crown braid and add flower decorations and ribbons to make it even more fun and playful. The loose braids will make your kid look soft and sweet.
Heart Braid with Curled Ponytail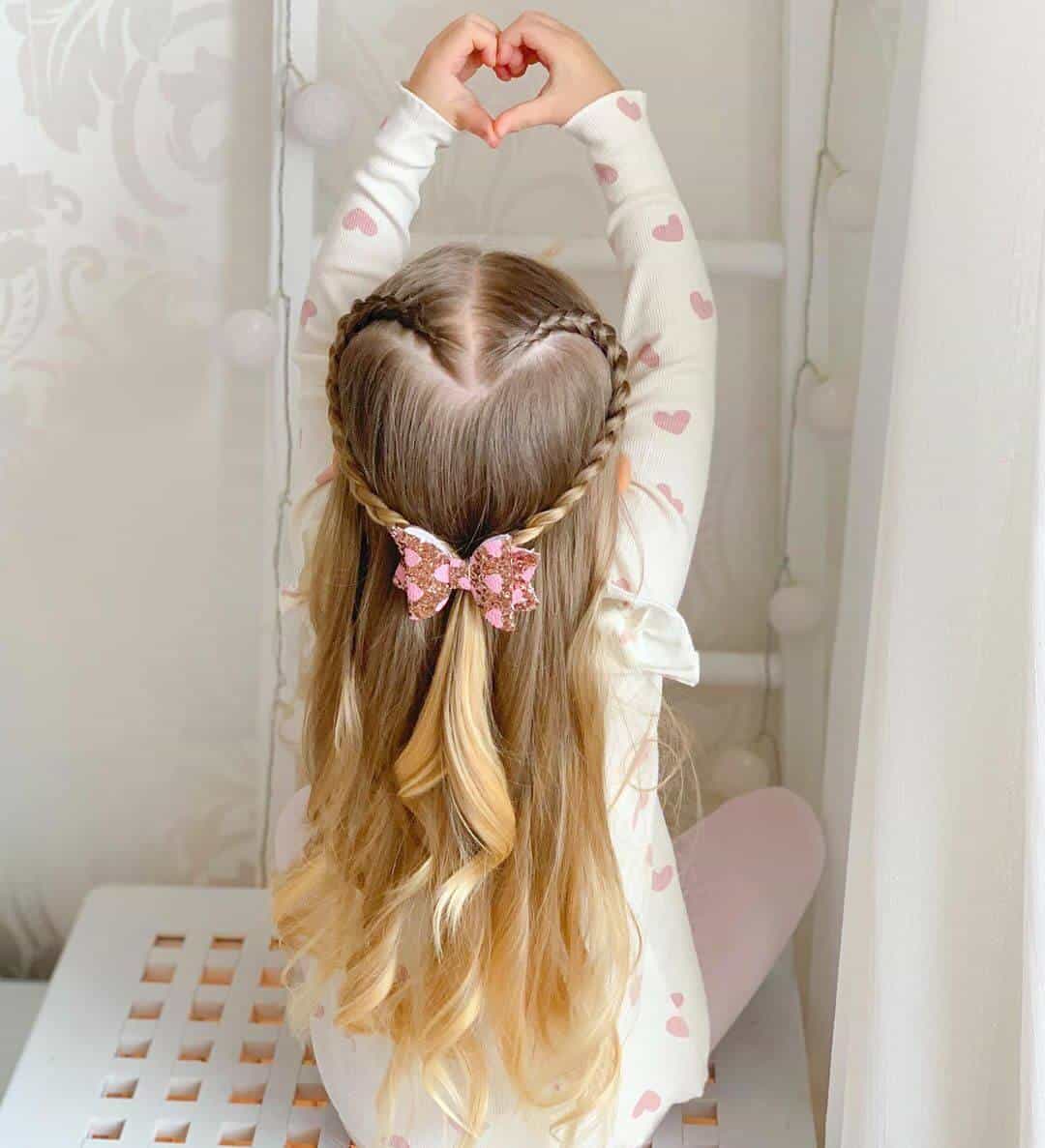 What can be more lovely than a heart-shaped braid! Create a heart with symmetrical braids and tie the ends of the hair to a curled ponytail. Cuteness overload for your cute little one!
Zigzag Braided Updo with a Ponytail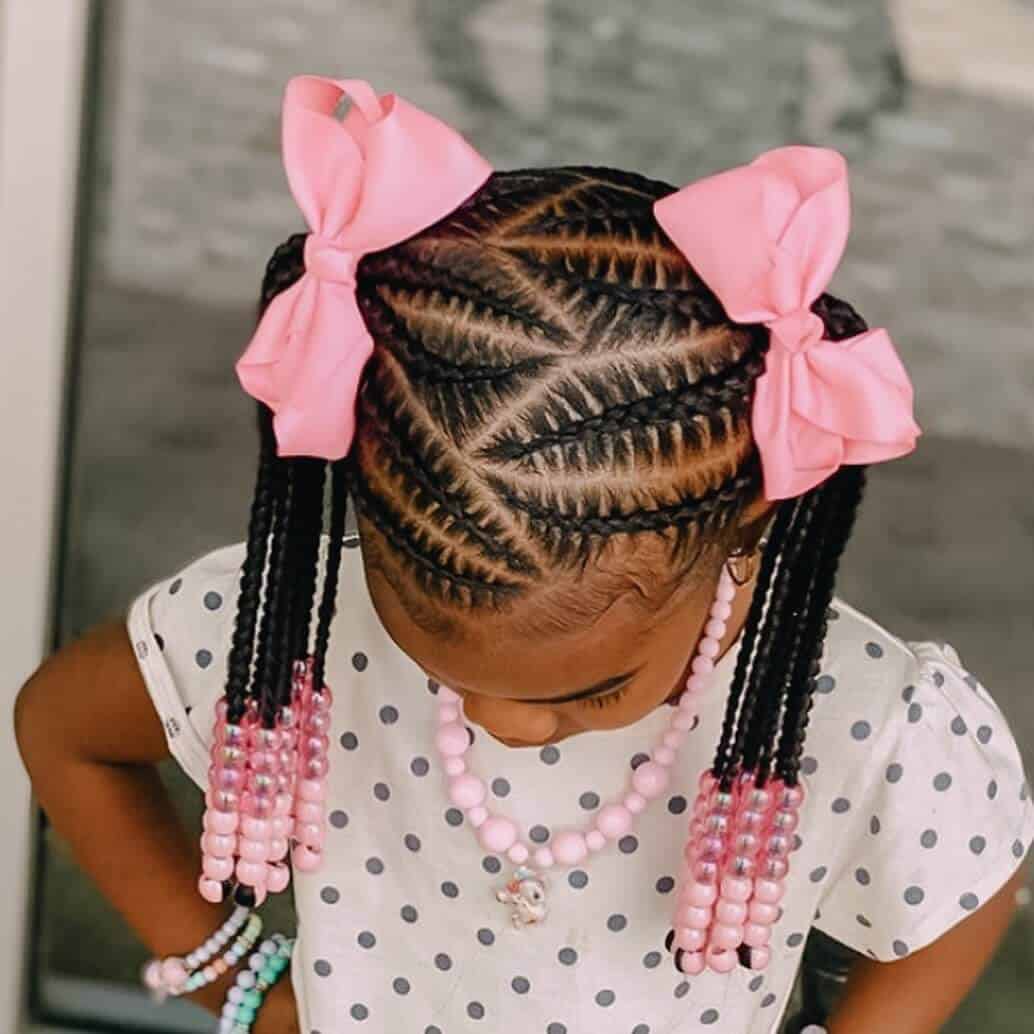 This may look intimidating, but mommies this won't take your whole day. Just a little practice and you will get this tricky looking hairstyle. Section the hair to create the zig-zag braid starting from the bottom upwards. Tie the hair into a ponytail and you got your princess looking pretty again!
Adorable Bun Hairstyle for Girls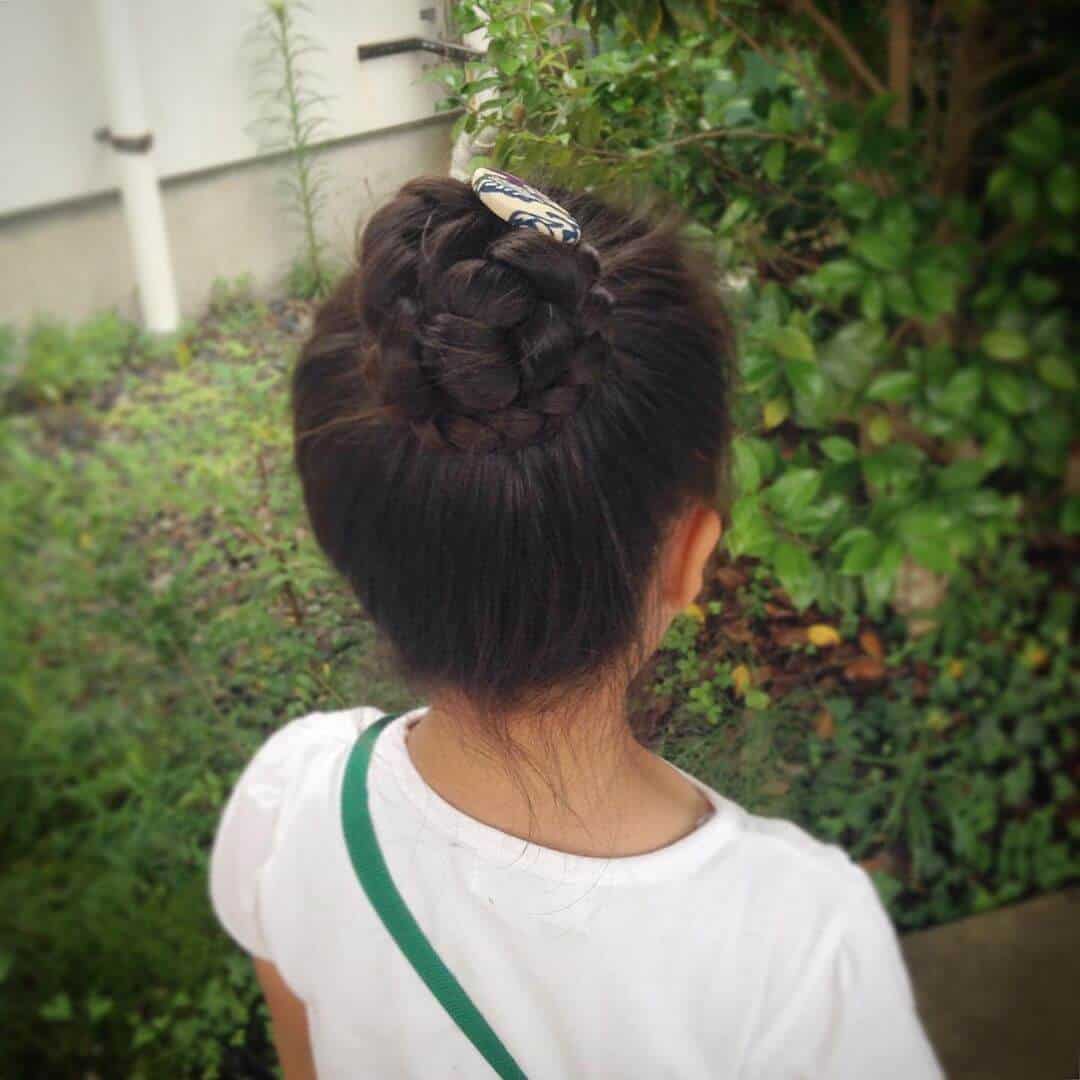 Adorable hairstyle for adorable girls! Create a braid to accent your kid's hair and tie it in a bun. This hairstyle is good for young kids and even your teens. Add a cute ribbon to complete this adorable look!
Perfect Heidi Braids with Flowers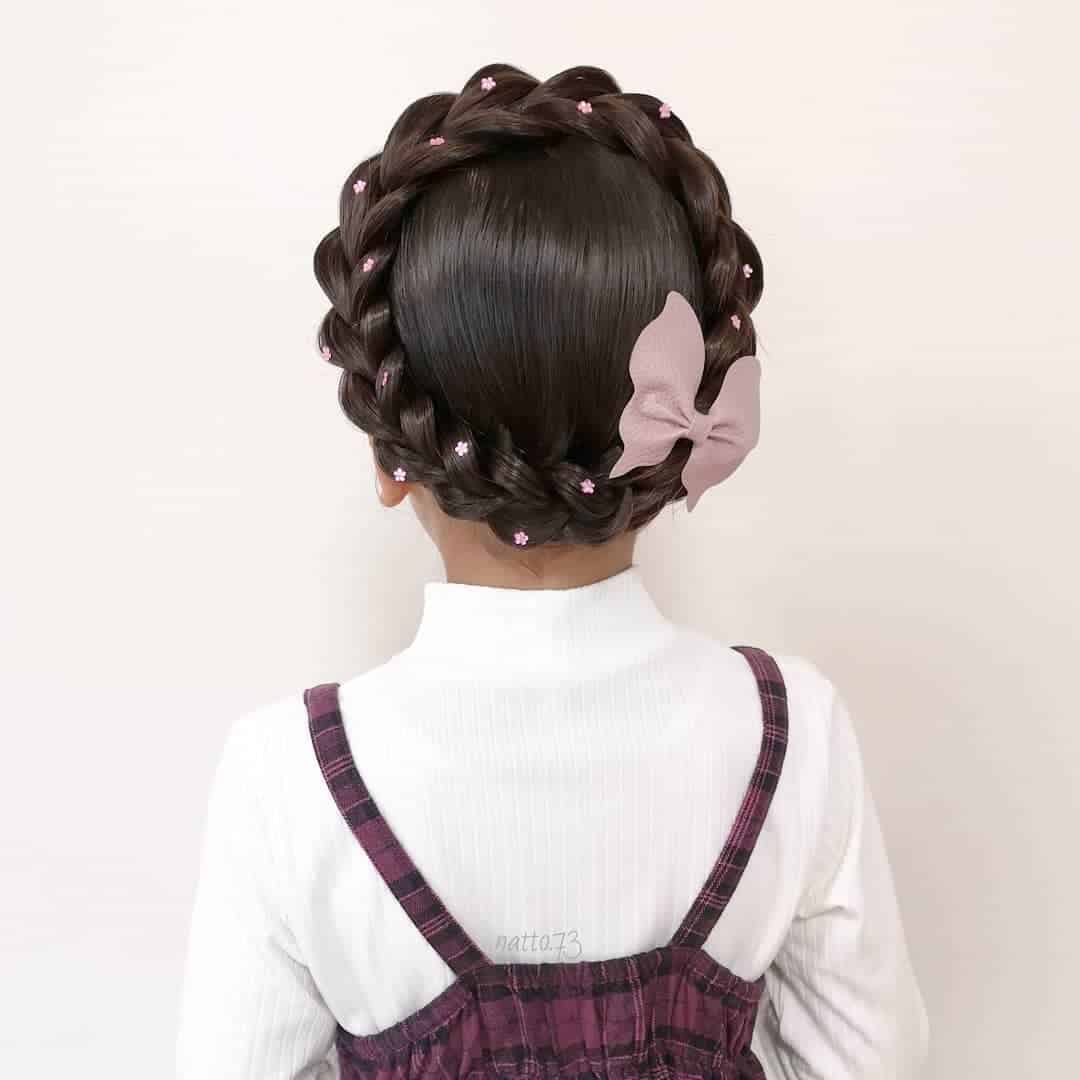 If you want to make your children look prim and proper and at the same time stylish, then do Heidi braids. Heidi braids are similar to crown braids. But instead of going over the head, the braids go at the back of the head to create a U shaped braid. Add flowers and ribbons for extra cuteness.
Unique Hairstyle for Girls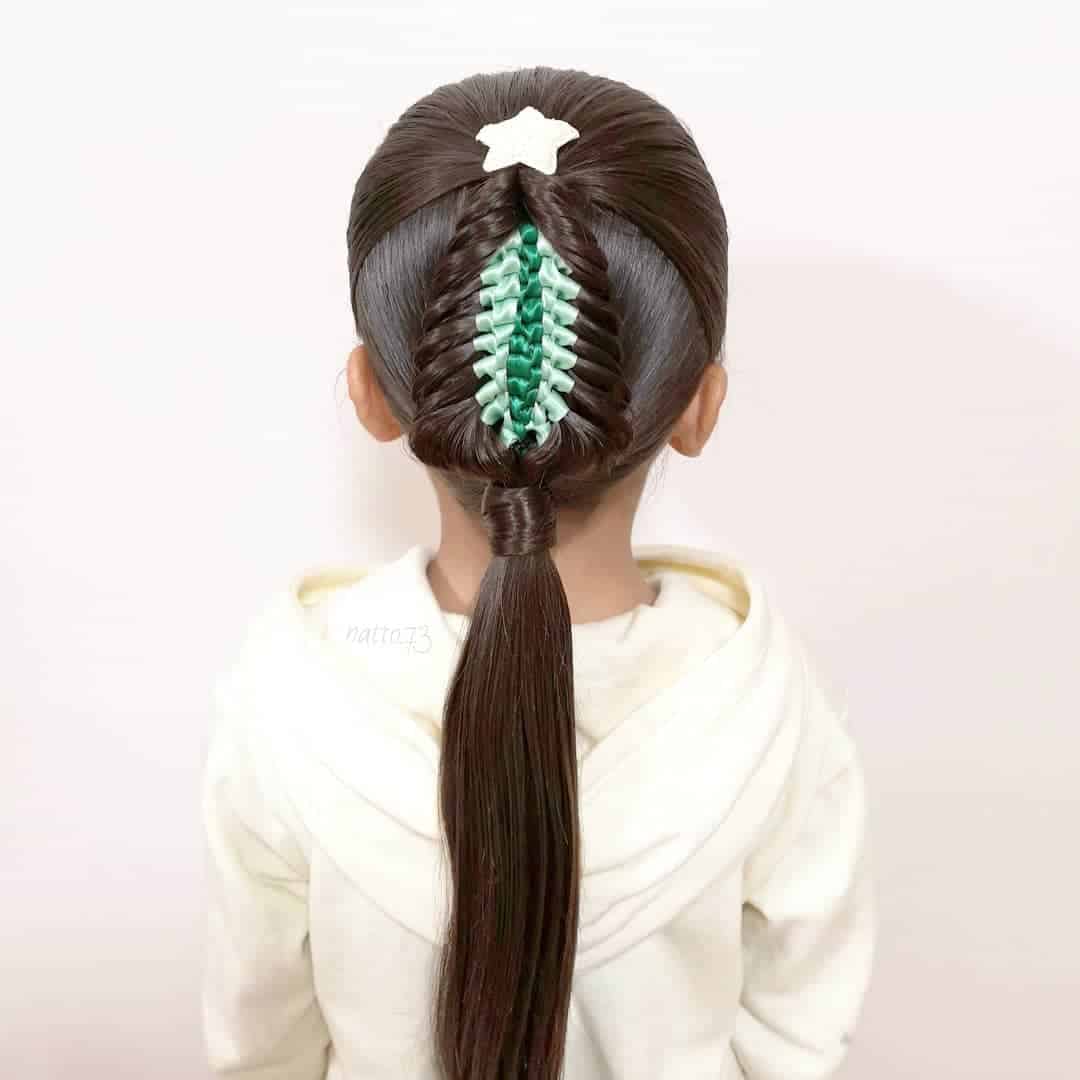 Every child is as unique as they say. So it is fitting to give your little one a unique hairstyle that matches her personality! Find a good hairdresser to create a special look unique for your princess! 
Curvy Cornrows with Beaded Ends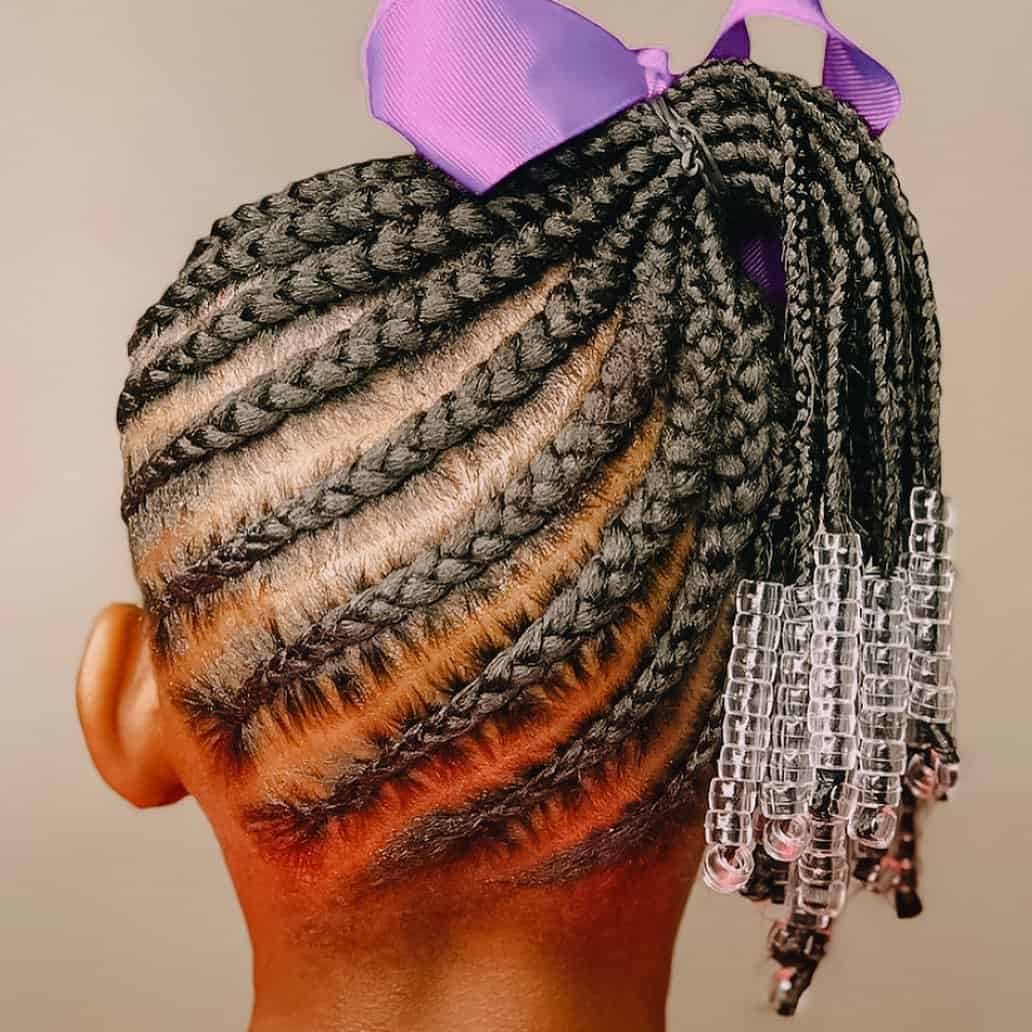 For a fun and playful hairstyle for naturally curly hair, do a curvy cornrow. This is a very unique and stylish hairstyle for your kids. Add beads to the ends to make it colourful and playful.
Beaded Braided Pigtail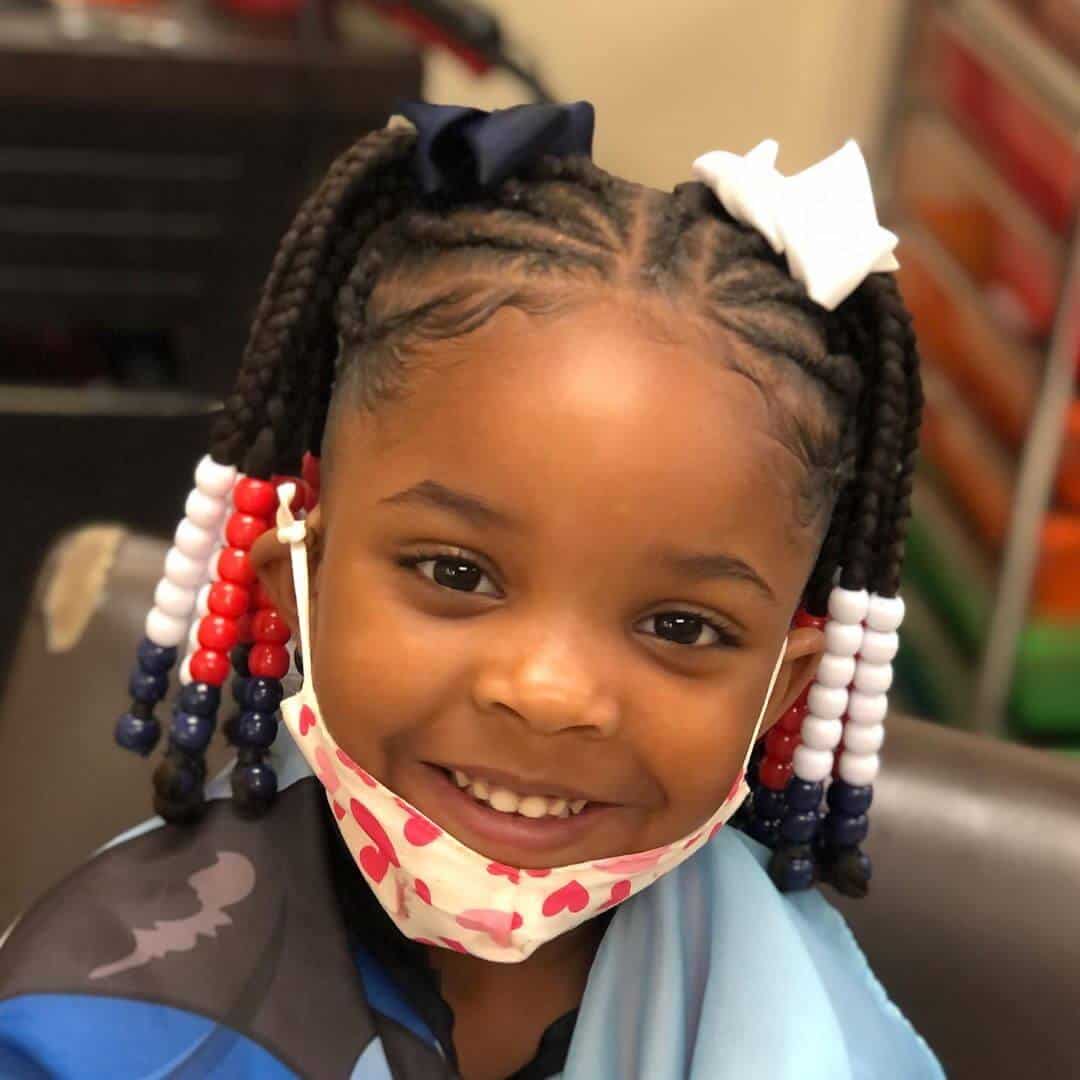 Another cute rendition of a pigtail! Create cornrows and tie them together in a pigtail. Make this adorable haircut more fun by adding colourful beads at the ends.
Heart-Shaped Braids for Little Girl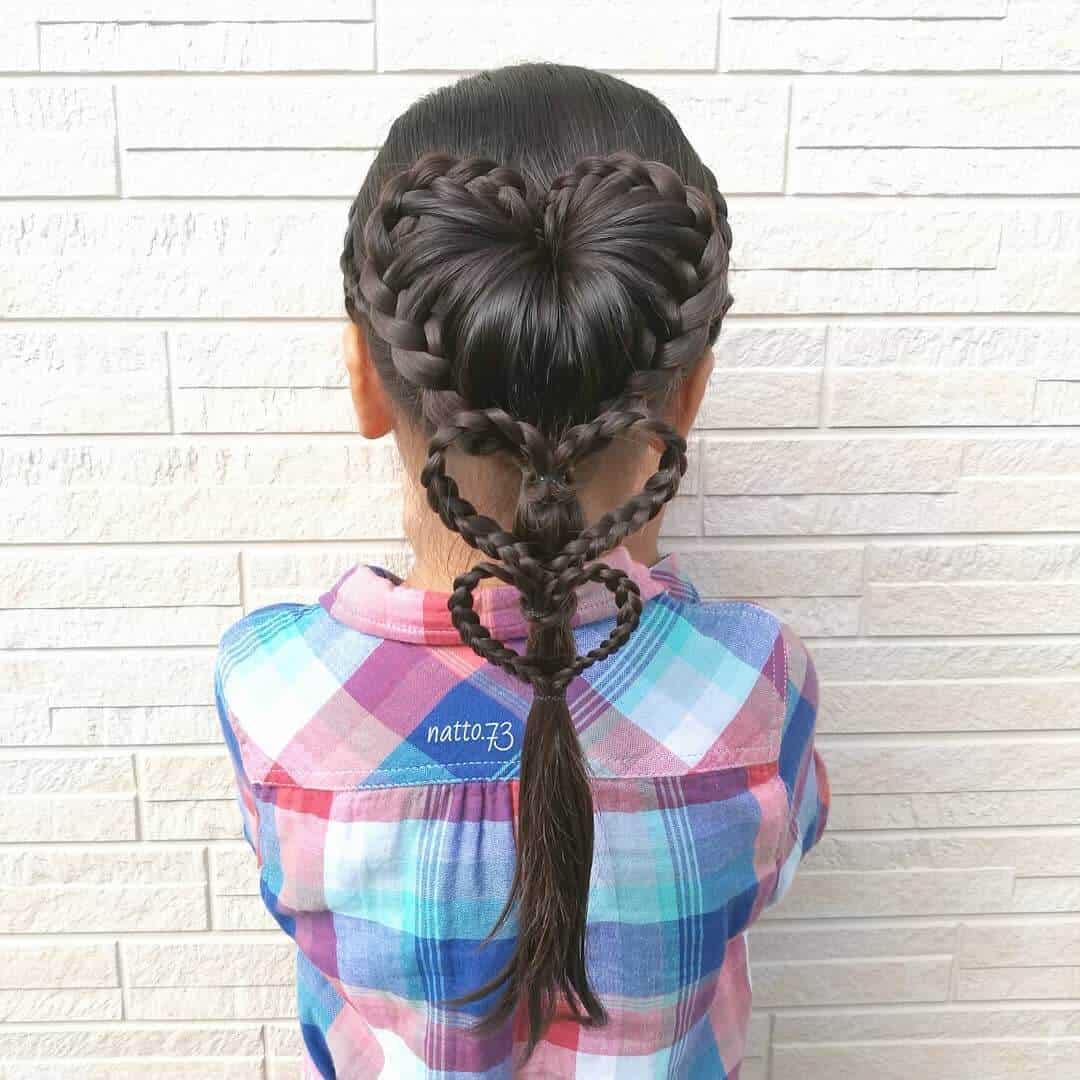 Another lovely variation of braided hair for kids with naturally curly hair. Get your kids excited with heart-shaped braids that will surely be the envy of their friends! Make it even more fun and playful by adding beads and colourful ribbons to match her outfit of the day!
Half Cornrow Braid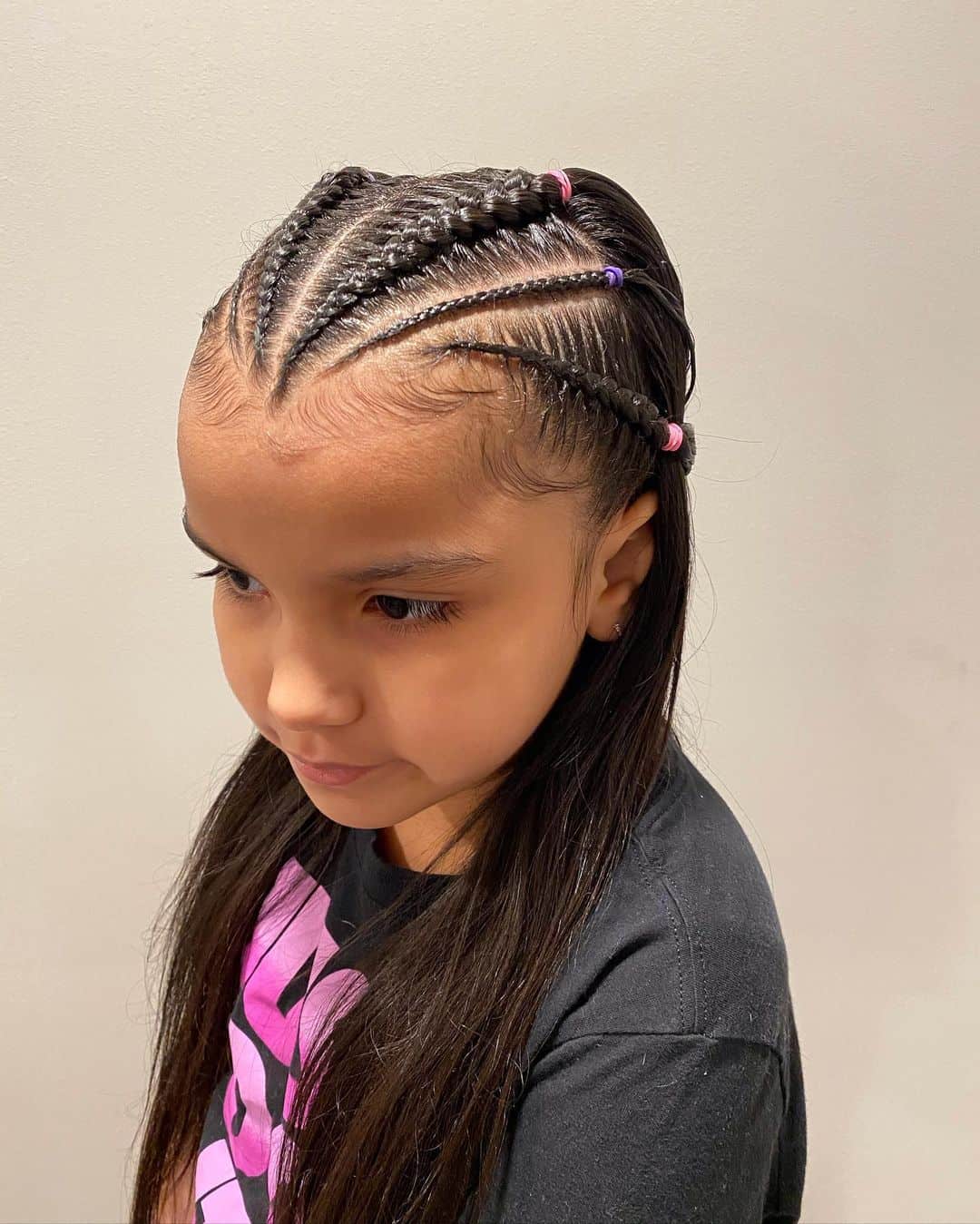 We know that cornrows are cool for your kids. But let us make it cooler by parting the hair half up and half down braiding the hair to create cornrows. Braid a cornrow half up and leave the rest of the natural hair straight or curly to level up the cuteness.
Circular Mohawk Braids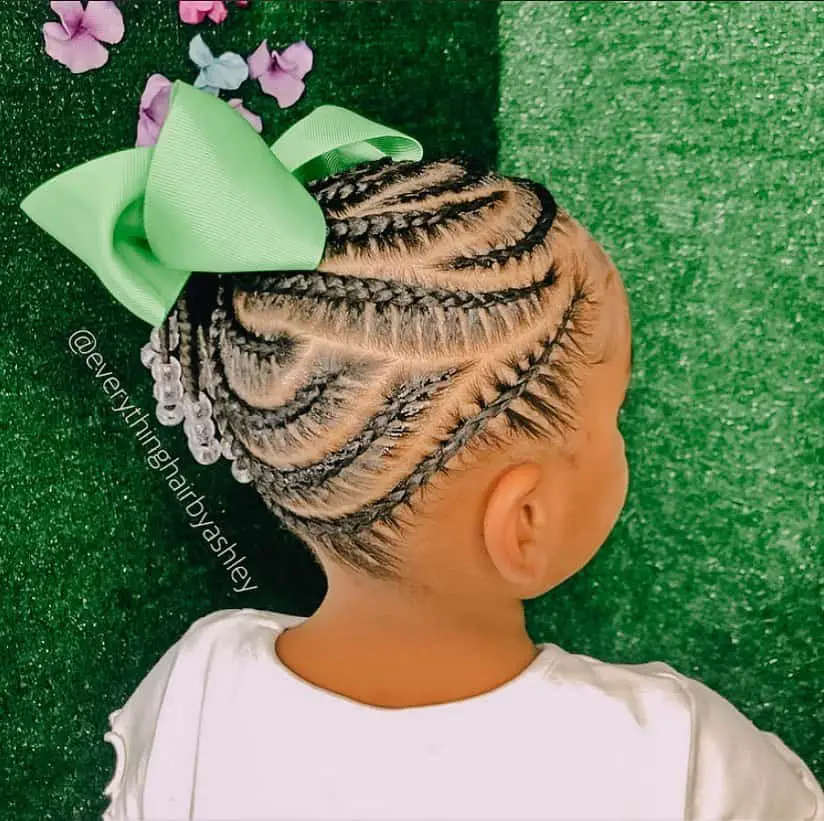 Bring out the rockstar in your little kid! The ultra-cool and stylish mohawk with curved cornrows will make your kid the scene-stealer. Add different shapes and patterns to make it even cooler!
Curly Mohawk Braided Hairstyle for Girls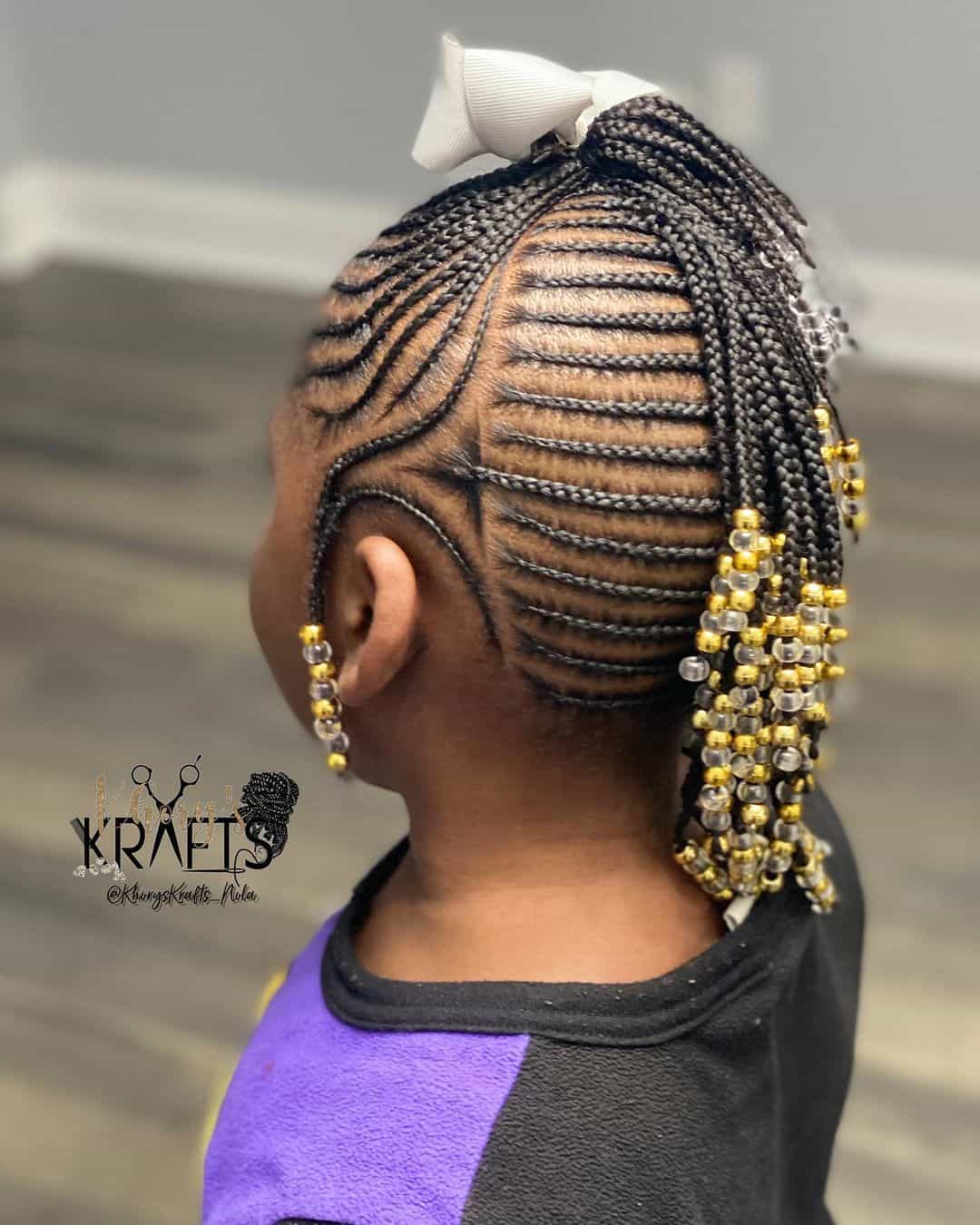 Curly mohawk is a simple hairstyle that can be done by mommies at home. With a little practice, you can get this hairstyle perfectly! Braid the hairs and style it into a mohawk. Instead of braiding the mohawk, curl it or let it take its natural curls.
Zigzag braids with barrettes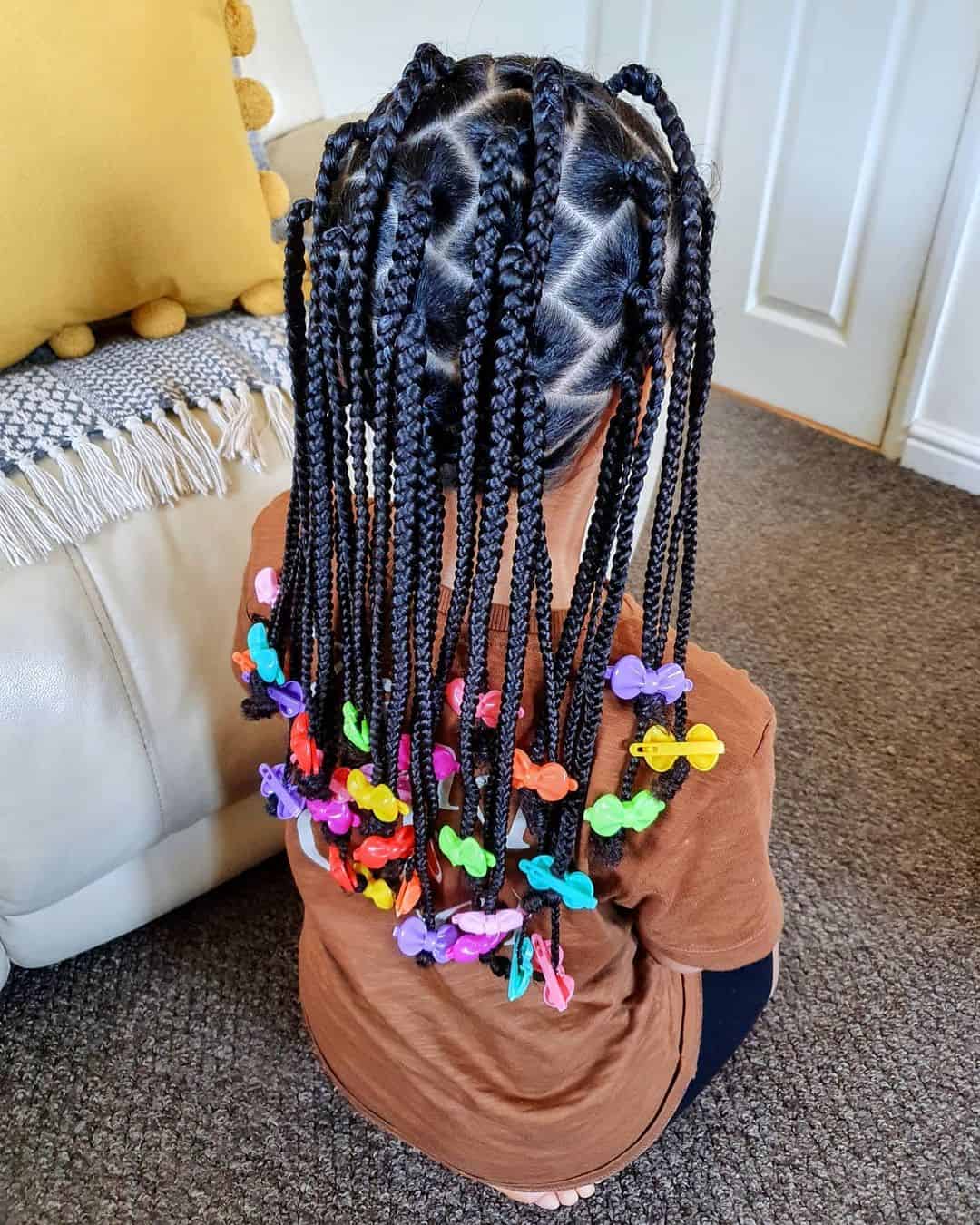 Trying new hair and making your own style statement can be hard sometimes. Accessories play an important part in every hair. Using barrettes in your kid's hair can make a huge difference.  You can make zigzag cornrows to enhance the look. 
Chunky Purple Inside-Out Cornrows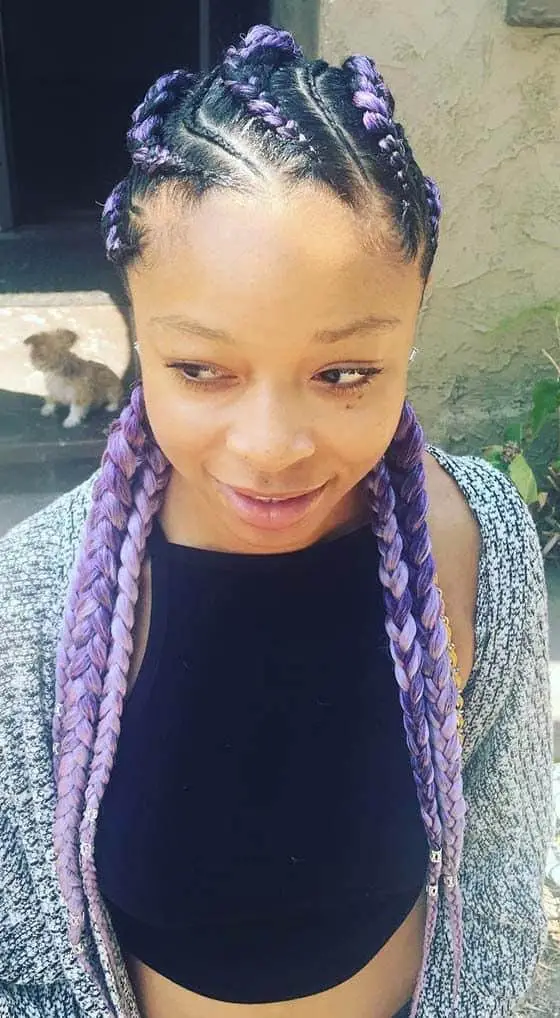 This hairstyle is perfect for playful teens. Cornrows plus purple for a super stylish and cool hairstyle! Just be careful with using any hair extensions or it might damage your pretty locks!
Knotless braids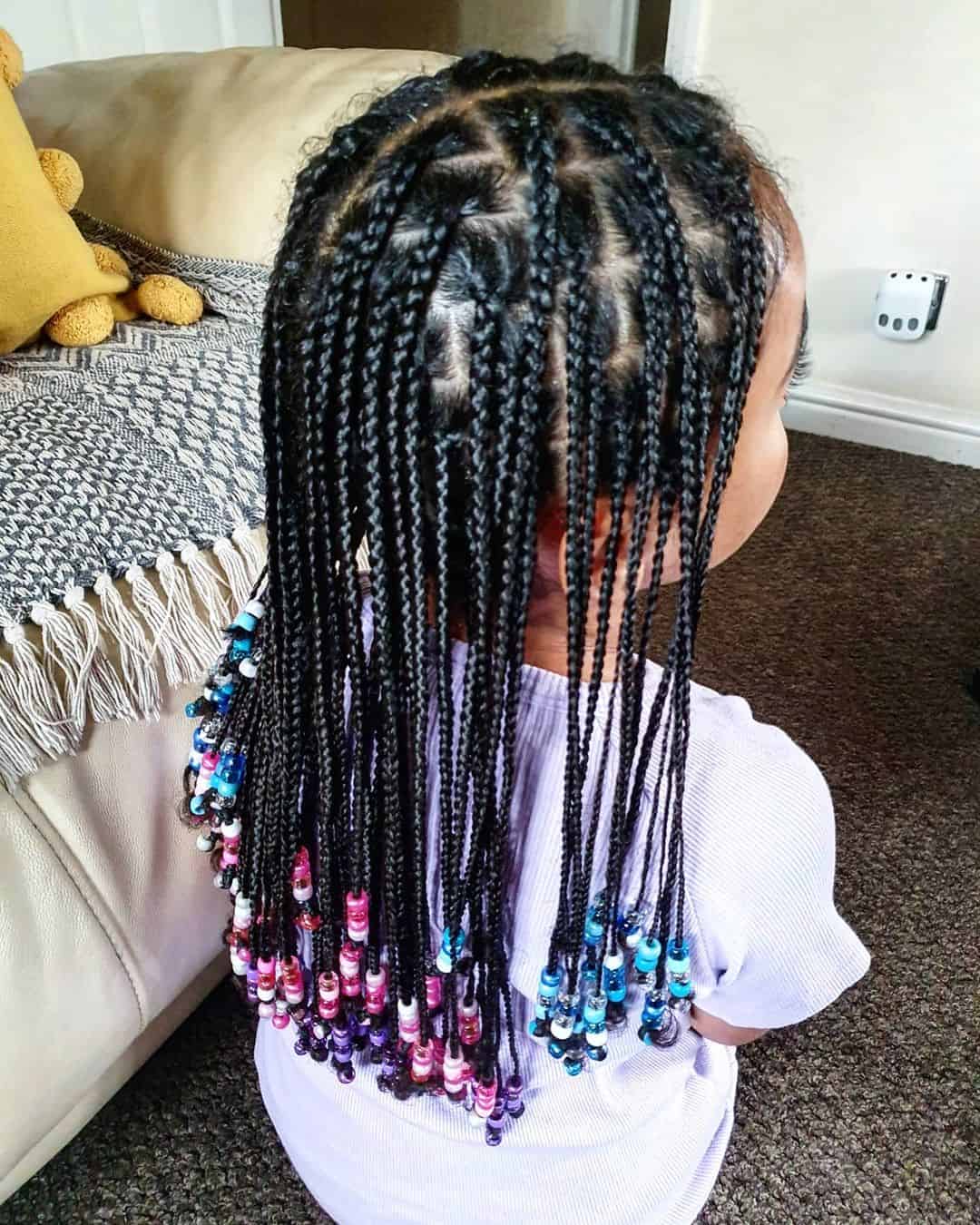 Even if your kids have short hair or long hair, you can style them now and give them the braids that they dream of. Knotless braids are versatile hairstyles. You can tie them in a bun, high ponytail or just let them loose. 
Majestic Braids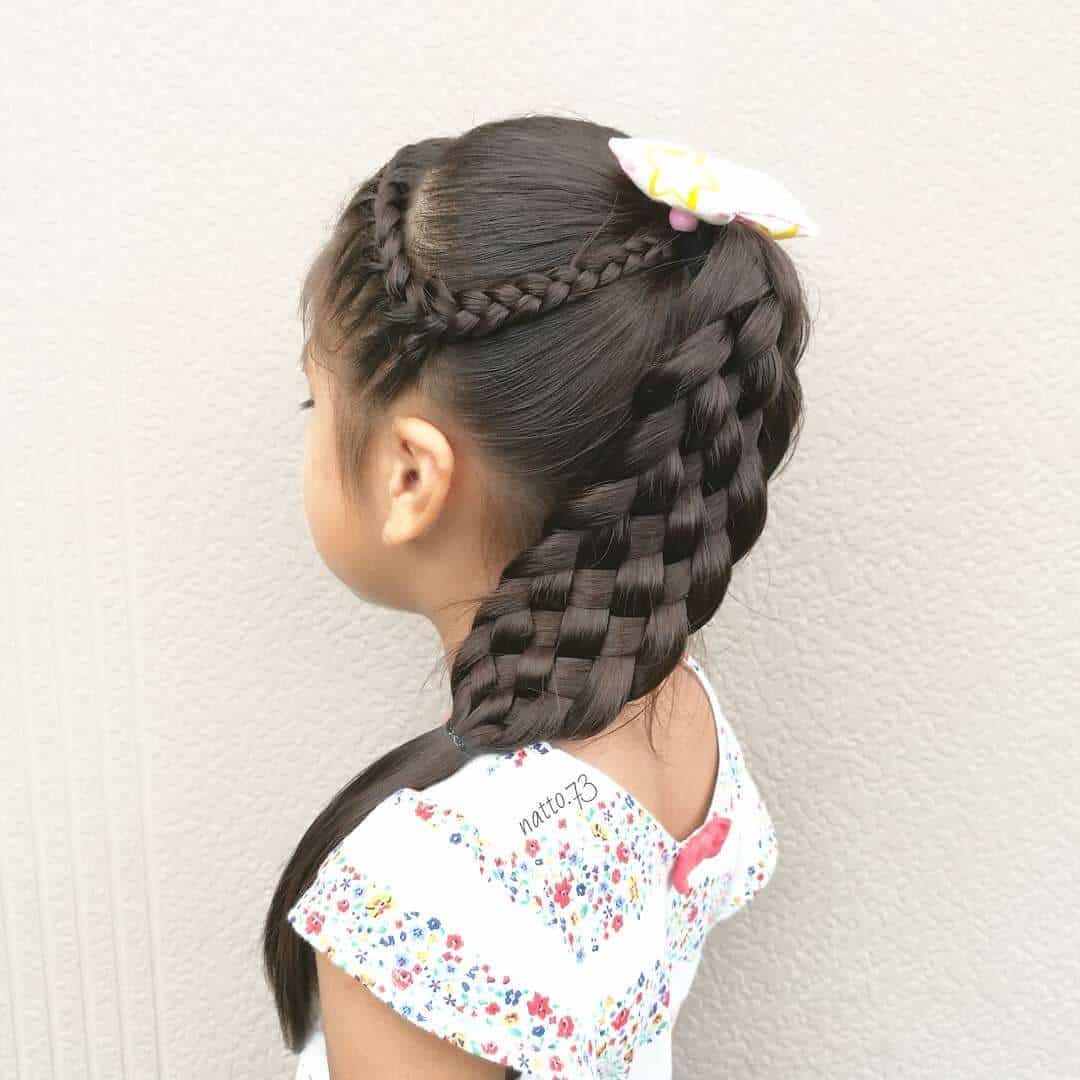 Make a real princess out of your little ones by giving them majestic braids! Thick braids are adorable and protective hairstyles that are perfect for your active and playful princess. For styling, you can use hair accessories like ribbons and colourful hair ties.
Diagonal Braids with Beaded Ends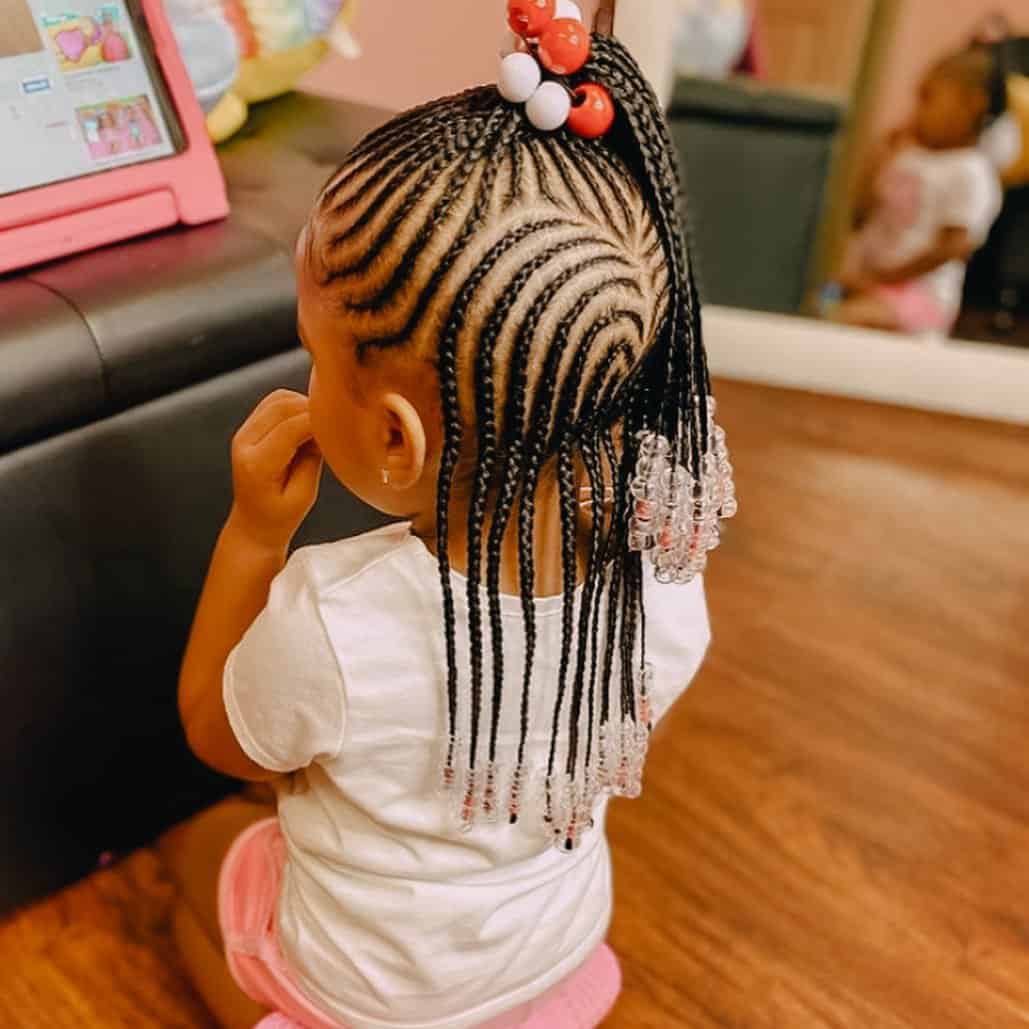 Braids are already stylish enough. But adding diagonal patterns to the cornrows can make it even more stylish and cute! You can do this on thick or skinny cornrows and it will still look adorable on your kids. Add colourful beads at the end to add playfulness and fun!
 Box Braids for little boys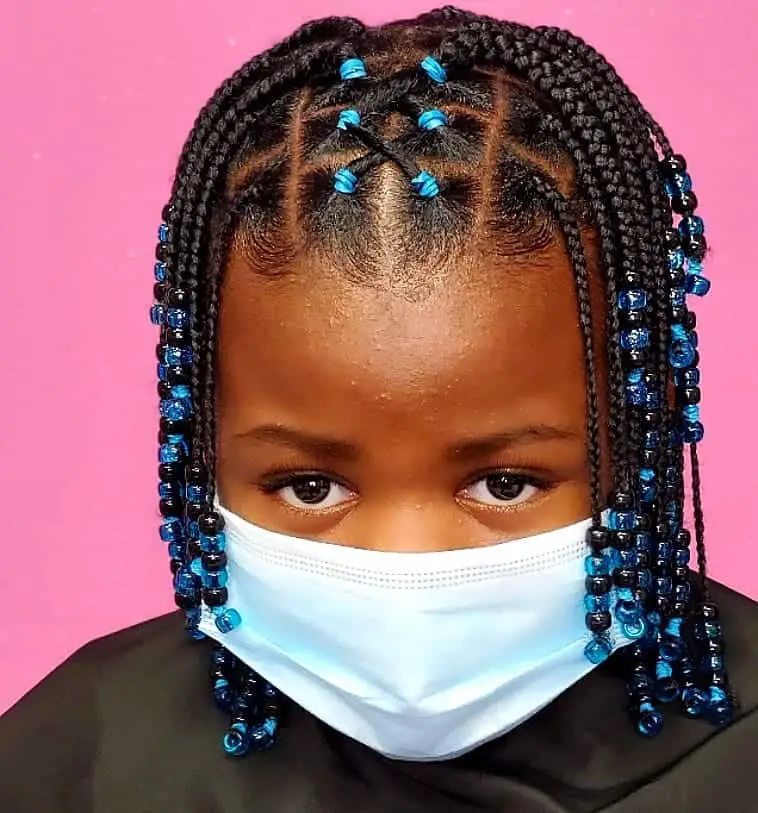 This hairstyle is perfect for kids with naturally thick hair. But mommies, don't just style them with normal braids. Make it even more stylish by doing box braids. Add beads on the strands of the hair to make them look funkier.
Creative Design of Braids for Kids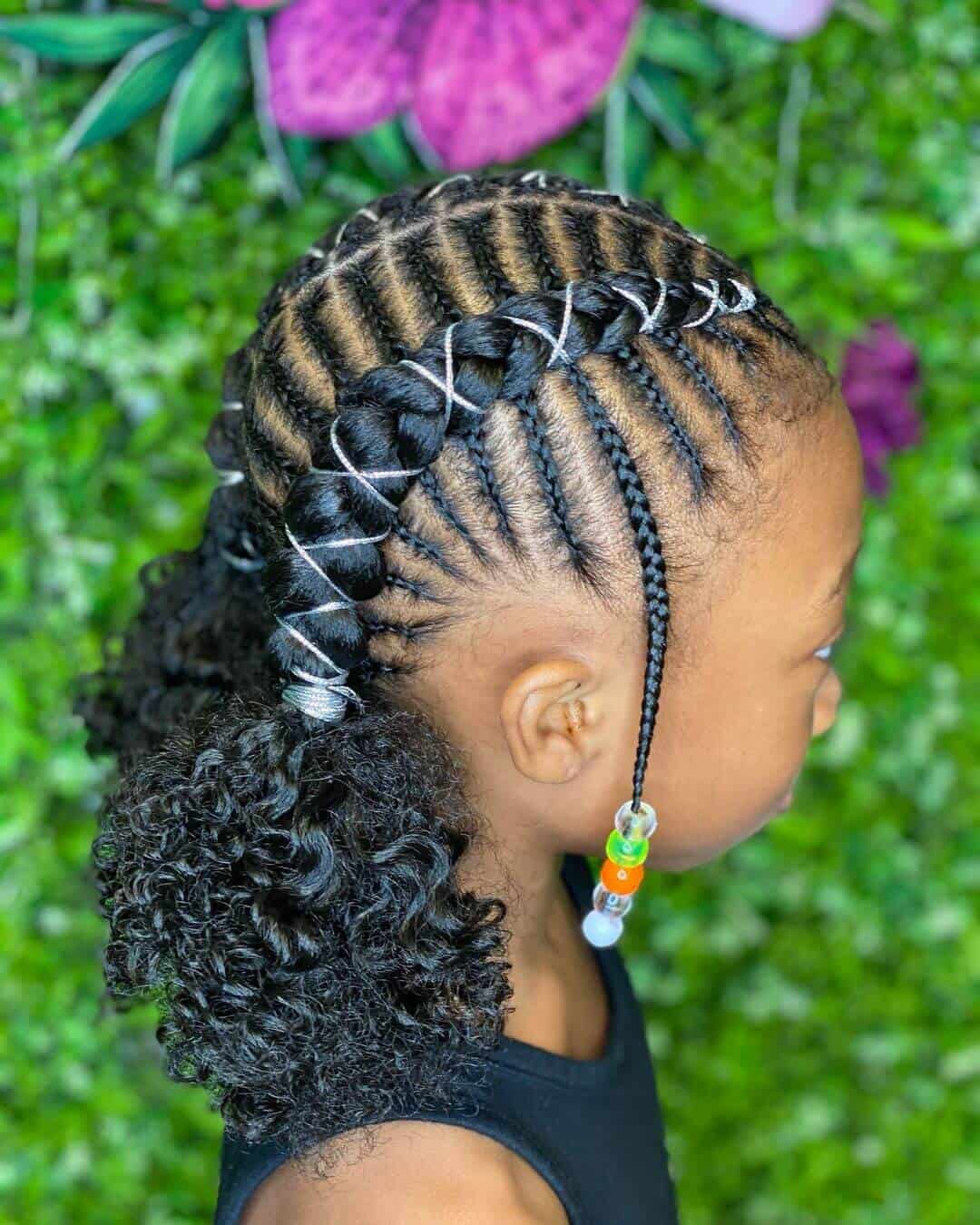 Match the playfulness and energy of your kids with creative braids. Whether your little ones have curly black hair or long straight hair, there are endless possibilities to style their hair! You can do multiple cornrow patterns or intricate fish braids and even braids with waterfalls.
Chunky Lacy Double Braid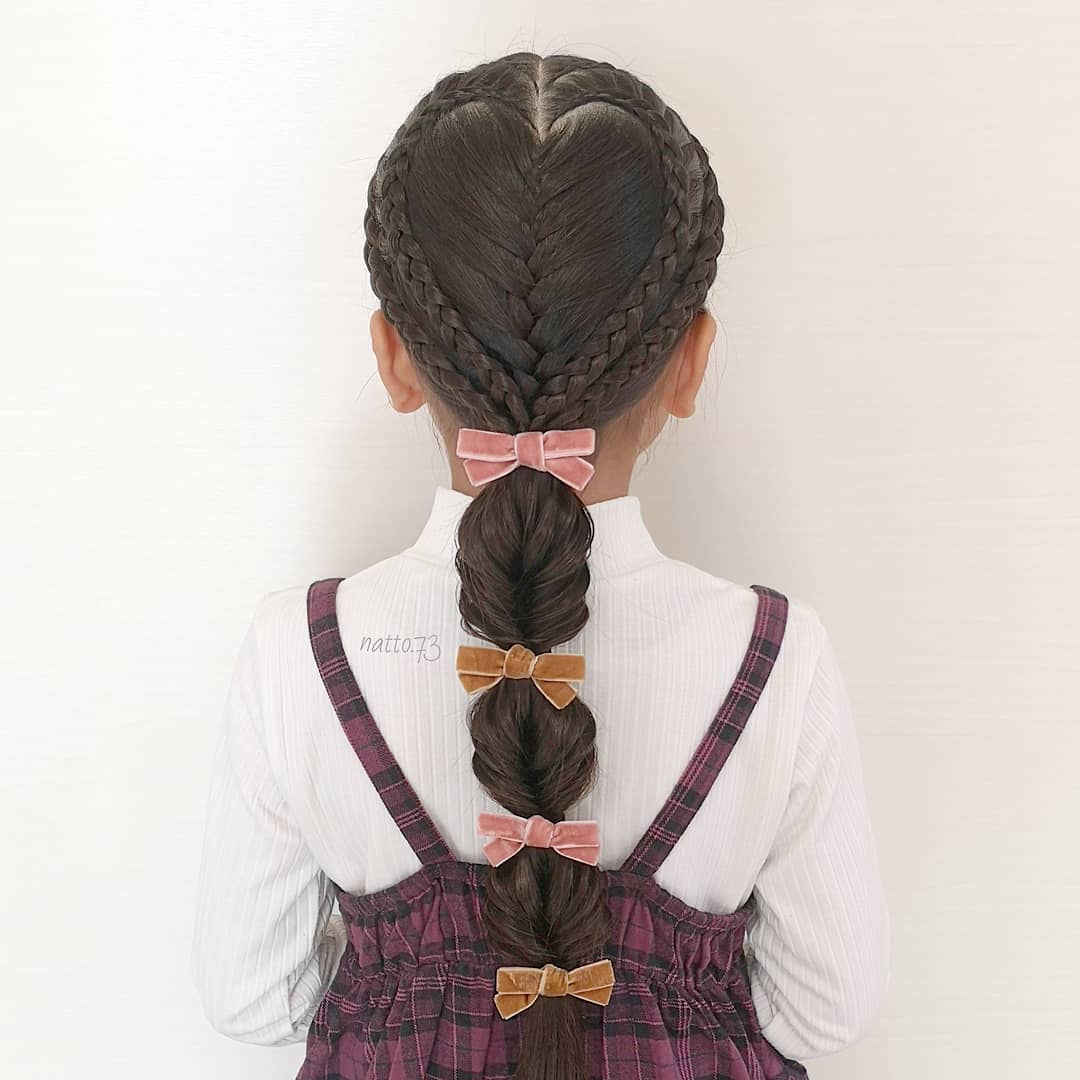 If one braid is not stylish enough, make them two! This might need some practice for mommies but it's sure worth all the effort! Do a thick Dutch braid as a base and finish with a skinny braid.
Crown Braided Hairstyle for Kids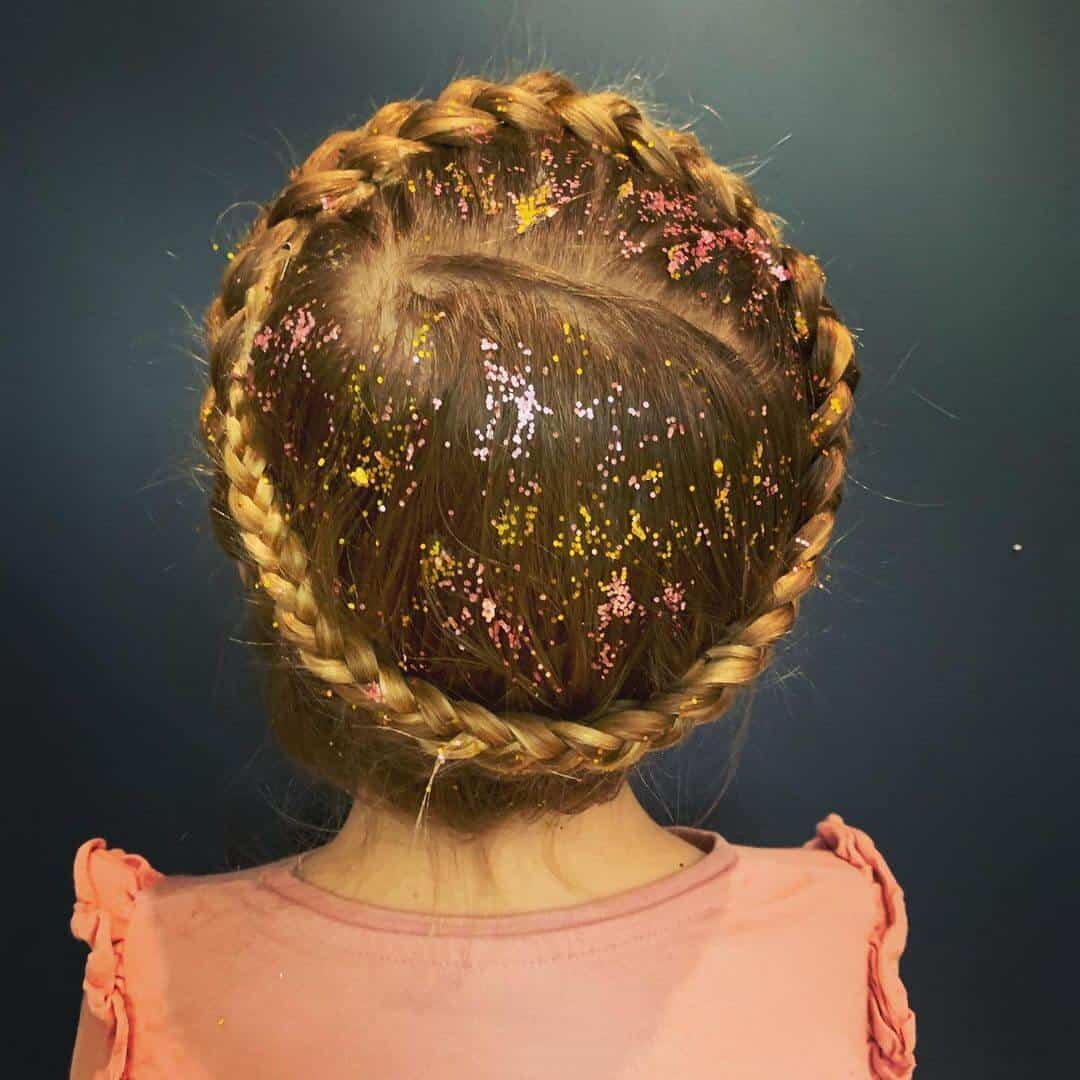 For your girls with long hair, crown braids are perfect! Create a heart shape on the hair and surround it with a crown braid to make their princess dream come true. Add flowers and beads to make them more special.
Braids for Girls in Half Updo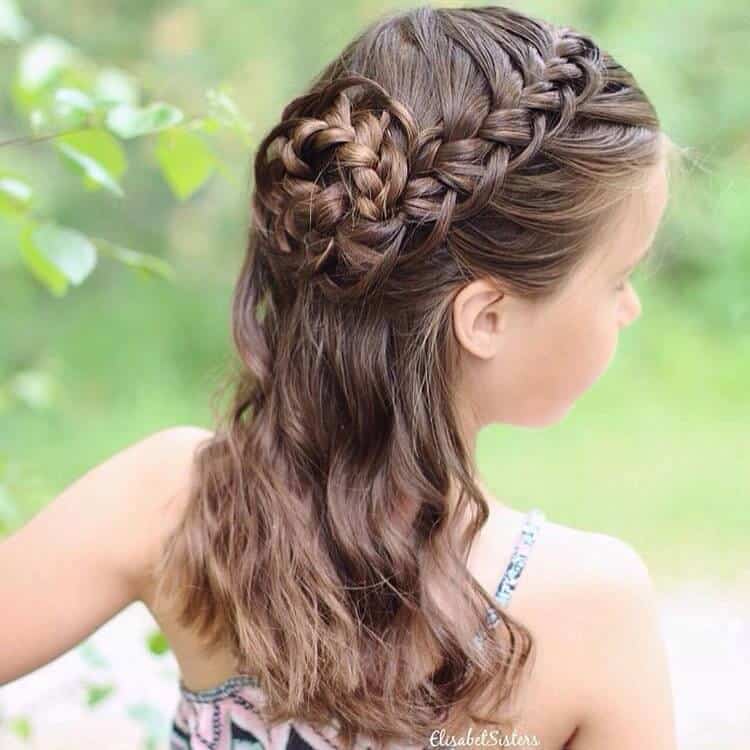 This hairstyle is good for kids of all ages. Even your teens with long hair can do this fun hairstyle. Waterfall braids are a perfect way to do a half updo and make a young lady out of your teen.
Braids for Little Girls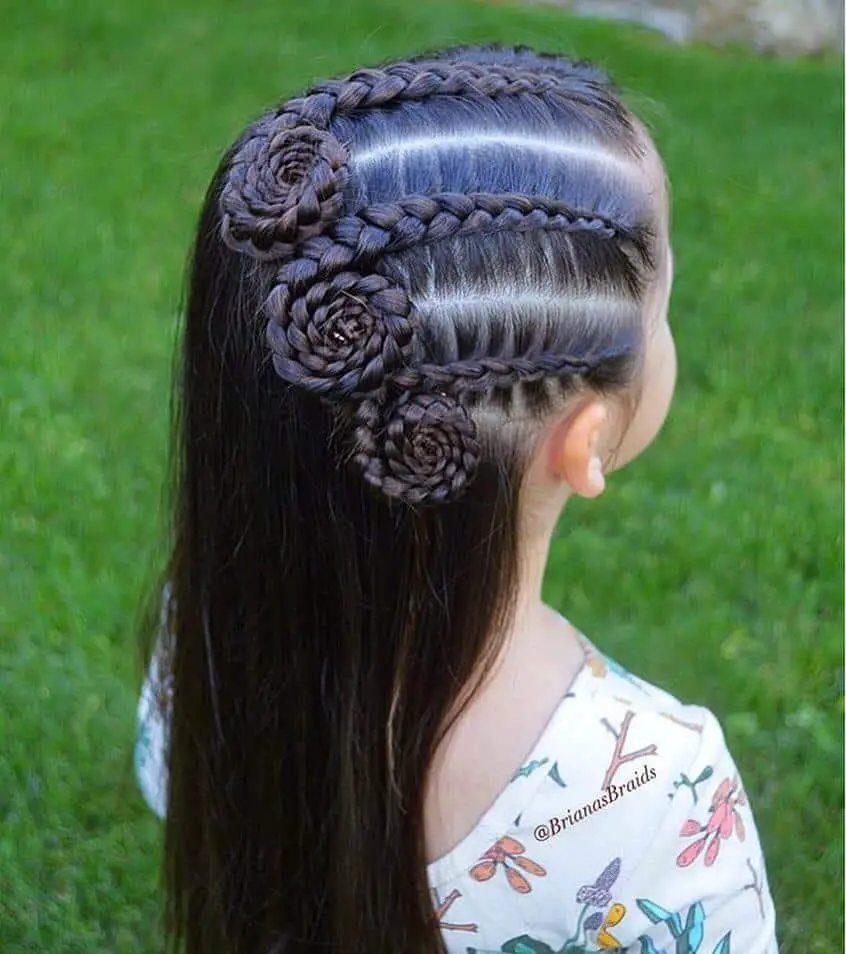 Make your little girls even more adorable by styling their hair with braids. There are many variations that you can do to their hair. Braid your little one's hair and create a flower pattern to tie it all together.
Braids for Little Boys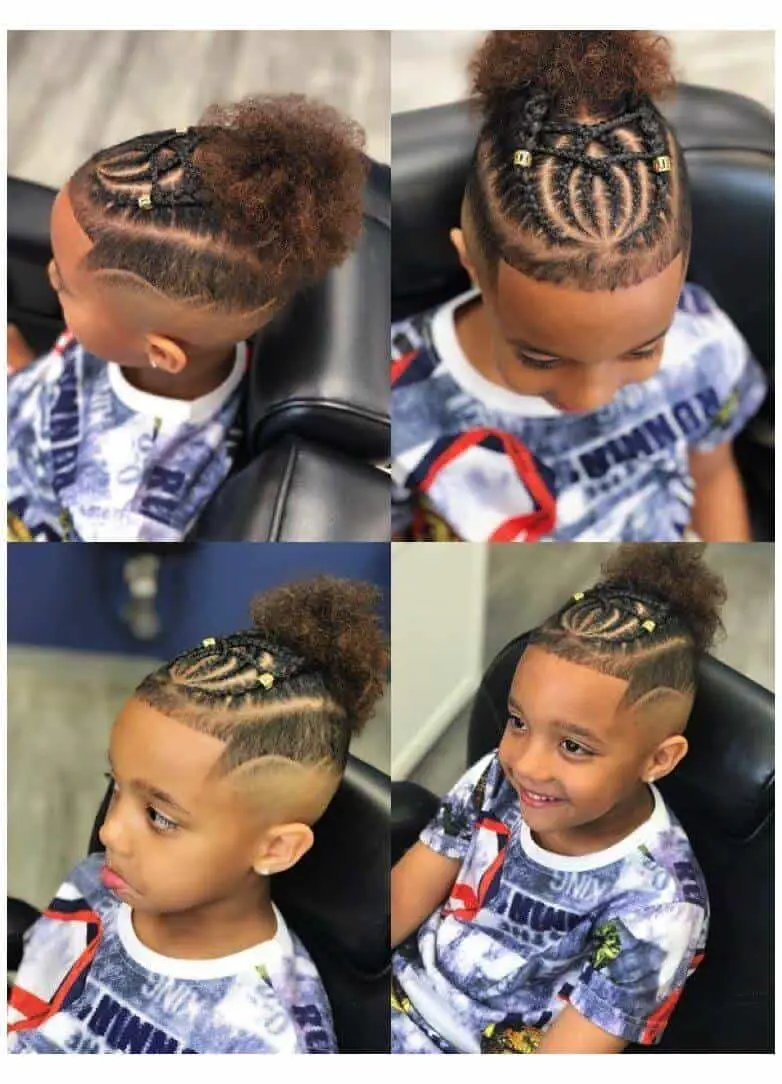 Yes, you read it right! Even boys can get braids too! Cornrows are protective hairstyles that can also be done for boys. With added patterns on the cornrows will make your little boys stand out.
Elsa Braids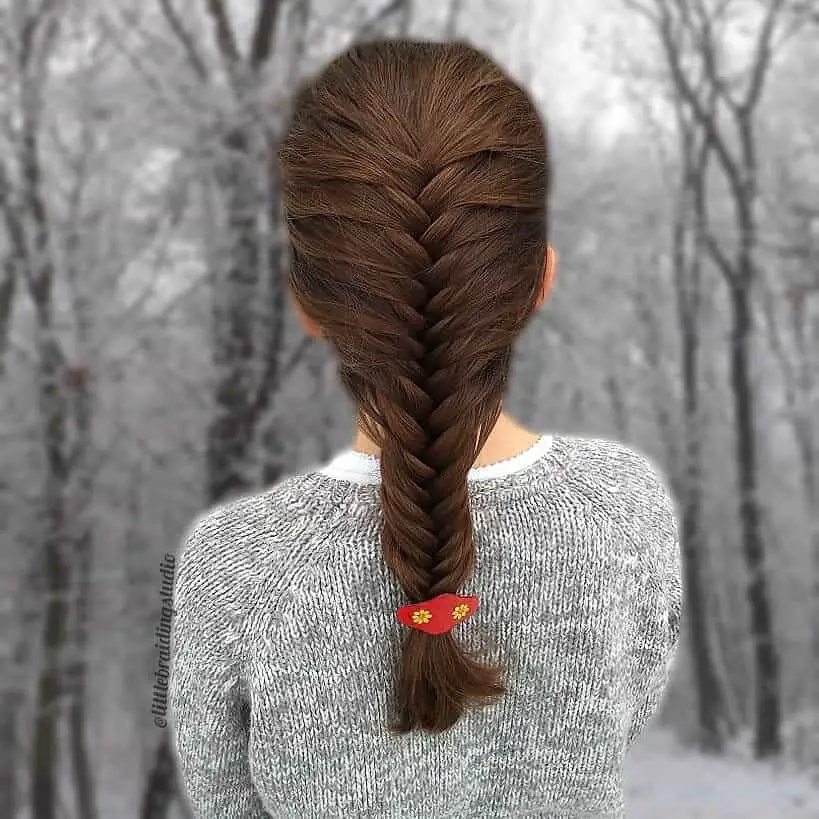 Yup, Elsa braids are now a thing! Especially for young girls who can't stop singing "Let it go, let it go!"  There are many different ways to do this hairstyle. You can do a French braid or a Fishtail braid and let it down on one side of the head. Add flowers for more fun!
Chunky Twist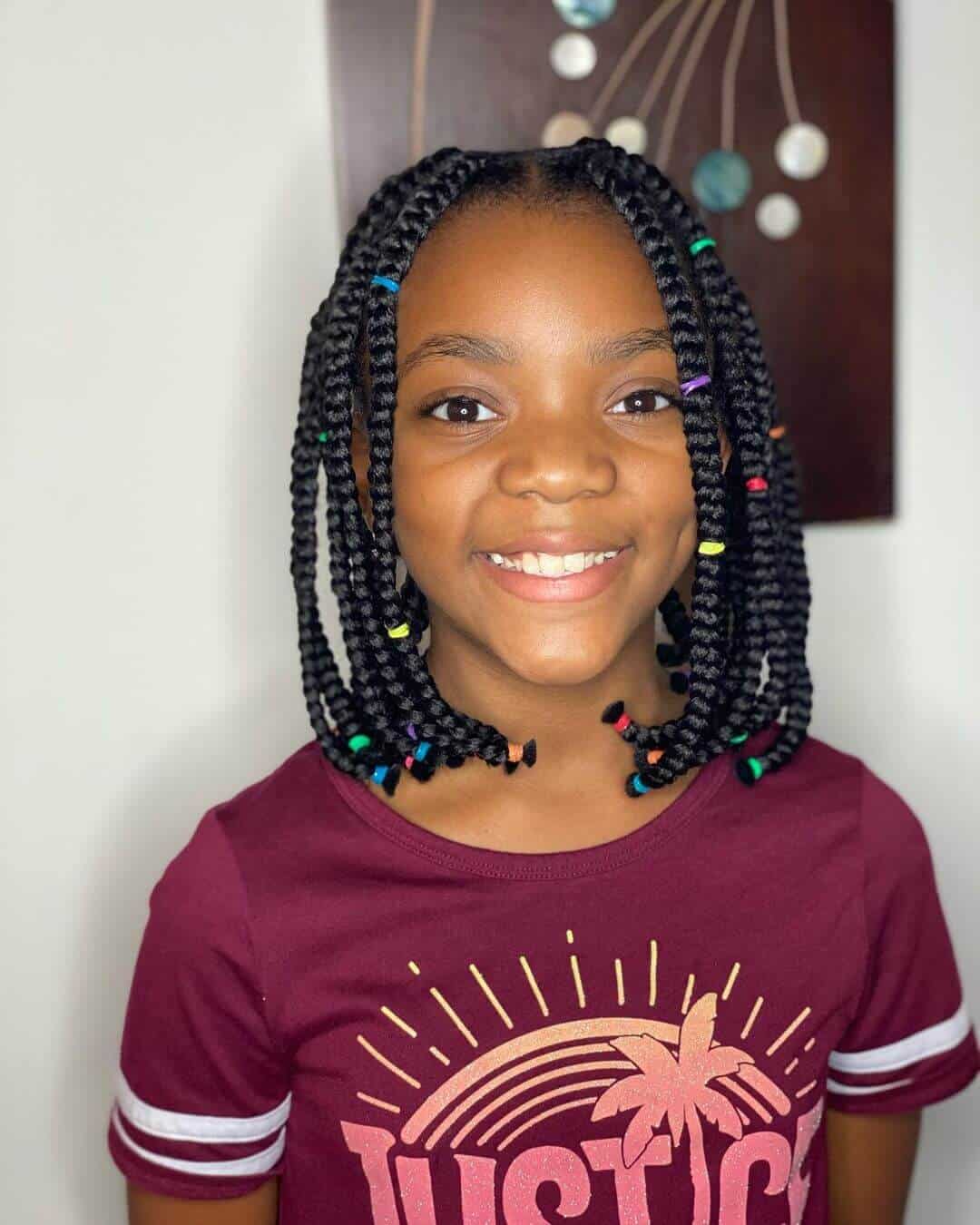 This is one easy hairstyle and yet very stylish! The chunky twist is done by twisting hairs and then twisting two twisted strands together to create a chunky strand. You can do a triangular twist or even a box twist to add more character and style.
Braiding comes in different shapes and sizes. And at different ages too! Whether your kids have long hair or short hair, curly hair or straight, you can find a perfect braid hairstyle for your kid. We know that these balls of energy need a hairstyle that can match their playfulness. And braids can do the job! Braids are not just fun and stylish. They also protect the hair of your little ones from damage. There are many different hairstyles that you can create from simple to complex ones. With lots of practice and patience, you can nail that braided hairstyle! You can even match your little one's hairstyle with these fun mother-and-daughter hairstyles.