Knowing your curly hair type really helps while you buying curl hair products or having conversations with hair experts. Also helps you how to manage your curl type without spending more time and effort.
I am breaking down each curl type based on the nature of the curl. Curly hair is dived as type 2 which is wavy, type 3 is curly and type 4 is colly, and sub classification is used based on the diameter of your curl.
When bad hair days are your everyday reality it really makes your morning routine time consuming and hard. All you need to do to make your curl hair perfect is to know your curl type and how to manage it. This article will help you to identify your curl type.
Let find out which type your curl belongs to.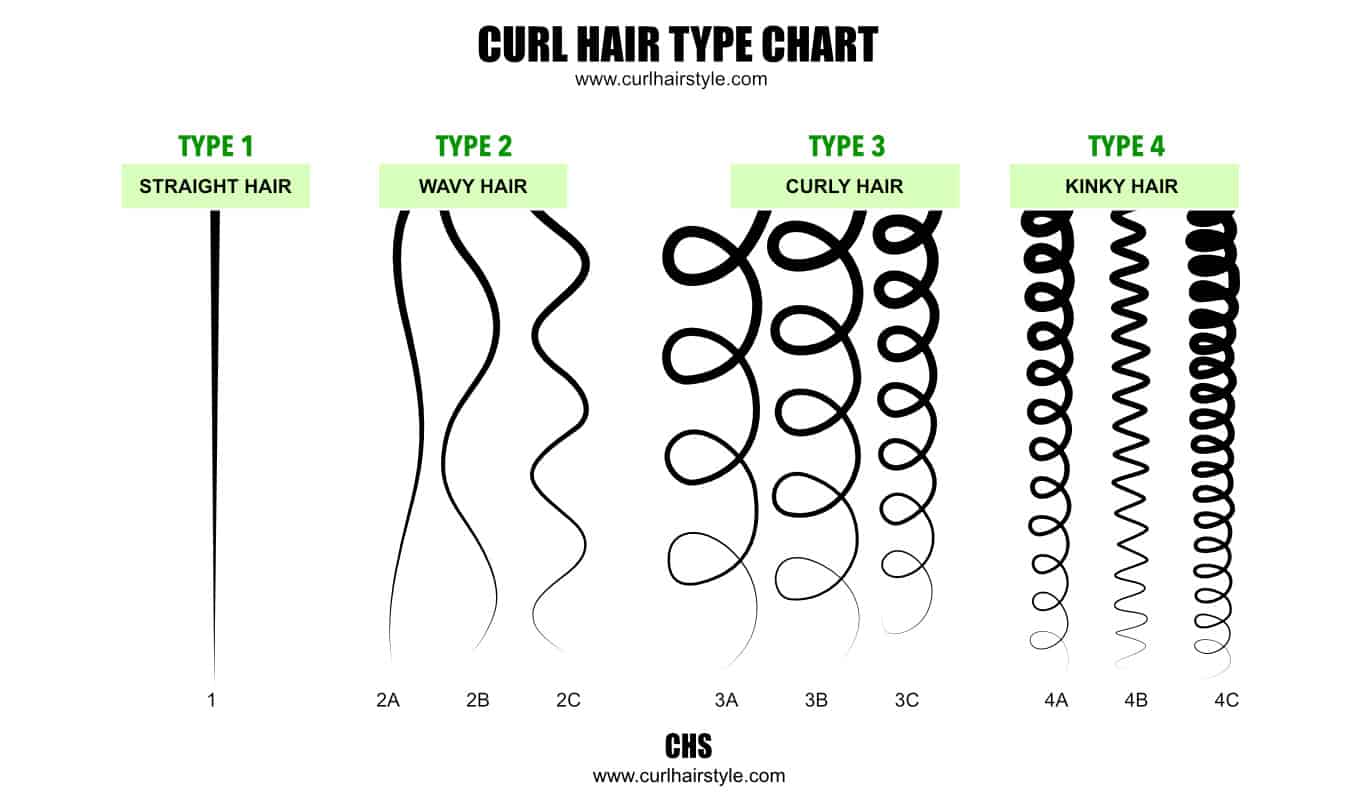 Here is a simple breakdown of your curl types:
What are the different curl types?
Kind of Wavy hair but nothing crazy are type 2.

Really curly hair with a strong curl pattern is type 3.

Tight curls with kinky hair fall under type 4.
Wait! There are more each of these types is divided into 3 subtypes. A, B and C. Here is the most interesting part. Let's begin with the first type.
Type 2 Curls
2A hair type falls in between straight and wavy. Without any styling, it looks like weak S-shaped strands. It is not a problem to make it straight or wavy. It reacts pretty well to styling.
2B Curl type
2B hair type has more prominent and visible S-shaped curls. It can be slightly frizzy as well.
2C Curl type
Finally, 2C curls combine wavy and curly hair. It's very frizzy, quickly curls up in humidity environments, and has tons of volume and generally thicker waves.
Type 3 curls
Let's learn more about curly hair, type 3A hair types shiny and great at taking any form you want it to. This type has a very defined S-shaped which makes it appear full and healthy.
3B hair type has a smaller curl pattern than 3A ranging from spiral to tight corkscrew. It also has a combination of texture.
3C hair type is actually thinner than 3A and 3B. Its curls are smaller which makes it appear thicker plus it is very tight.
Type 4 Curl
Finally, it's time to explore this last hair category, type 4A hair has an S-shaped pattern if you stretch it. But usually, it's just tight coils. It tends to be thin, brittle, and fragile.
4B hair type has Z shape and often has zigzag like curls. Just like 4A this type is pretty fragile as well.
4C hair type is the hardest to style and takes care of. It doesn't have a definite curl pattern which makes it look awesome but difficult to comb.
What products to use on my curly hair?
Try to look at a shampoo with a moisturizing effect and if they also have fruit extract grab them and never let go. This is exactly what your hair needs. If you notice that your hair looks dry throughout the day just use a tiny drop of grape oil or mustard oil near the ends. This trick will make your wave look alive. Your hair drying ritual should also change. Try to leave your hair a little bit wet after blow-drying or use cool air if you do not want to look fluffy.
The natural approach also applies when choosing the perfect haircut. Make sure to stay away from dramatic transitions in your hairstyle otherwise you will get stuck with your straightener every day.
Conclusion
Still no matter what hair type you have, you should always take care of it and own it. This way you will always look like a million dollars babe ❤️.