A curly pixie cut hairstyle is best described as short hair with curly locks or layers. Pixie cuts for curly hairs are so popular these days because they keep you physically cool, require lower maintenance and saves time. If you want great curly hair with low maintenance? Well, Pixie curl is the right one for you. Discover how your short curly hair can make you stylish, attractive and well defined. When you are looking for a new hairstyle a short or curly pixie can be a satisfying one. And if you have naturally curly hair it will add more life to it.
Here are some trending curly pixie cut hairstyles ideas of 2023.
Voluminous Curly Pixie Cut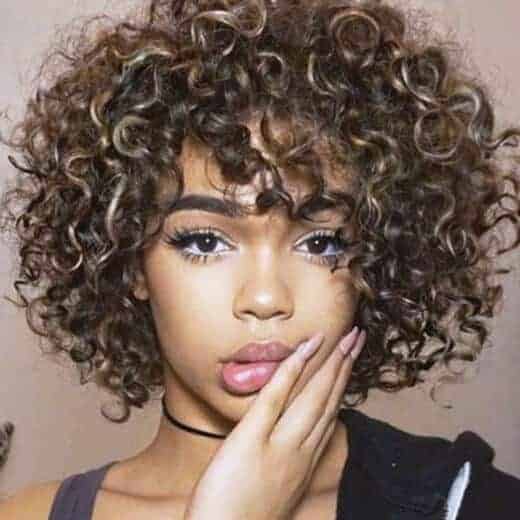 If you have a thick hair go for this look, you can manage your hair using styling products and hair tools to style your hair in the way you like. The best way to maintain this type of curly pixie is to trim from time to time.
Pixie for thick curly hair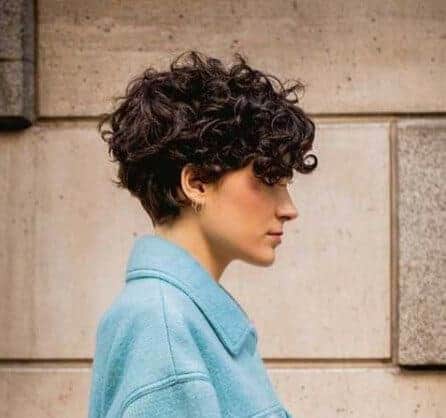 This look depends on how thick your natural hair is. People with thick hair go with this look for a romantic pixie curl style. It is easier to manage and goes well with any type of occasion.
Curly Pixie Bob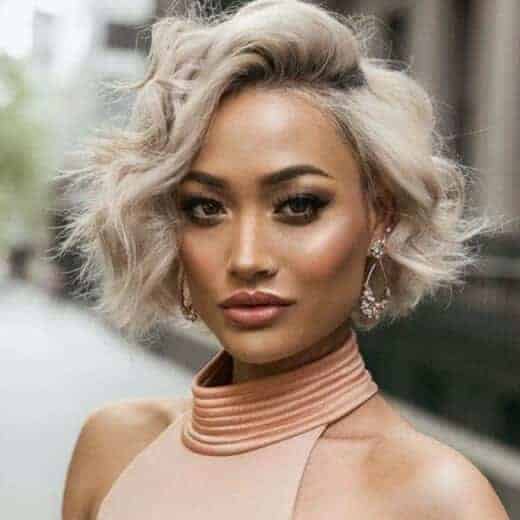 Curls never go wrong when you style a pixie bob haircut. The short curl strands will still look stunning and look rich when getting this haircut. It will look bouncy, healthy and classy.
The curly long pixie cut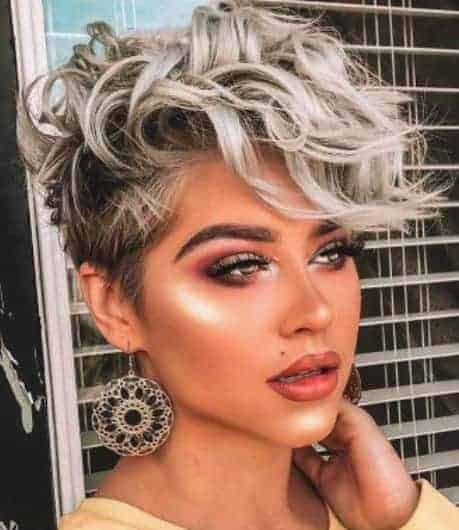 If you want to look classy and sassy curl long pixie is the key. To style this look you will just need to select the right product to set your hair that gives you a touch of a feminine look.
Wavy pixie for natural hair
For a perfect summertime let your hair breathe just by getting this curly pixie look to frame your face. This is a simple and natural way to look cute and stylish if you take care of your hair well with the right shampoo and conditioner.
Curly layered pixie cut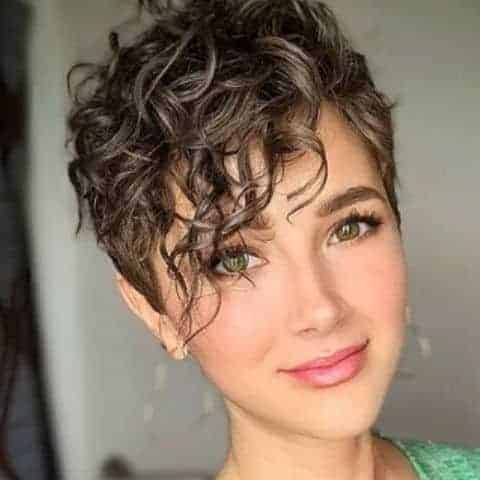 If you can carry a bold and fashionable look, a curly layered pixie is a right hair do for you. To style it, grab a strong wax to make spiky locks which also help you to get a taller look.
Pixie for thin curly hair
If you have thin hair it is an advantage if you get a pixie hairstyle. Women with thin hair should try this haircut to add volume to the hair. It will add more volume if you cut your hair in layers. Tell your stylist what you exactly want to do with your hair and for a fresh look.
Asymmetrical curly pixie
To get the dramatic look, go for an asymmetrical curly pixie. The side part is longer and asymmetrical which gives you a flirty look. The simple way to make your hair look playful is to tuck your hair behind your ear or use some fashion hair clips to stay stylish.
Side parted wavy pixie
One of the very trending pixie cuts is a side-parted wavy pixie. It suits almost all types of face shape with slight wavy curls. Keeping the hair length to your ear to make a face look more defined.
Curly pixie with bangs
The way to look cute is to get a curly pixie with bangs. It is simple to style, wet your hair add mousse, scrunch your locks with your hand and let it dry.
Curly undercut pixie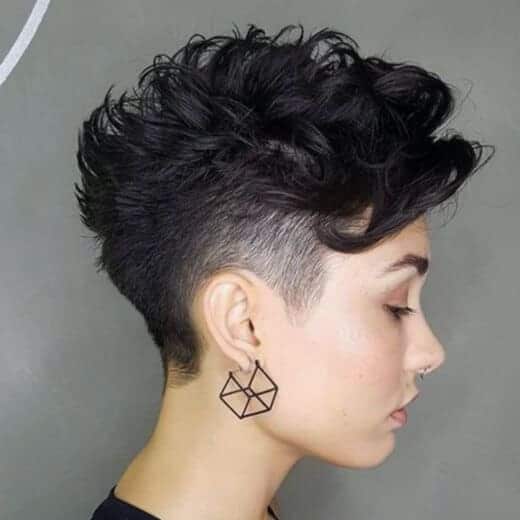 This one is the most dramatic curly pixie hairstyle because it has very short edges on the side and long enough on the middle part. If you have a round face shape go for this look to make your face look longer.
Super short and c
urly pixie
To get a cooler look try this super short and curly pixie with a slight undercut which helps to add more volume on top. You just need to remember to trim it every 3 to 6 weeks for maintenance.
Tight Curly pixie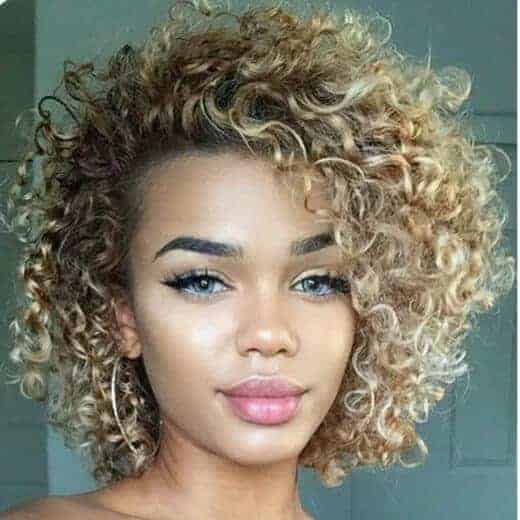 This tight curly pixie is also well known as a pyramid shape. It has volume on the top of the head and falls flattering with layers that frame the shape. To style this use a gel to set and dry it with a low setting dryer. Always remember to hydrate your hair and use hair masks once a week.
Curly messy pixie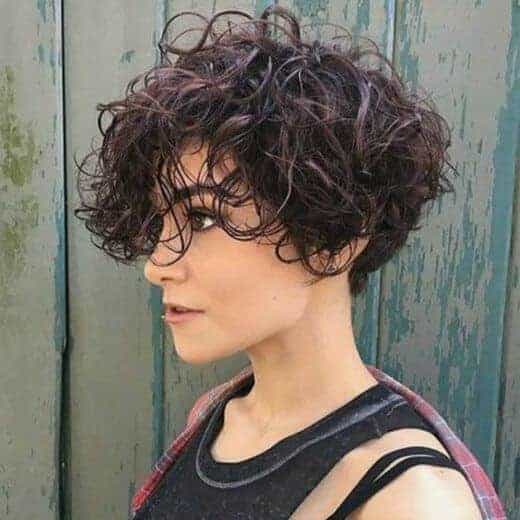 Curly messy pixie gives volume as well as highlight your cheekbones and eyes. To style add curling mousse in your wet hair, scrunch with your hair and allow it to dry naturally.
Curly Mohawk like a pixie with bangs
This type of pixie curl hairstyle looks a bit more edge. It has a longer top part which falls naturally in your forehead or we can say like a bang giving a feminine touch to its look.
Vintage diva pixie curls
Retro pixie hairstyle comes from 60' which is inspired by actresses in the old days. This curly pixie has loose ends that you can carry for both formal and casual occasions.
Super style curly
pixie
Most of the actresses pull out this look on Red carpets or Oscars which looks extremely elegant and classy. To get this clean look for curly hair like you guys have just need hairspray and bobby pins will do the magic.
Finger wavy
pixie
Shine with these vintage finger waves if you have thin to medium hair. Your curls will look fabulous every day and you will rock it.
Balayage curly pixie
If you want to play with hair colors, the best thing for a curly pixie hair is to get a balayage. Balayage is so popular these days for a curly hairstyle and helps to outline your locks.
Beachy
pixie curl
Most girls have beach hair pixie during summertime. This look has a fresh, cool, and summery vibe. Style with a scarf, headband, or fashion clips to have those beachy looks.
Conclusion
However, When you get a pixie hair cut you will attract a lot of attention, positive and negative it's just the way it is. It is all about you and your hair what actually matters if you like it or not. If you are not sure about the super short pixie cut, then go with a fashionable long curly pixie cut which will add a tone to your hair.