Want to look stunning on your prom night? Check out 21 curly prom hairstyles that are easy to make your prom a memorable night.
You're young, happy, and free. Prom is on the way. You get anxious about what you are wearing. You get excited about your date. Then you prepare for the big day. Prom is an essential part of growing up especially for girls as well as the last day of school.

It is important to look pretty and fabulous on that special day. One of the things that you want to consider is getting that pretty prom hairstyle to match with your prom dress. Now, you have curly hair and it can be challenging to create the ideal hairstyle for your natural curls.

So, you ask yourself, what do you do with curly hair for prom. There are several answers to that question. You can go to a salon. You can hire a hairstylist. Or you can do your hair by yourself. To help you out, here are the most incredibly pretty curly prom hairstyles that you can follow.
Go For The Celtic Knot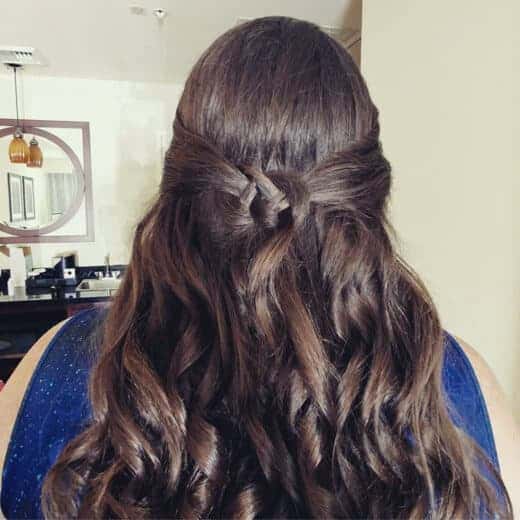 Tie your loose curl in a Celtic knot. It is a knot that has continuous loops. It will make your hair look fabulous. The Celtic knot is a simple hairstyle and yet it can make heads turn. It's a great updo for prom for your long curly hair. Wear it like a goddess.
The Twisted Updo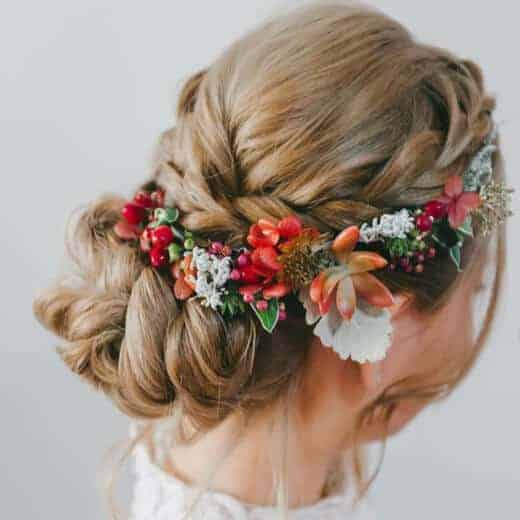 When you have curly hair, the twisted updo is a way to go. This hairstyle is a braided bun that lets you get away with any dress you wear. It adds texture to your lush hair. If you go for this curly prom hairstyle, remember to leave tassels of hair that fall loosely on your shoulders. It gives a sexier look to your pretty face.
Make It Magical With A Unicorn Braid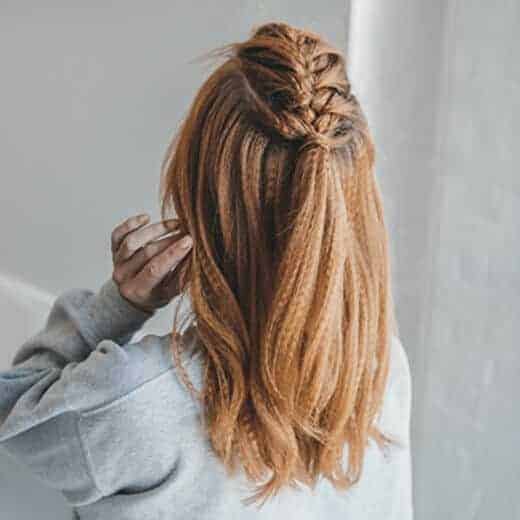 This curly prom hairstyle is perfect for both short or long curly hair. Adds a fabulous look to your hair. Do the braid in the center of your hair and you have the unicorn braid. Adds an edge to your simple look. Put a little makeup and you are ready for your prom night.
The Juliet Prom Hairstyle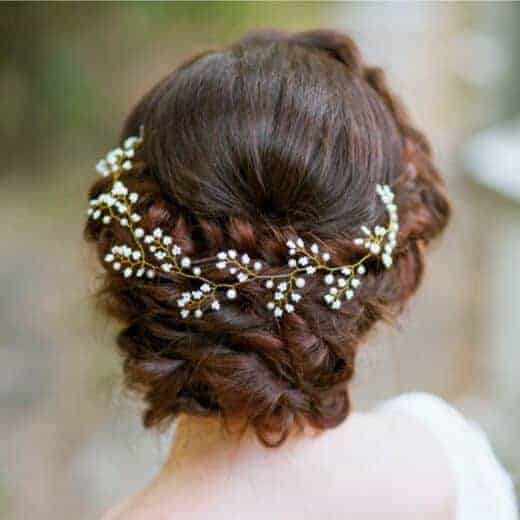 A simple look can still be fabulous. This prom hairstyle for your curly hair is a great find. It gives you a boho look. You can wear this prom hairstyle on any type of dress. Just a splash of stud earring and you'll look like a princess for your prom night.
Be In Style With A Half-Up Side Braid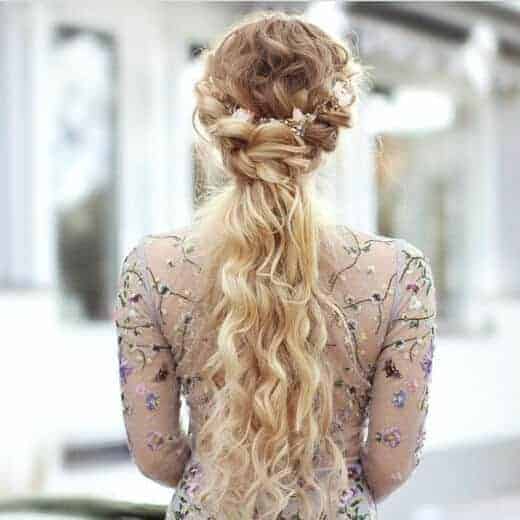 You need not braid all your hair, a half-up side braid will pull off your prom look. Take a few strands of hair from the side and braid it halfway. It is best for any color of hair. You can even do this prom hairstyle for your black hair. The simpler the hairstyle, the more fabulous you'll look. 
Keep It Simple With A Romantic Flower Braid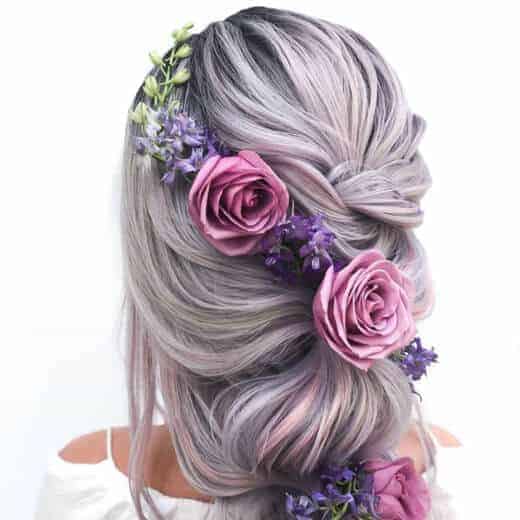 Add some twist to your prom night. Style your hair with the romantic flower braid. It is easy to create. Grab your hair to make a ponytail on the side. Do the standard braid and roll it like a flower. You can do it yourself. It is easy and looks fabulous on any dress you wear. 
The Braided Headband Prom Hairstyle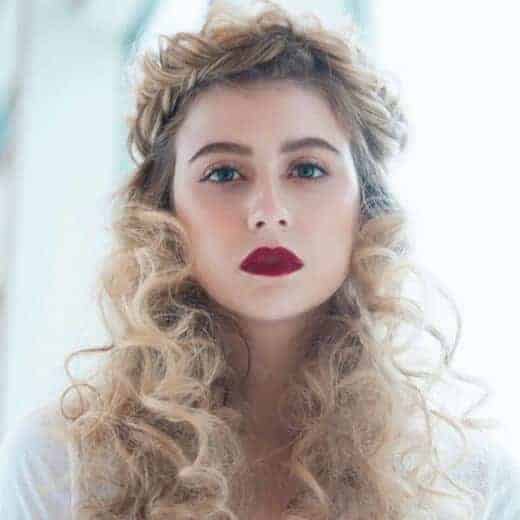 Instead of adding a headband to your hair, you can do a braided headband hairstyle. Create the braid to form a headband over your head. Your curly hair will look fantastic with this hairstyle. Get a way with any dress you wear with this braided headband prom hairstyle.
Get Creative With A Simple Waterfall Braid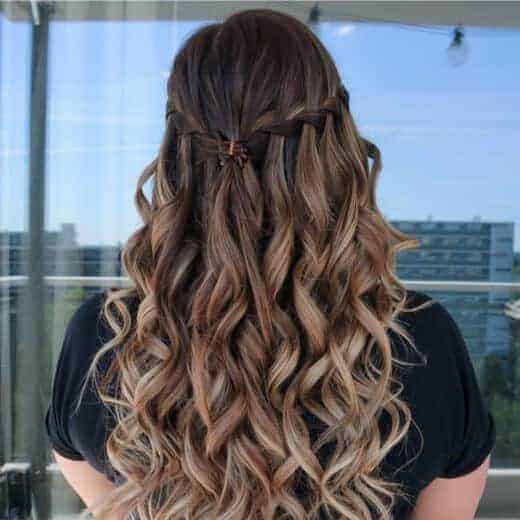 The simple waterfall braid is easy to create. You can do it yourself. This prom hairstyle is perfect if you do not have time to go to a salon. The simple waterfall braid gives you a dreamy look. Add sophistication to your hairstyle with this look. Add a dash of make-up and some jewelry and the night will be magical for you.
Take It Easy With A Pretzel Bun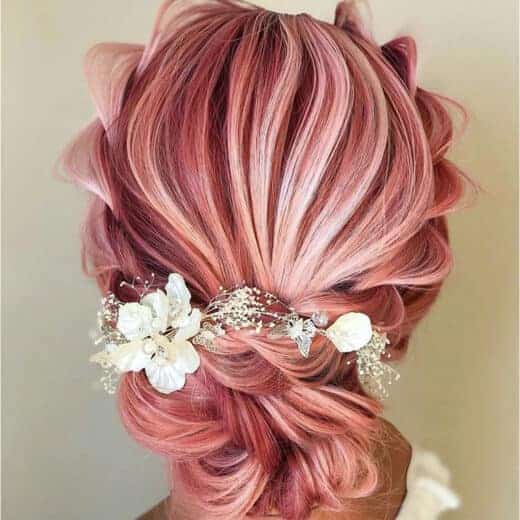 Your curly hair may need a makeover with hair colors for your prom night but with a pretzel bun, it's going to be easy. Grab your hair and pull it in a low bun. You will never go wrong with this curly prom hairstyles. It is something that you can pull off anytime. Simple and easy to do. And still, you'll look fabulous for the night. 
The Rolled Ponytail Prom Hairstyle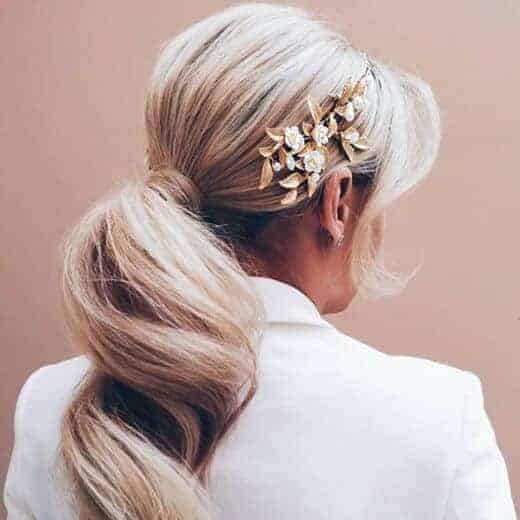 Keep it simple and creative with the rolled ponytail hairstyle. Make a ponytail and roll your hair and accessorise it with a fancy clip. You'll find this easy to do. No need to go to a salon for this hairstyle. You can wear this hair with any dress you are in for your prom night.
Keep It Classy With Glamour Waves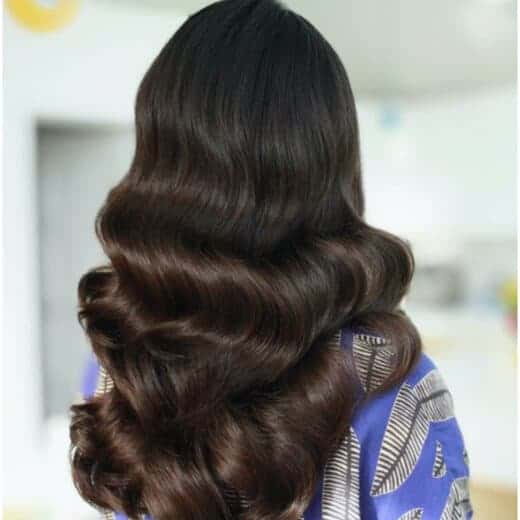 Sometimes wearing your hair to your prom night does not need to be in a bun. You can wear it in glamour waves. Look classy and sophisticated by having your curly hair down. Of course, you add some highlights to your hair color to make it stand out. Accessorise with some jewelry and a little make-up. You'll look fabulous all night.
The Retro Beauty Prom Hairstyle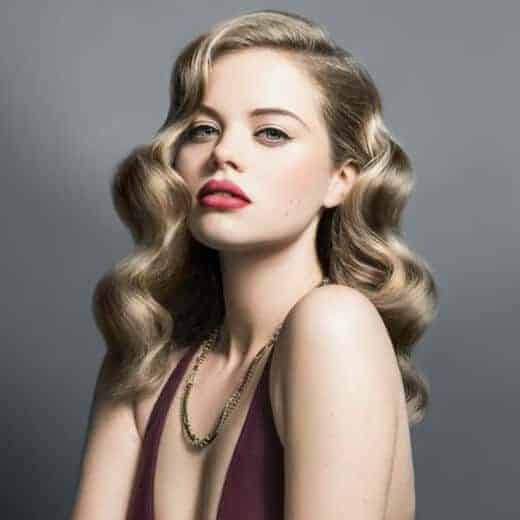 You may think that there is no hairstyle fit for your curly hair. Think again. You can go back in time with a Retro Beauty hairstyle. Pull up your hair a little bit to create a half-up bun. You'll transform your modern look immediately. Get into a retro dress and you'll look like someone that came from the past. Keep it unique during your prom night with this hairstyle.
Look Stunning With Flowers & Knots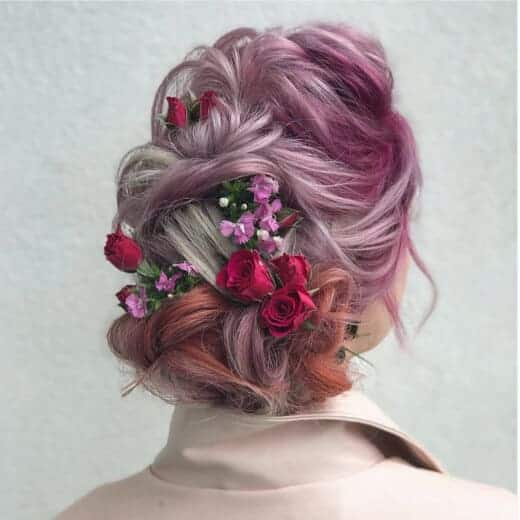 If you are confused about how to do your hair for your prom night, flowers and knots will do. Create small knots to your curly hair and add baby-breath flowers to accent the look. You'll look like a fairy coming out from the tale with this prom hairstyle. You can do this for medium or long curly hair.
Have Fun With A Pineapple Updo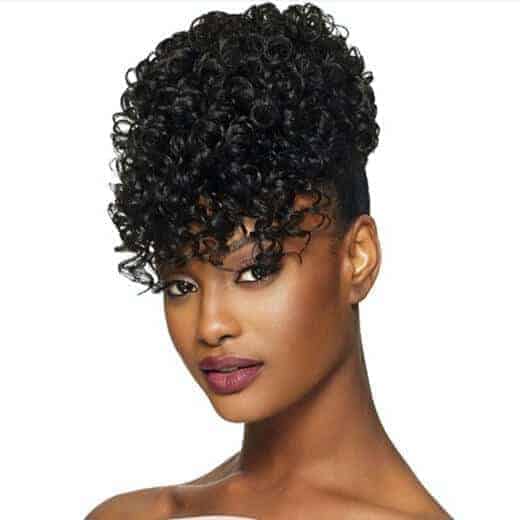 Another prom hairstyle that's easy to create is the pineapple updo. You tie your curly hair in a bun and pull it all up on top of your head. If there are ringlets that keep falling, hold these with bobby pins. This hairstyle is simple, easy, and fabulous looking. 
The Faux Bob Prom Hairstyle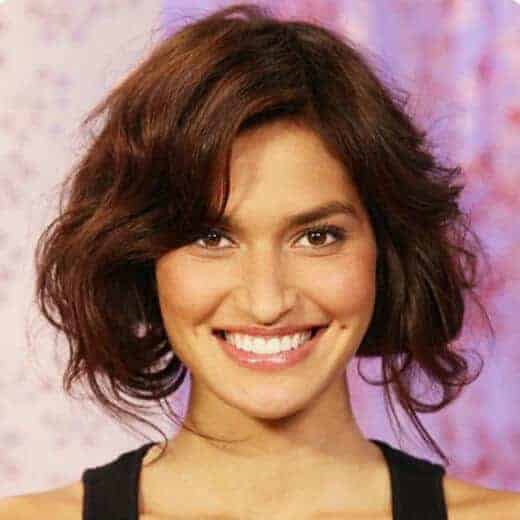 Here's a hairstyle that's best for medium curly hair length. Blow-dry your hair. Keep it in place by adding mousse. Then you'll have a sophisticated look. It's a bob that will stay in place all night long. Add some jewelry to accentuate your look for the party.
Be In Style With A Texture Messy Updo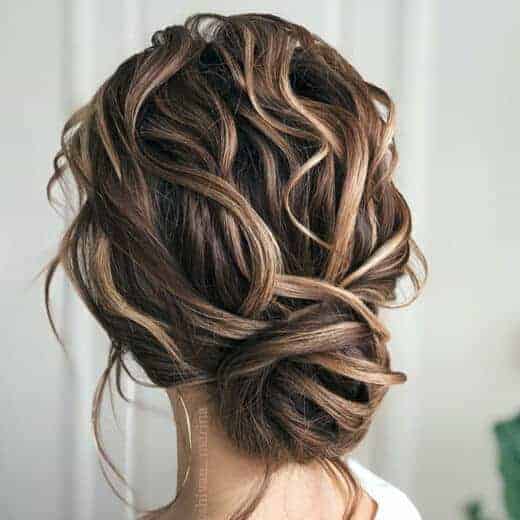 Gather your locks in a messy bun and let some fall down to your shoulders. Look sexy and classy with the texture messy updo prom hairstyle. Pair it with dangling earrings and light make-up. You'll look fabulous on your most memorable night. 
The Half-up, Half-Down Fishtail Hairstyle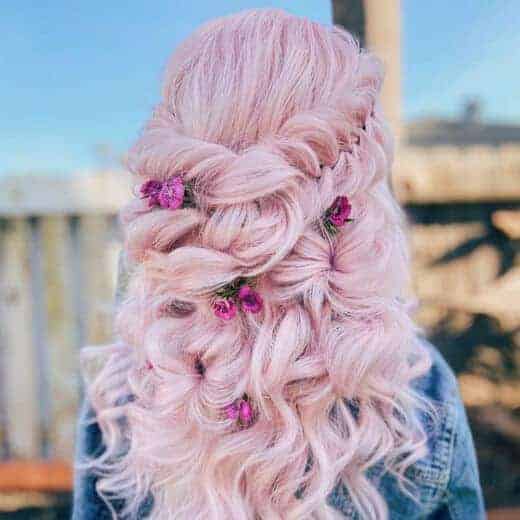 Create a fishtail braid. Do it half-up, half-down. You do not have to pull up your curly hair in a bun with this prom hairstyle. Look fabulous and classy with the fishtail braid. Add flowers as accessories to your already beautiful locks. Look like a goddess with this braid and enjoy the prom night with your date.
Look Classy With A Topknot Fishtail Bun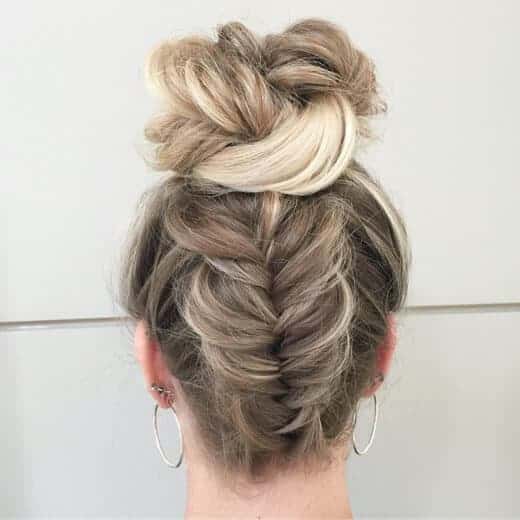 A fishtail bun is one of the best curly prom hairstyles. Create a fishtail braid and then pull it up in a bun. Do this in a half-up style. Toll the braid into a bun and you get the perfect prom look. You can place baby-breath flowers on the bump to add an accent to your look. 
Keep It Fab With Long Lasting Curls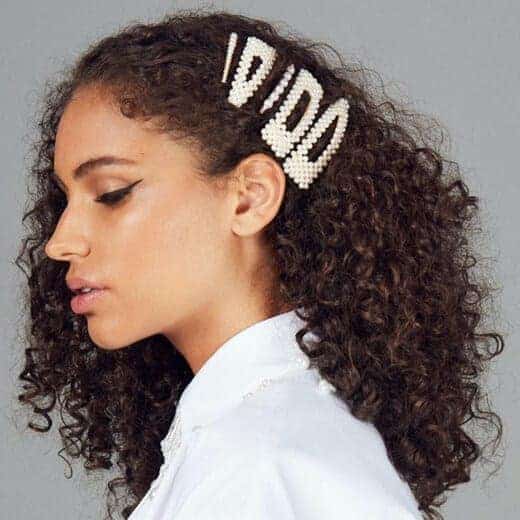 Let your hair down all night with long-lasting curls. Manage your curly hair and keep it in place with a hair spray. You can add highlights to the hair color to make it look more sophisticated. Letting your hair down makes you look fresh and carefree. Long-lasting curls can be the best hairstyle to wear to prom.
The Jack Sparrow-Inspired Prom Hairstyle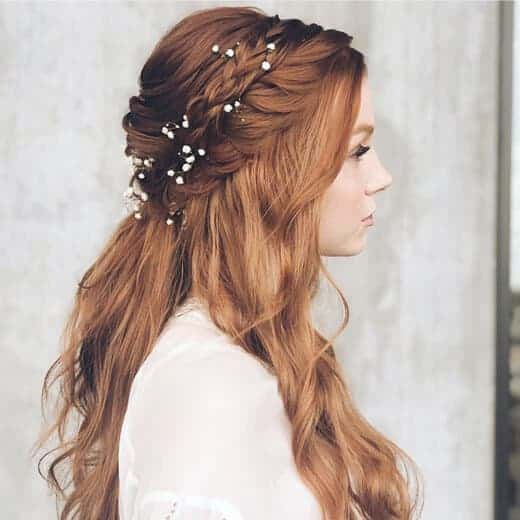 Criss-cross your locks and fishtail as you go. You create a Jack Sparrow inspired braid. If you've watched 'The Pirates of the Caribbean' movie, you'll see where this hair got its inspiration too. It can be complicated to look but easy to do. The best part is, it makes you look cool during your prom night. 
The Vintage Bouncy Curls Prom Hairstyle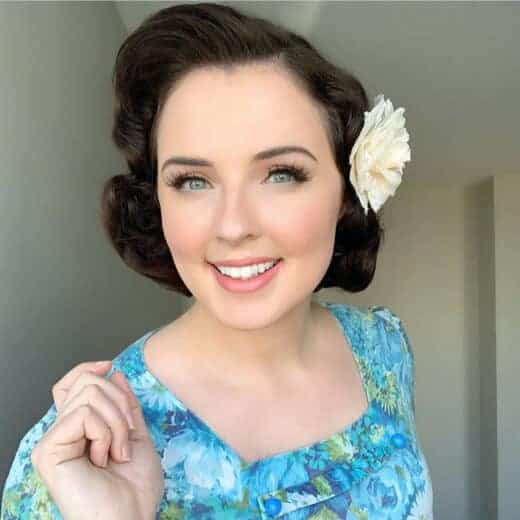 Keep it vintage during your prom night with bouncy locks. This is another hairstyle where you let your hair down. Blow-dry your hair and create big curly locks for your hair. Keep it intact with a hairspray. You'll make heads turn with the bouncy curls. Make your prom night one for the books with a fabulous look and sophisticated hairstyle.
Conclusion
Make your prom night memorable. Create the perfect look with a beautiful dress and the perfect prom hairstyle. These curly prom hairstyles listed will help you find what style fits your curly hair. 
All these are easy to create. Get ready for blow dryers and brushes when you prepare for the night. You can do these hairstyles yourself or ask help from someone to do the braids for you. Whatever curly prom hairstyles you choose, you'll definitely look elegant in these looks.