Curly hair is a blessing, not everyone has naturally curly hair. There is a lot of work when comes to keeping your curly hair clean, healthy, and stylish every day. One of the common problems of curly hair is getting rid of tangled or matted hair.
Causes of matted or tangled hair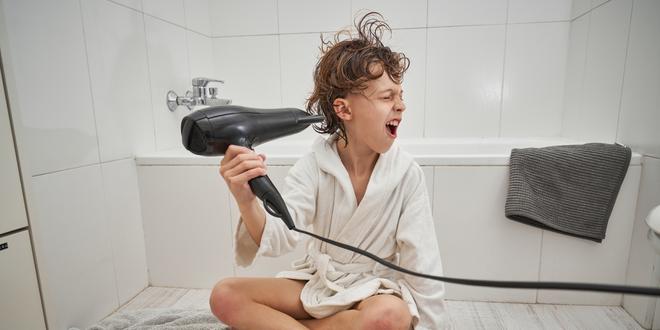 There are several possible causes of matted and tangled hair in kids. The toughest jobs can increase the risk of locking in the hair, this includes wet hair, dampness, dirt or grease in the scalp, flat brushing or blow-drying too close to the scalp, and long exposure to air or water that causes hair mats/ tangles. Poorly combing through wet and dry lengths of longhair while detangling can also lead to matting and tangles.
What Is The Best Way To Detangle Kid's Curly Hair?
If you have kids with curly hair, you know it can be challenging to keep their hair clean and free of tangles. Here are five tips for dealing with kids' curlies:
1. Use a gentle cleanser
Curly hair is often dry and delicate, so it's important to use a cleanser that won't strip away natural oils. Look for kid's hair products that are sulphate-free and contain moisturizing ingredients like glycerin or aloe vera.
2. Detangle while wet
After shampooing, apply a leave-in conditioner or detangling spray to wet hair. Use a wide-tooth comb or detangling brush while working through knots and tangles. Finger detangling is also one of the effective ways to smooth out knots.
DIY detangling spray
Parents who want a safe and non-toxic hair detangler can make a DIY detangling spray. Add 2 tablespoons of your kid's favourite conditioner into a spray bottle and mix with some water. Spray on your kid's hair, allow them to sit for a few minutes and start at the ends of the scalp.
3. Deep condition
It is a good hair care routine to deep condition your kid's hair depending on the condition of your kid's hair. It can be used once a month or even every two weeks after shampooing. Just apply a generous amount of deep conditioner and let it sit for 15 min before rinsing.
You can also use coconut oil, sweet almond oil, jojoba oil, and argan oil treatment once or twice a month. Wrap with a warm towel to have more benefits to your kid's hair.
4. Use protective styles
Braids, twists, and updos can help protect your child's curls from damage while keeping them out of their face.
5. Be Patience
Be patient while detangling your kid's curly hair. It can be a difficult and time-consuming process, but it's worth it to see their beautiful curls bouncing around. Use a wide-toothed comb and take your time working through the knots. Be careful not to pull too hard, as this can damage their delicate hair.
5 Things to remember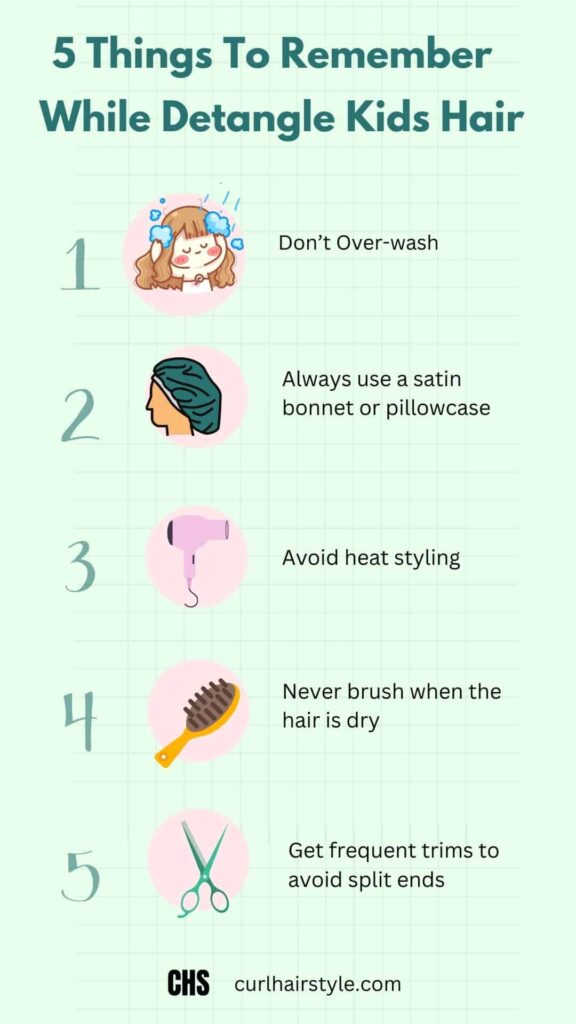 Don't Over-wash
Always use a satin bonnet or pillowcase
Avoid heat styling
Never brush when the hair is dry
Get frequent trims to avoid split ends

Takeaway
As a parent, you want what's best for your child, and that includes making sure their hair is healthy and free of tangles. While it may be tempting to reach for the nearest bottle of detangler, take a moment to consider what's in it.
Many commercial detanglers contain harsh chemicals that can damage your child's hair. Instead, opt for a natural detangler made with ingredients like apple cider vinegar or jojoba oil. These will gently loosen knots and leave hair looking and feeling healthy.
If you have kids with curly hair, you know how important it is to keep their hair hydrated and healthy. You can check out curl hairstyle kid's bedtime routine for healthy hair.