Even though blow dryers help you to dry your hair more quickly, the fast hot air also damages hair by making it frizzy and dry. Diffusers prevent these issues for curly women.
Diffusers can be a game-changer when it comes to getting your curly hair to look its best. These accessories help to distribute the heat evenly and help to prevent frizz and flyaways. When shopping for a hair diffuser, look for one that is specifically designed for curly hair. This will ensure that your diffuser will work well with your specific hair type.
We got 15 of the highest-rated and best diffusers for curly hair on Amazon. Find out which one is best for you and your curly hair.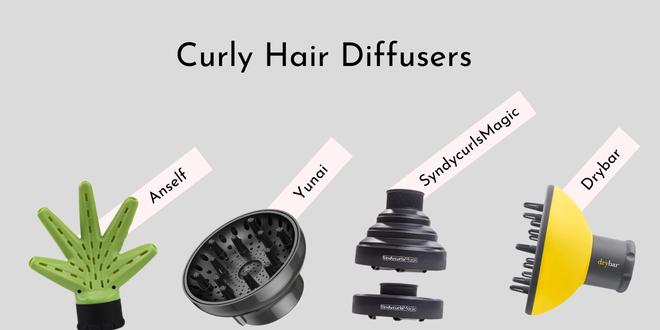 Best Diffuser Overall: Hands down! Sindycurls Magic Collapsible Diffuser is the best of them all! It is versatile and made from high-quality material that gives you value for your money.
Best Diffuser Coils: UuColor Universal Hair Diffuser is the most effective for coily hair with its honeycomb outlet making air distribution even and effective.
Best Diffuser for Curly Hair: Speaking of bouncy and voluminous curly hair, DevaCurl DevaFuser Universal Diffuser will give you the perfect bounce for your hair.
Best Travel Diffuser: Feel pretty with gorgeous curls while traveling light with KingKam Collapsible Silicone Diffuser. It is made from silicone that can collapse making it suitable for traveling.
Best Blow Dryer/Diffuser Combo: Bed Head Curls in Check Dryer and Diffuser is the best combo that you will ever need for your curly hair.
Sindycurls Magic Collapsible Hair Diffuser 
This diffuser is number 1 on our list for many reasons. It is a versatile attachment made from silicon that can easily fit any blowdryer with a 1.6" to 2" outlet. This attachment has a unique volumizing design that allows fast hair drying. Less frizz in less time!
The best thing is that it is lightweight and collapsible that you can take it anywhere when you are traveling. It comes in a small bag that you can chuck in your luggage without taking too much space.
UuColor Universal Hair Diffuser
If you have coily and kinky hair, then this is our number 1 recommendation. This diffuser has a honeycomb outlet that makes the distribution of air evenly and effectively making drying time faster, lessening the damage from heat.
It can be used for blow dryers with 1.4" to 2.6" outlets. It is made from high-quality and environmental-friendly ABS material that is heat and water-resistant. Great value for your money!
Anself Hair Diffuser
Speaking of a unique diffuser, nothing comes close to Anself hair diffuser. But don't be fooled by its cuteness and neon green color! This unique diffuser is a genius when it comes to diffusing air. Each "finger" effectively distributes air that makes hair dry fast. It can be used for curly and wavy hair making it a versatile choice.
KingKam Collapsible Silicone Hair Dryer Diffuser
Bring your curly hair A-game everywhere when you travel. KingKam Collapsible silicone diffuser will make it possible. It is foldable, lightweight, and made from durable material that you can easily bring in your handbag when you travel.
This attachment can fit a blowdryer with a 1.575" to 1.968" nozzle. It is designed to diffuse air evenly which makes drying time faster, lessening the damage from heat. And let us not forget to mention its hot pink color!
Bed Head Curls in Check Dryer
When choosing a versatile and multi-use diffuser, this one gets 5-stars! The tourmaline Ionic technology helps in keeping the hair shiny and frizz-free. It has 3 heat and 2-speed settings that allow for customizing your hairstyle and a cool shot button to keep your style longer.
It comes with a detachable volume diffuser attachment for your curls. This can also be used as a regular diffuser without the volume diffuser. 
Black Orchid Hair Diffuser
Get 360-degree airflow for fast hair drying with Black Orchid Diffuser. It has a very large design that speeds up hair drying perfect for thick and long curly hair.
Although not a universal fit with only 1.8" diameter. What it lacks in versatility, it makes up with its 90 drying vents that dry the hair from roots to tips. It also has a silicone grip that keeps it secure when blow-drying.
Hairizone Universal Hair Diffuser
Blow-dry with ease and safety with Harizone's patented lockable diffuser. This diffuser comes with 2 lockable buttons to make sure that your diffuser will not go anywhere during hair drying.
It is suitable for hairdryer nozzle between 1.7" to 2.6" making it compatible with almost any blowdryer on the market. It is made up of high-quality and eco-friendly material that is water and fire-resistant. And for the fun part, it comes in 7 colors for you to choose from!
The Curly Co. Collapsible Hair Diffuser
Get salon-quality blow-dried hair and maintain the natural texture of your hair with this travel-friendly diffuser. The body is made from high-quality silicone that collapses and can easily fit your handbag. It has a 2.5" diffuser making hair drying fast and effective. This diffuser fits a 2.25" blowdryer nozzle.
Best Trendy Professional Universal Hair Diffuser Attachment
One size fits all! Almost. Best Trendy Professional Universal hair diffuser can fit any blower with a 1.4" to 2.7" nozzle. It has a patented lockable mechanism that makes it possible to fit almost all blow dryers out there on the market.
The diffuser has honeycomb outlets that make air distribution even and effective making drying time faster. This lessens the damage from heat and overdrying.
Segbeauty Hair Blow Dryer Diffuser Attachment
This one is our bet for versatility. Segbeauty diffuser can be used for both straight and curly hair. It has a deeper and bigger bowl making sure that the natural curls of the hair will not get disrupted during the drying process. It has 114 outlets and multiple teeth for effective heat distribution. The materials are high-quality nylon and rubber which can last longer than your average hair diffuser.
Ulico Universal Diffuser Attachment
If you have thick and curly hair, Ulico Universal Diffuser might be your best pal when styling your hair. It has a huge 6.5" bowl with honeycomb air outlets that make sure your thick and rich curls get even drying. The rotary design with a lock button makes it a suitable attachment for a blow dryer with a 1.4" to 2.6" nozzle. And it has a lifetime warranty – no questions asked!
Conair Volumizing Diffuser
Conair Volumizing Diffuser works for both wavy and curly hair. The diffuser can fit a 1.8" blowdryer nozzle. Although not as versatile when it comes to nozzle size, it makes up in performance. It has 3 temperature 2-speed settings. This feature helps you to choose the amount of heat that you require for your hair. The diffuser has fingers that lift the hair while drying making it look fuller and thicker.
Karii Universal Hair Dryer Diffuser
The special feature of this diffuser is its 360-degree airflow that maximizes the circulation of hot air making drying time faster. Faster drying time means less damage from heat and minimizing frizz. It can fit a nozzle with 1.38" to 2.68" making it compatible with almost 99% of all hair dryers available in the market. It is made of high-quality ABS material making you feel like a professional hairstylist.
BaBylissPRO Nano Titanium Universal Finger Diffuser
This hair dryer prides itself on Nano Titanium technology that makes hair drying time faster. The Nano-Titanium surface emits a natural ion that eliminates frizz. It has fingers that hold the natural curls of the hair while diffusing heat evenly. Whew! Talk about technology! 
Drybar The Bouncer Diffuser
Keep your curls bouncy with Drybar The Bouncer Diffuser! This diffuser attachment gently dries the hair by reducing the speed of airflow from your blow dryer. While the fingers diffuse the air evenly to create the perfect bounce for your hair. Let's not even mention the yellow color of the diffuser that makes it look fun and fancy!
What is the main advantage of using a diffuser?
There are several reasons why you might want to use a hair diffuser. For one, it can help to add volume and body to your hair. Additionally, it can help to preserve your natural curl pattern and minimize frizz. Finally, it can also help to speed up the drying process. Additionally, diffusers can add volume and body to your hair, which can be a great way to style your hair without using any harsh chemicals or heat styling tools