A Gorgeous Man Perm.An Official Guide To Getting it

Let's face it. TikTok has the world's eyes glued to many cutting-edge trends on this ever-popular social media channel, and the man perm is the latest hairstyle trend that has emerged from the platform. Over 340 million views and counting, Tik-Tok says man perm is more than just another passing trend.

Just like that, the man perm is officially back. Not the old-school 80's, MTV big hair, glam perms, but more relaxed, much looser, beachy curly locks and waves. Before you get excited about having your locks curled up in rolls and rods and posting that gorgeous man perm hoping to go viral, let's learn more about the how's, why's, and what it takes to make a man perm fresh. 
What on Earth is a Man Perm?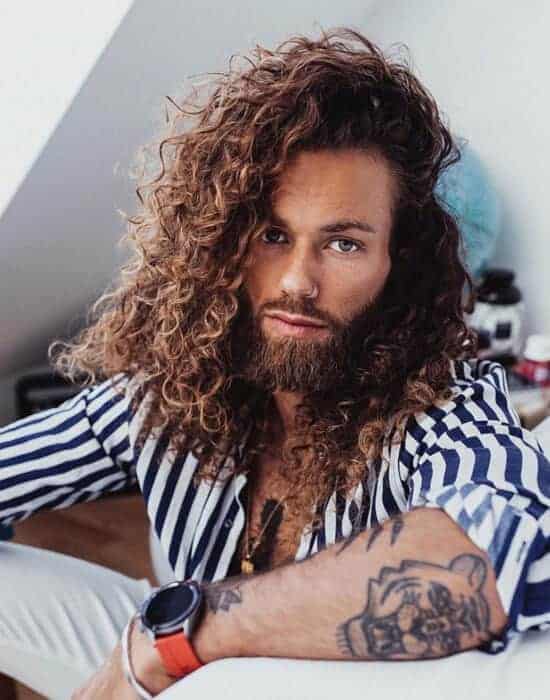 For those living under a rock in the last few months since the lockdowns, a man perm is a hairstyle that involves the chemical process of converting straight hair to curly or wavy texture. It is a style that works popularly with women and, through the years, have re-appeared continuously in men's hairstyle trends. Yes, even men do perm.
Let's first understand what a man perm is. Hair perms use chemicals to curl the hair. In a standard "cold" perm, the hair is locked in curlers. Getting primed for a proper man perm includes three important steps: 
The first step is to envelop the hair with perm rods of a standard size.

The second step is using perm cream to tear down the disulphide linkages of hair. The disulphide bonds break, and keratin molecules are now free to move around and adjust to the shape of the curl. 

And the third and final step comes when a neutralizer is then applied to arrange hair in the permed organization.
How do I get a Man Perm?
Too much rocket science? In a nutshell, a man perm is a universal look salon engineered to match any natural hair type and fits those who are bold enough to brave a rigorous salon session that takes as much as up to 5 hours depending on the hair length! 
It sure sounds like a worthy sacrifice for those looking to add fullness and volume to their mane via loose waves or tight curls, right? 
How long does a Man Perm last?
Depending on the perm style, hair type, facial shape, the after salon care factor, and the styling products used to maintain those crazy curls or beachy waves, a man perm typically lasts anywhere from three to six months.
How much does a Man Perm cost?
The average man perm depends on the length, style, and the rep of the stylist you go to to get those gorgeous curls and waves. The more popular the salon, the more moolah it demands. But on average, the answer to this particular question varies anywhere between $30 to $150. 
Nevertheless, hair fashionistas and coif crazy men can foresee the cost of perm as priceless as a viral post. Here are the most notable man perm trends you can flex on social media anytime!
The Top 6 Trending Twists, Waves, and Curls for Men 
Here are some of the top trending types of Man Perm, or Merms, popularly seen on social media, in no particular order. 
The Bearded Man Perm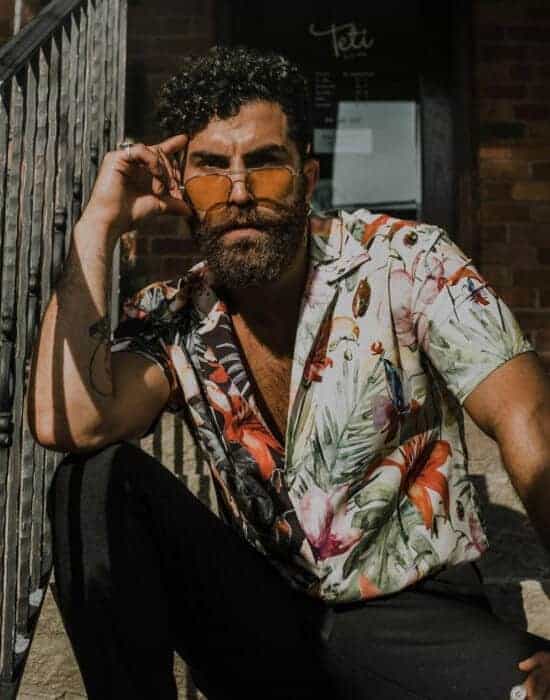 There is undoubtedly no argument that a grotesquely seductive beard is an ideal matchup for a Man Perm. 
Growing and sporting facial hair is one of the top style trends for men in the last couple of years. Pairing it up with shoulder-length Viking curls, or even with a clean-cut curly top, skin fade coif exudes sexiness at a whole different level. 
Increase the possibility of standing out in the crowd with a perfectly trimmed beard and a matching man perm. 
The Medium Length Man Perm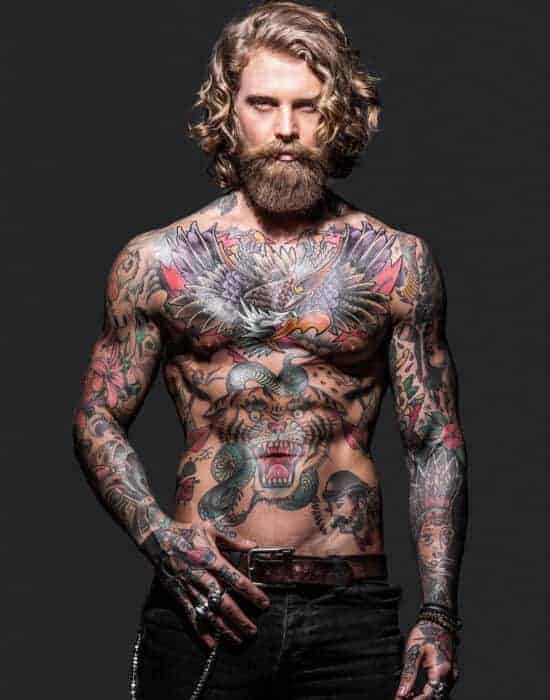 Go medieval on your stylist! 
The medium-length man perm is a medium-length, tightly coiled hair perm for men that screams out to the Gods of the Seven Kingdoms in a natural, bold, and wild style. Trendy and fashionable to those who love the ruggedness of being a man with a perm, this type of man perm is the best hairstyle for adventure lovers and men who love to travel. 
Ideally suited to match their nomadic type of personality, this style trend even fits the guy who leads a rock and roll lifestyle! 
The Wavy Man Perm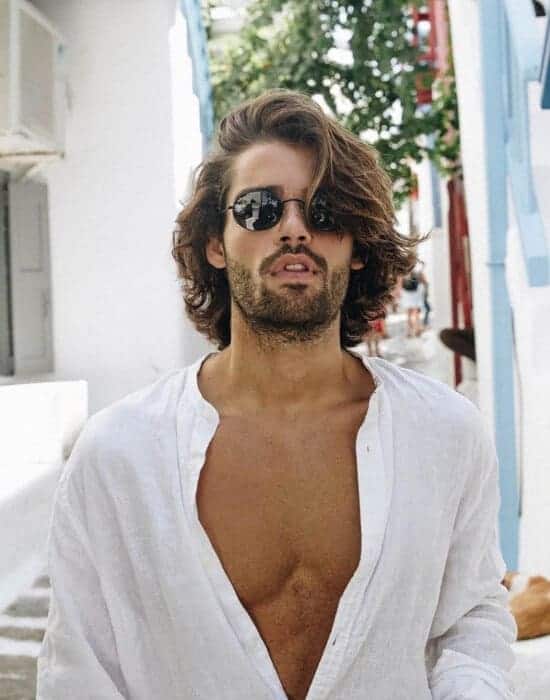 The Wavy man perm is achieved by perming medium-length to long hair. Some lucky men have naturally curly hair, and they can have the same cropped and wavy top whenever they want. 
But for those who need salon stylings like most straight-haired K-Pop Idols, the wavy man perm hairstyle looks best when the curls start to loosen and stretch out, eventually transforming into waves. 
Ultimately, these wavy perms offer a unique textured style that can elevate any gentlemen's hairstyle. Top it off by using a light styling product like mousse or cream to control and maximize the wavy effect.
The Hard Partition, or Hard Part.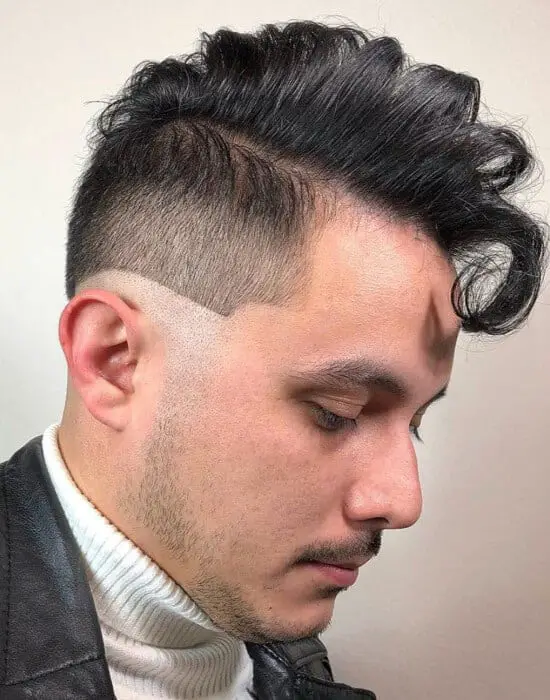 Do you feel the need to add some volume, definition, and edge to those curls and waves?
Consider having styled with a hard part, a variation of the usual side-parted curly top. The hard part is created by shaving a line into the hair, which gives a perfect distinction between different hair sections. The hard part creates a sharp appearance that strikes a perfectly balanced and relaxed aesthetic of textured curls that match your face shape.
You can incorporate this style and append your existing perm with a side partition in whichever side you may like and get that "boss" look in no time.
The No Cringe Perm Fringe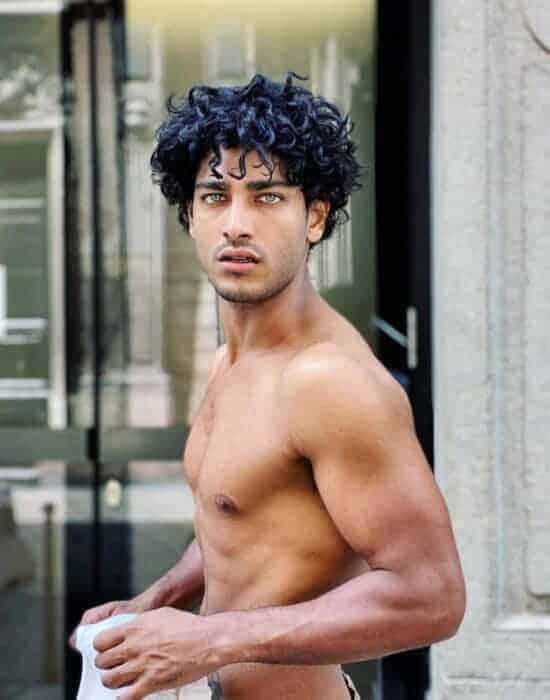 This fantastic perm style will look fresh for boys and men of all ages!
Part of the trendiest uploaded hairstyles found on TikTok's hashtag #perm is the fringe with a perm. It doesn't matter what age bracket you fall under, the no cringe perm fringe takes advantage of those waves and curls and drapes them as fringes or bangs. 
Are you missing those boyish days? The no cringe perm fringe is a perfect style that fits that melancholic personality. 
Keeping the fringes long and in front of the forehead creates a drama and volume on top. This is an option for men who wish to cover their foreheads. While you can keep the hair the same length all the way around, you can pair this fringe with a fade to draw even more attention to the permed hair in front.
Man Bun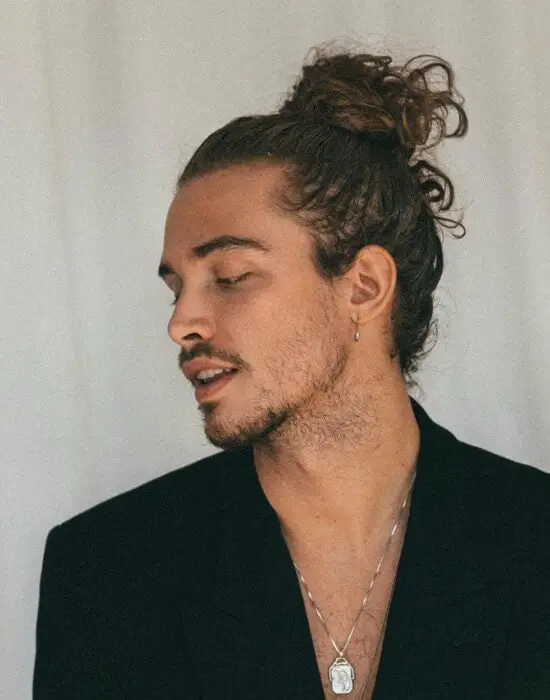 When you have long curly hair you have a lot of option to style your hair. Curly buns are loved by all medium to long curly hair men who wants a sexy and stylish look.
Modern curly bun not only helps you to keep your hair from your face but also gives you that sophisticated and beachy look.

Maintaining the Man Perm
As with any set of waves and curls, your perm needs maintenance. It is equally important to care for your new hairstyle. Stay frizz-free with these self-care tips.
Treat your perm as if it was naturally curly, which means that it needs to have high-value treatment in the same way. Choose salon selected shampoos and conditioners made for treated hair, as these treatments prevent and reverse the damage, and will also help your perm last longer too. 
Just like any hair treatment, perming is a chemical-based process and will most likely do a little damage after. Make sure to use a conditioner every after a shampoo helps in keeping the moisture locked in. If your hair seems a little kinky, get a deep-conditioning treatment to add extra moisture to your locks. Ask your salon stylist and expert for details on these. If it helps, Using Moroccan oil is also great as a leave-in conditioner.
Watch your Product
Caring for the man perm costs time and yes, cash. Unlike your run of the mill wash and wear mane, sporting a curly top means top-notch care and maintenance.  Take notice of the products you use and make sure that these come only from certified salon professionals. Go for top of the line conditioners, serums, and shampoos, which are guaranteed salon selected hair care products.