Mens curly hairstyles have fewer options than women to choose when it comes to hairstyles or fashion. Where women have a lot of options for their hair from straight to wavy and curly hairstyles. The hairstyle can change the whole look if you manage your style and your clothing sense at the same time. A simple look can create a cool, sexy, and yet stylish statement if you go for the right hairstyle. Looking upon the trending chart in all the social media, we have come up with the hottest men's curly hairstyle to experiment with different styles. Tips and tricks to achieve healthy curly hair for men and everyday hassle-free hair.

Hair trim is a must
Most of the men have their hair cut every 4 to 6 weeks. Hair trimming is a way to keep your hair look clean and have healthy ends. For many years I didn't know the true benefit of hair trim but now I know that it clears out all the damage when you do so and promote healthy-looking hair.

Finding the right shampoo for your hair 
Nowadays many people believe in social media hype products. They want to use what celebs or what vloggers use for their curls and go with the following trends without understanding the curl type or texture of our hair. Any hair care starts with cleansing the hair or shampooing the hair. To choose the right shampoo for curly hair first you need to know your curl type and texture of the hair. The right shampoo for curly hair should be sulfate-free which gives the curl its volume and makes the scalp clean at the same time.

Here are the 25 hottest curly hair for men that will make you look sexier this summer!
Short Curly Ringlets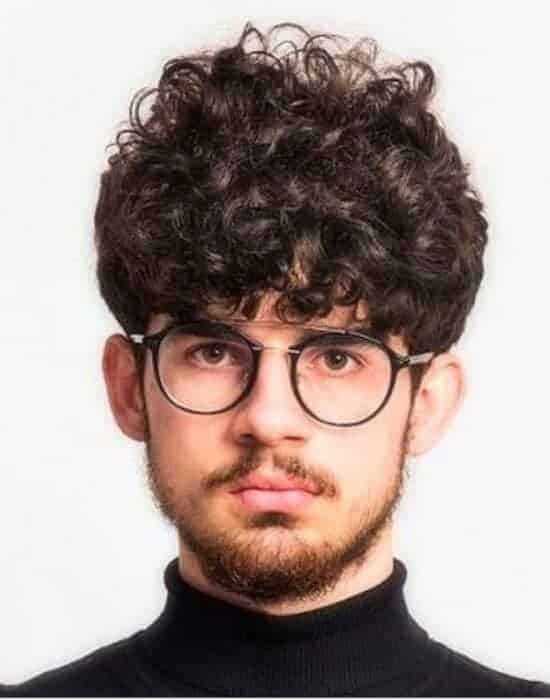 This hairstyle with ringlets will give you a natural look to shape your head. It makes your head look fuller and healthy. The best way to care for your curly ringlets is to moisturize and let your hair dry by itself. Style your hair with grooming cream designed for curls.
Short Flat Top Curls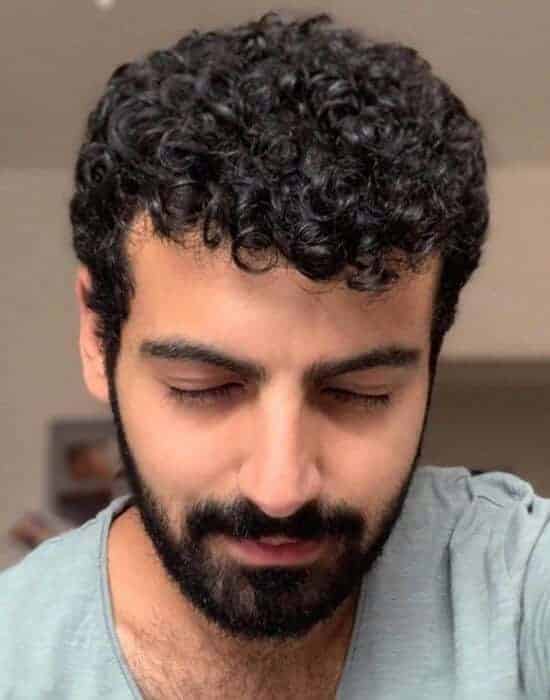 Short flat top curls are round rather than flat. This curly hairstyle is good for those who want low maintenance or short hairstyle. It is very easy to just cut once every 3 to 4 weeks to maintain the shape. To style, you need to apply gel or wax to your curls to keep it look neat and tidy.
Short Curly With Surgical Line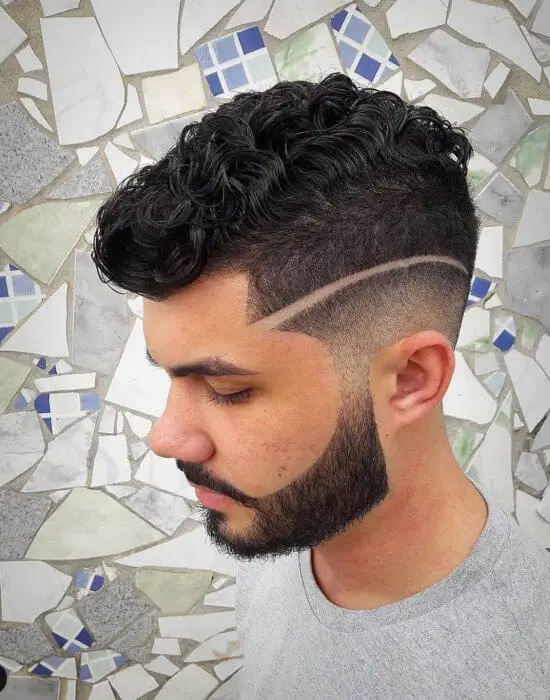 This surgical line hairstyle is famous among kids and youngsters who have curly or afro curl type hair. You can notice a surgical line with a curly top or addition to fringe can give you a new look.
Skin Fade Curly Frohawk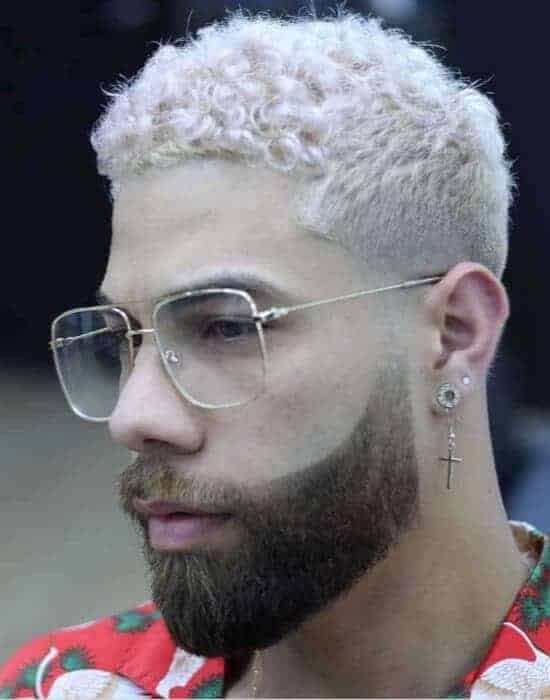 To get a sexy and clean curly hairstyle you can choose this skin fade curly frohawk. This hairstyle looks cool mostly in naturally curly hair or afro hair. Since it is a short hairstyle, the faded haircut adds a fuller depth to the hair so that you can look younger than your age.
Long Messy Curls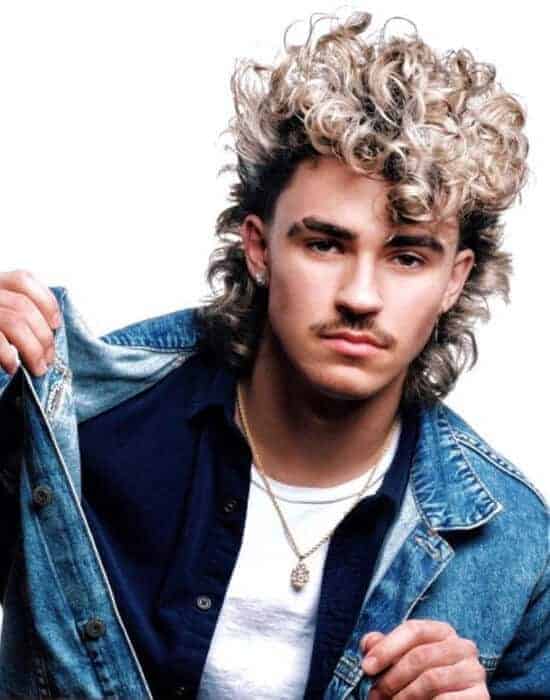 Guys with long messy curls have a bit of a hard time when it comes to hairstyles. It takes a lot of time and can be more expensive than shorter curly hair to maintain it. You need to focus on trimming and hair care products to manage your long curls. To style longer curls you need to apply foam or mousse in your damp hair and scrunch using your finger to get the desired look.
Cool Curly Undercut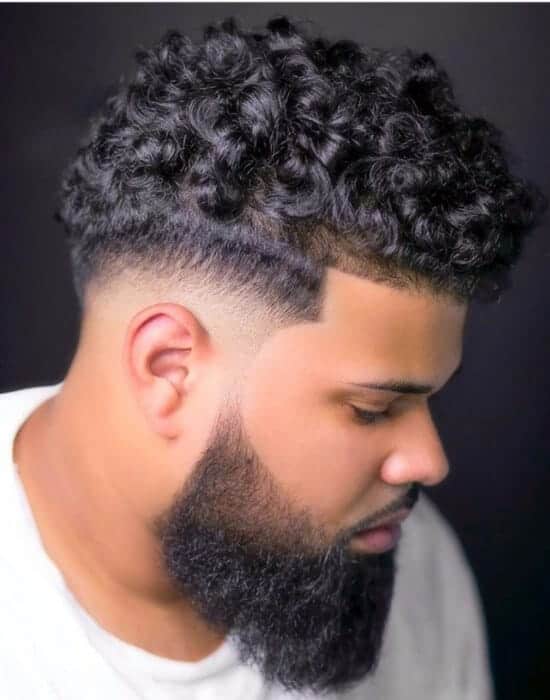 This cool curly undercut hairstyle is inspired by military men. To mix the undercut with a curl just keep the top clean with a fader look on both sides and back of your head. Curls make the undercut look more sexy and fashionable on all occasions.
The Curly Undercut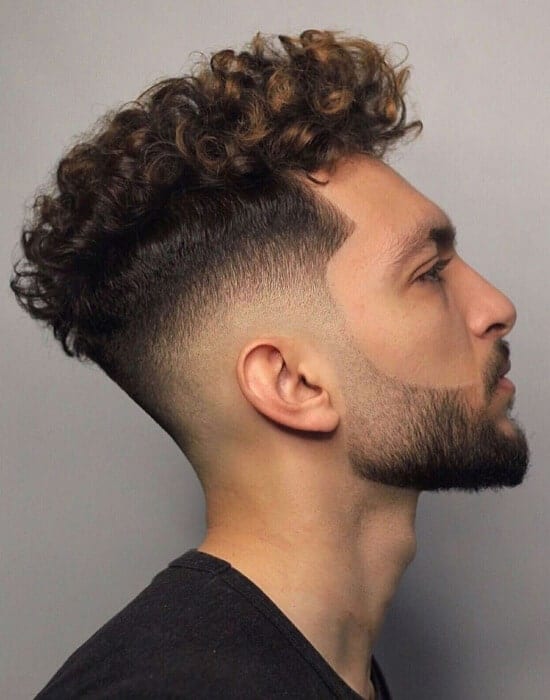 Undercut hairstyles are famous among men, women and even kids love it. It is a classic haircut and a curly twist will give you that hot look you have never imagined. Try this curly undercut by shaving on both sides and back, leaving the hair fuller on the top of the head to look professional as well as managed. This look goes well with any events from wedding to the everyday look. To style use moisturizer through wet hair.
Long Curly Hair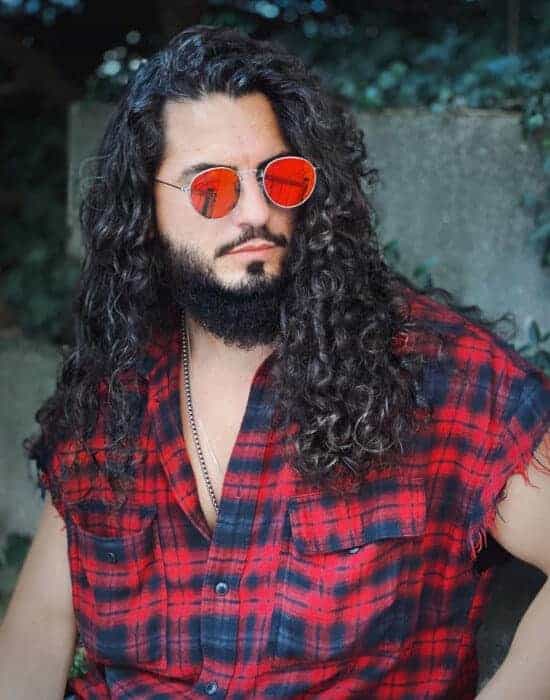 Long curly hair requires a lot of work to maintain those curls. Most of the long curly hair ends up looking lifeless if it has not cared properly. Focus on the use of the right products according to your curl type by focusing on both roots and ends of the hair. 
The Curly Pompadour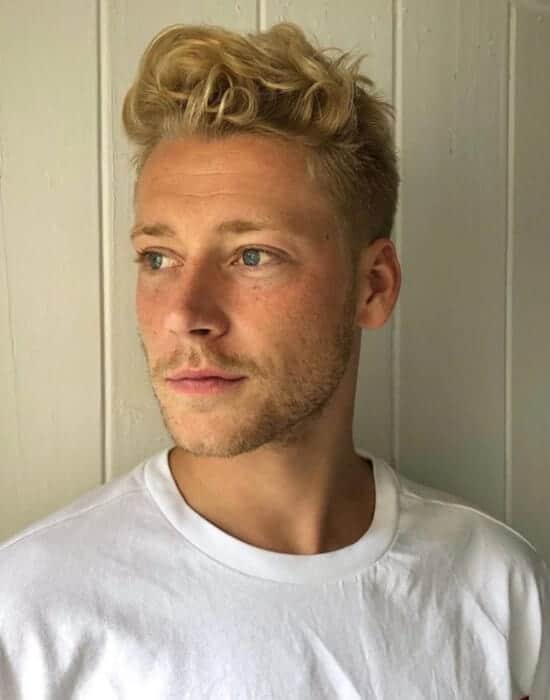 The pompadour is so in these days and if you mix it with your curls it will create that fashionista look that you can't have if you have straight hair. If you have naturally curly hair you have a lot of options of hairstyle with which you can rock your look. Get a pompadour haircut to carry your curls the way you want to look fuller, neat and yet stylish.
Curly Quiff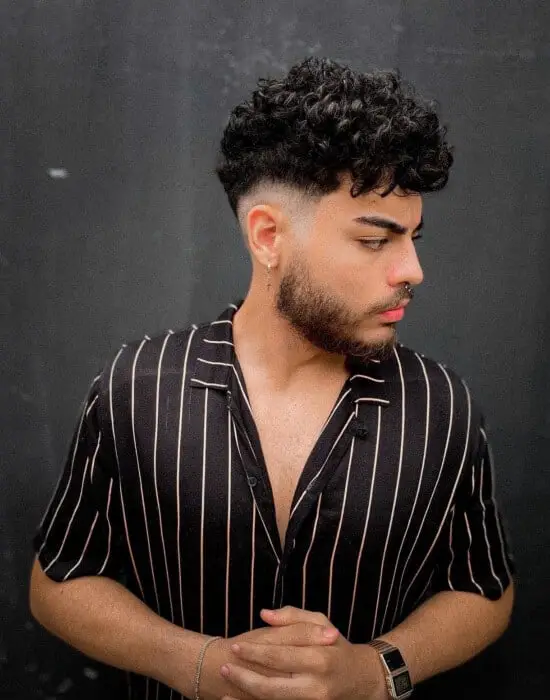 This curly hairstyle is popular among different age groups. It is a combination of both classic and messy hair which goes well on any occasion. The curly quiff is mostly styled by combing the hair upward keeping the curls away from your face for a cleaner look. To style, you just have to blow dry your natural curls in upwards direction and comb it with a wide-tooth comb.
Shoulder Length Curly Hair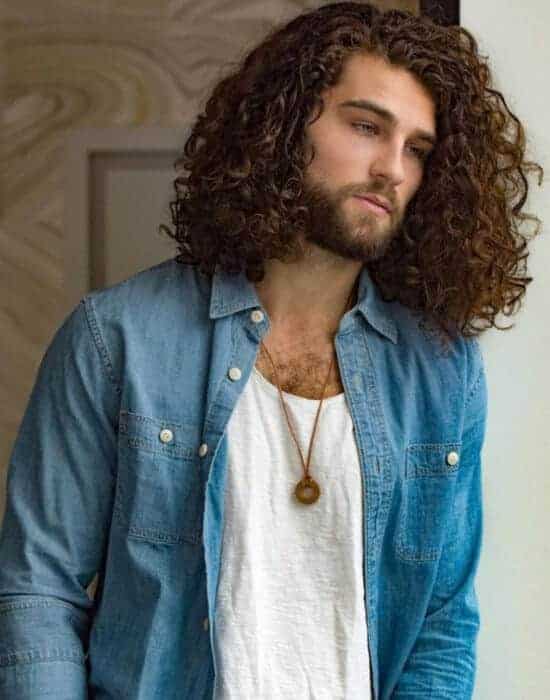 A shoulder-length curly hair or medium curly hair gives you that messy and grunge look. It will give you texture, volume and fuller look for your curls. To maintain your shoulder-length curly hair you need to use the right shampoo, conditioner and hair mask to keep it hydrated and frizz-free.
Afro Hair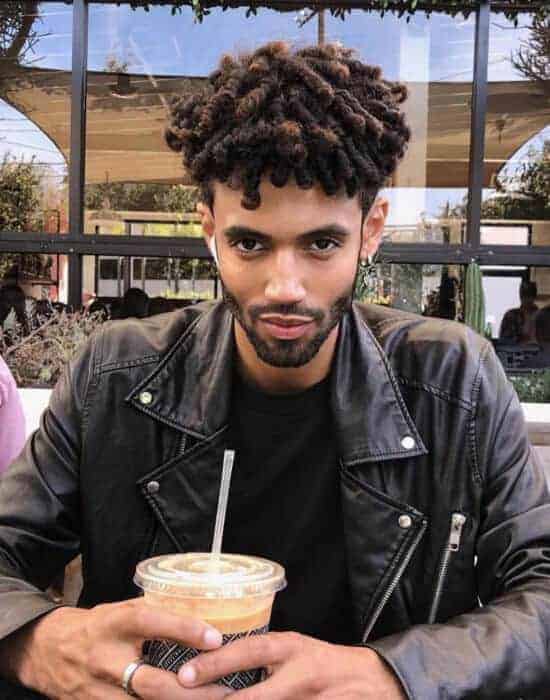 Afro hair is a natural curly textured hair that can be short or long in length but kinky in texture. If you want to go for this look it requires the right styling products for a fuller look. It will be easy for you to get the volume and height needed for a mohawk. 
Curly Man Bun
A curly man bun is a hair pulled back from the face wrapped around itself to get a cleaner look. Most of the guys like to do this look during workouts, the day on the beach or casual summer days. Long hair guys look stunningly hot in this kind of hairstyle especially if they have curly hair.
Windswept Curl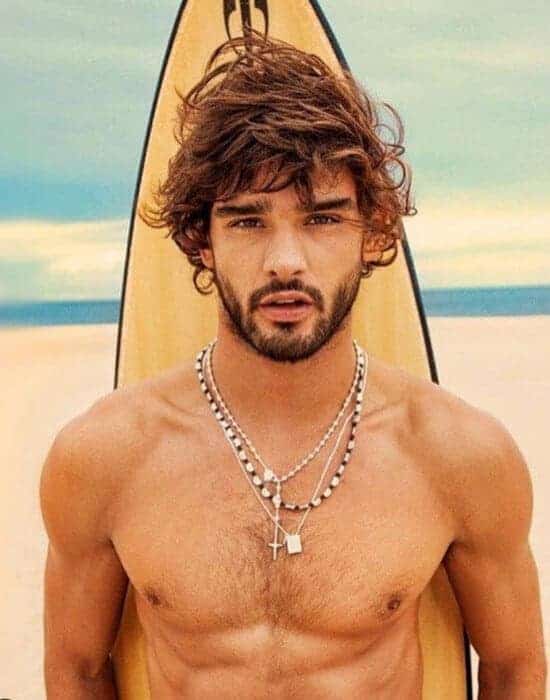 This is the trending hairstyle for long to medium curly long hair. Most of the men prefer this look because the curls enhance the volume of the hair and give that retro look of all time. Make sure that you part your hair on the side the hair goes for a natural look. 
Curly Thin Hair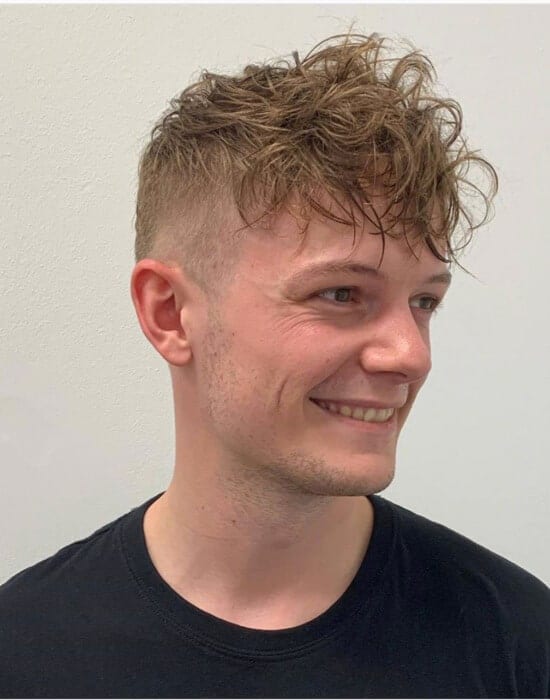 For men with thin curly hair, you can either sweep your curls back on the sides and keep it natural. Your thin curly hair will get the volume if you cut your curls in layers that are longer on the front and shorter on the sides.
Curly Bob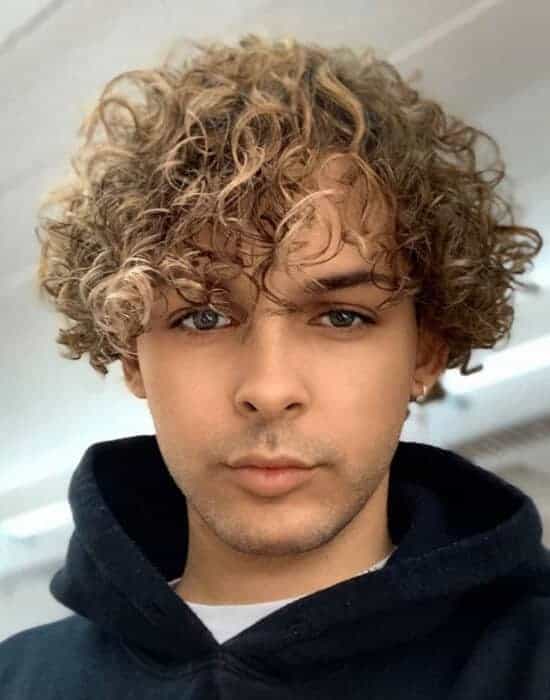 A Curly bob is popular among youngsters and men which gives layers to the curls and target the face jawlines and cheekbones. When you have curly medium you can try a different hairstyle according to the frame of your face. To style just leave it naturally or you can create a fresh look by using styling mousse. 
Curly Frizzy Hair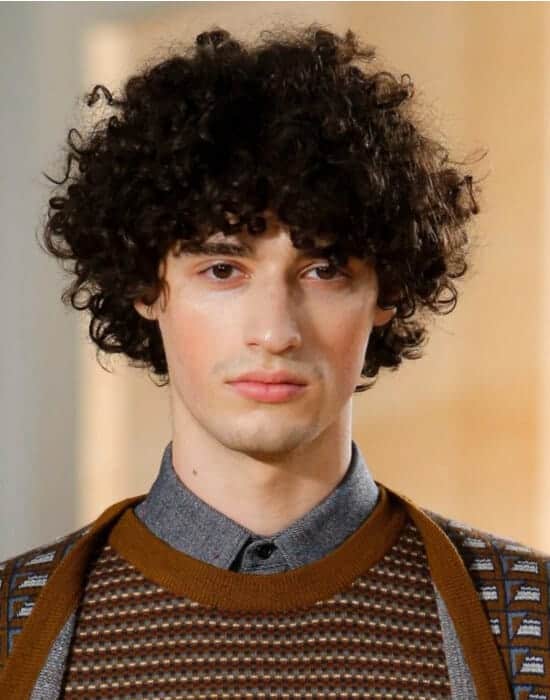 Men's with curly frizzy hair face a lot of problems like dryness and breakage of hair. Frizzy hair means dry hair and to lock the moisture of the hair you need to use oil to keep it healthy. Washing your curls too often is not good because you will lose natural oil which leads to breakage and dryness. You need to avoid blow-dry, bleaching and excessive heat. To style use a frizz-fighting gel or touch up creme for a smooth finish to your curls.
Cold Perm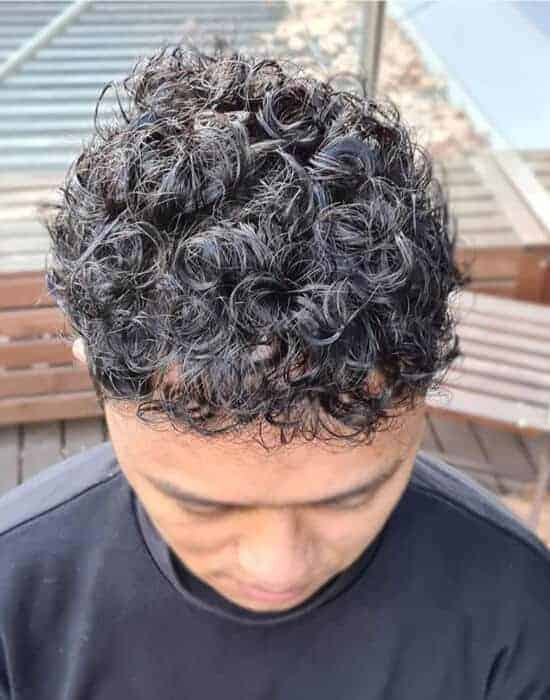 Cold perm is the traditional way of curling the hair by dividing the hair into various parts and then curling around perm rods. Cold perm is affordable and less damaging to the scalp because the rods are rolled at the ends of the hair. Cold perms look great when it is wet.
Tapered Curly Hair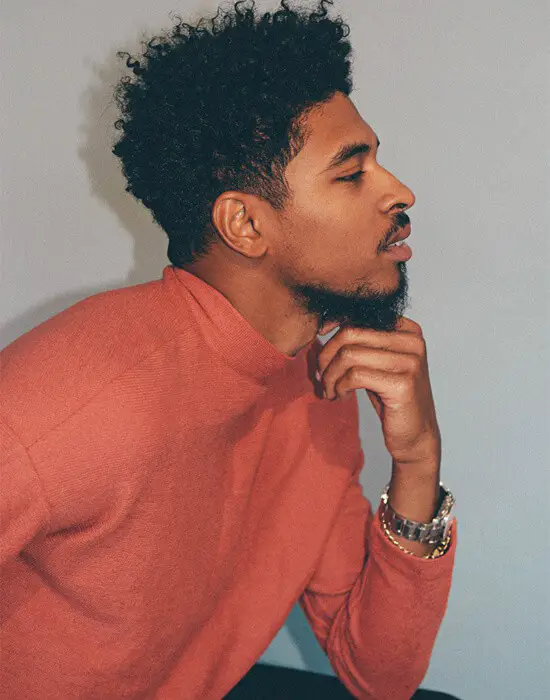 Tapered curly hairstyles are shorter in the sides and back with a taper fade way and the upper part of the hair is left long. It is mostly suitable for men with kinky hair types.
Zero Fade Curls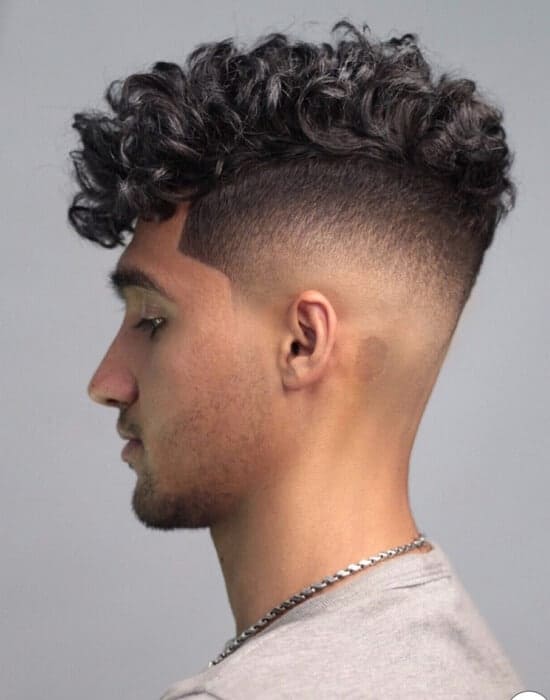 Zero fade curls are not only popular for women, it has been trending in men's fashion as well. Men who have natural curls can get this look which is longer on the top and fades towards down to the neck.
Temp Fade With Curls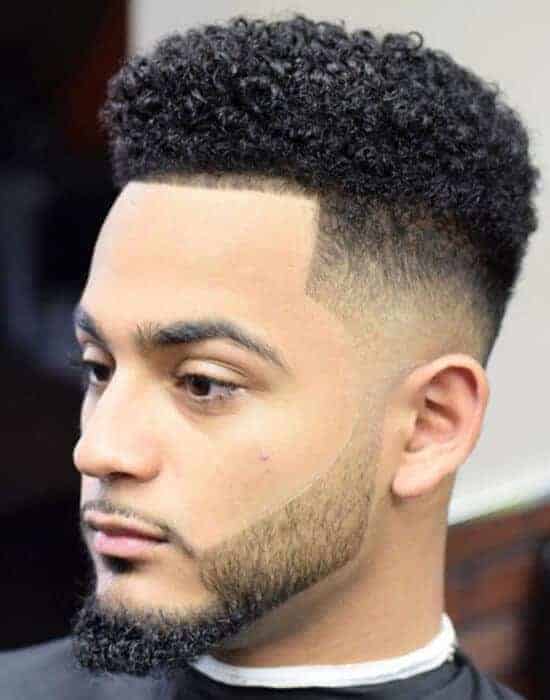 Temp fade haircut outlines the hairline which looks great with curls. The curly temp fade starts from temples and tapers down. It looks good in short hair as it shapes the hairline giving a classic look.
Curly Fauxhawk With a Burst Fade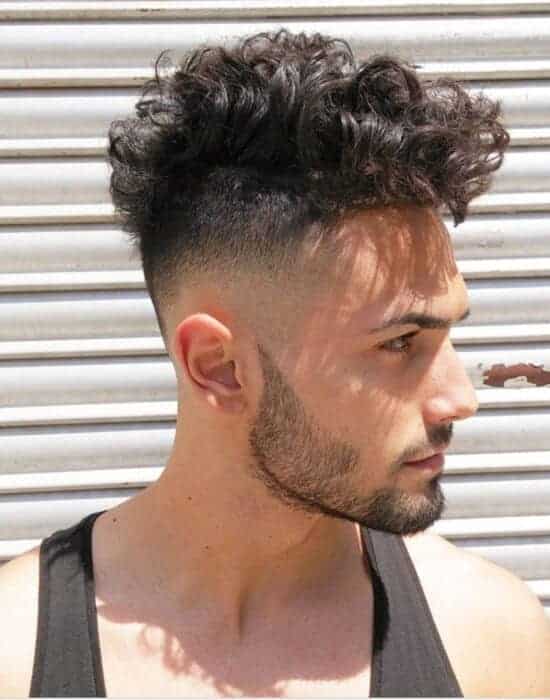 Famous singer Usher Raymond made this hairstyle popular. It's another name is the south of France fade. This hairstyle gives that classy and clean look with the curly faux hawk on the front part and burst fade outlining the headlines.
Curly Fringe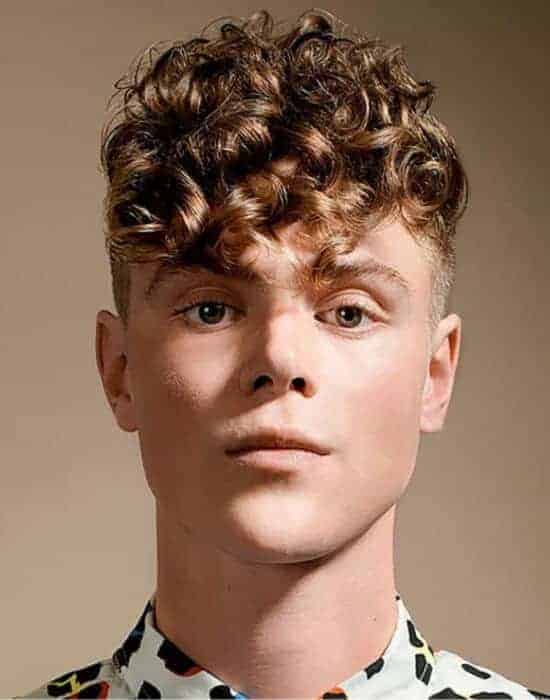 To get this curly fringe, let your natural curls grow long and then just cut the sides of your hair leaving the front part long. It is an amazing hairstyle for a casual and classy look. To style pick a curl definer that actually works for your curl type. 
Smooth Waves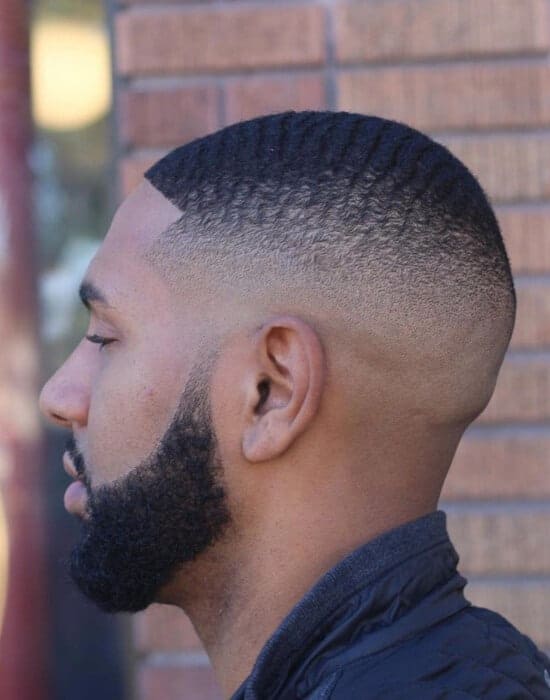 An attractive hairstyle is hard to maintain just like this one. Smooth waves is a cool and classy curly hairstyle for men with a faded look to define curls. To style use a styling paste and then brush downward beginning from the crown. Don't brush your hair or shampoo as it can break the curl pattern.
Tight Curls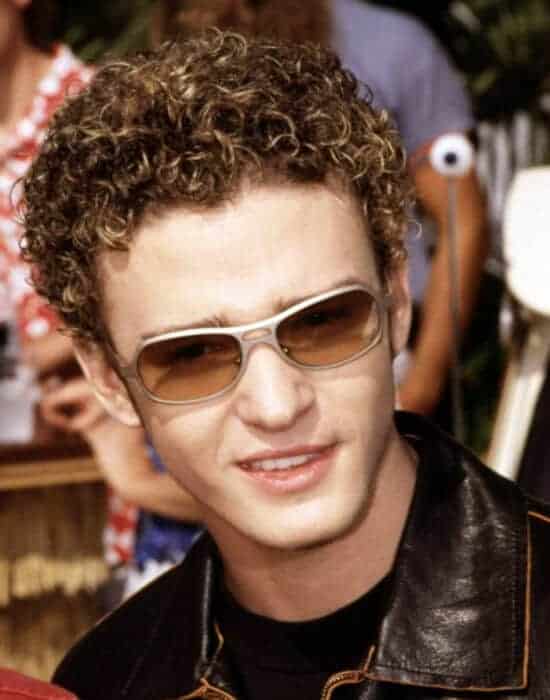 Since most of the men like to keep their hair short they should be aware of their curl type before going for any look. Men's with naturally curly hair have tight curl strands. This hairstyle is famous among those men who want to save their hair from chemical damage and heat damage. But they should keep in mind that choosing the right product is very important and should be according to the curl type.