If you are one to frequent going to the salon and style your hair, most likely you have heard or read the word "
Olaplex
" somewhere inside the salon. But
what is Olaplex
and why is it a sensation in the hairstyling community?
Olaplex
is an independent hair care brand that has over 100 patents worldwide. The brand has become a staple in the hairstyling industry because of the reparative miracles that it does to chemically treated and damaged hair.
Olaplex
works by repairing the bonds in our hair. The best thing is that it comes in bottles that you can bring home so you don't need to spend a ton on money in the salon.
What are the benefits of using Olaplex products?
You might be asking of all the many hair care products in the market,
why use Olaplex products
? Most of the hair care treatment available in the market works only at the surface of the hair strands. But
Olaplex
goes deeper. It works at a molecular level to repair the damaged bond of our hair. These bond-building products make the hair stronger and healthier. Just imagine going to the salon to get a hair treatment, but this time, you can do it in the comfort of your own home. 
Do Olaplex products work?
With the hefty price tag of this product, you might have a second thought of buying this product. Yes, we agree that this is a bit on the pricey side but we guarantee, you get what you pay for!
Does Olaplex work
? A big YES! Many things have been said about this product and many customers share our enthusiasm when it comes to recommending the brand. People swear by this product because of the immediate effect that this can do on damaged hair. A once-a-week treatment that can do miracles to your hair! But not all Olaplex are the same. Here's a quick round-up on the different Olpalex products for your different hair needs.
Olaplex No.0 Intensive Bond Building Treatment

Olaplex's No.0 treatment primes your hair for deeper repair, rebuilds hair bonds, strengthens, and protects hair integrity. Use as the first step in a two-part at-home system with No.3 Hair Perfector to strengthen and repair all types of damaged hair.

Buy On Amazon
Olaplex Hair Perfector No. 3 – The Best Seller

You're going to need to get your hands on Olaplex Hair Perfector No.3 if you want hair that is stronger and looks better than ever. It repairs damaged bonds that are in your hair, giving you healthy-looking and -feeling hair from the inside out. The blown-dry locks you'll be left with will be a new type of wow!

Buy On Amazon
Olaplex No. 4 – The Shampoo That Gives Back

Born in the salon, Olaplex No. 4 is the most sought-after product in the industry. It repairs and protects hair to leave it healthier, smoother, and more manageable – even after washing. It works for all hair types and is safe for colour-treated hair. A must-have for every hair routine with a constant need to protect.

Buy On Amazon
Olaplex No. 5 – Say Goodbye to Frizz

You deserve healthy hair. Olaplex No. 5 is a daily moisturizing and reparative conditioner that repairs broken bonds and strengthens hair. It will eliminate frizz, fly-away and dryness, so you can have healthy, beautiful hair every day.

Buy On Amazon
Olaplex No. 6 – The Leave-in Conditioner

Time to beautify! Olaplex No. 6 is your ultimate beauty secret. With Olaplex No. 6, you get salon-quality hair – with the convenience of a leave-in conditioning cream that's perfect for thin, dry, or frizzy strands. Hydrate and smooth hair to add shine and softness to every strand – it's a concentrated leave-in cream that keeps hair frizz-free for up to 72 hours.

Buy On Amazon
Olaplex No. 7 – The Big Finish

Give your locks the care they deserve with Olaplex No. 7's lightweight, reparative oil. Smooth and nourish hair, while protecting it from heat and reducing frizz. The concentrated formula is easy to use and builds strength with just a few drops. It's weightless, so it won't weigh down your curls!

Buy On Amazon
Olaplex No. 8 – Time to Mask Up

You're tired of living with dry, damaged hair that's brittle and breaking. You want to stop hiding your hair under hats or letting it air-dry to avoid the split-ends. You want to feel confident in your own skin, and stand out from the crowd. Olaplex has got you covered with its patented Bond-Building™ technology that repairs your hair, keeping it shiny, soft and strong!

Buy On Amazon
Olaplex No. 9 Bond Protector Nourishing Hair Serum

It's time to get the ultimate hair treatment you've been waiting for. Olaplex No. 9 is the perfect serum to add to your styling routine to protect your hair from the environment and future damage.

Buy On Amazon
Olaplex No.4P Bond Maintenance Shampoo and maintenance System Kit

Say goodbye to damaged, unhealthy hair and hello to a fresh, new look. Olaplex No.4p is a sulphate-free purple shampoo that is gentle on your scalp and hair while giving you the brightness and shine you crave. This highly concentrated formula cleanses, tones, and repairs while keeping your hair hydrated from roots to ends. Achieve your ultimate blonde with this product that leaves you feeling refreshed and revitalized!

Buy On Amazon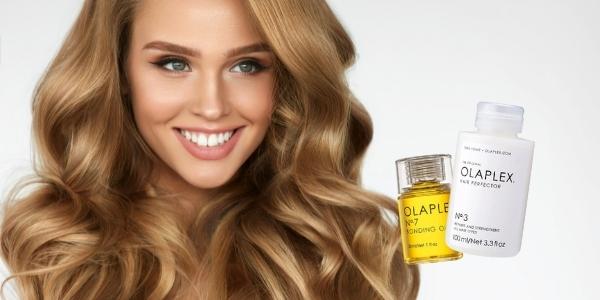 Much has been said about
Olaplex
hair products. All that is left is for you to go and try it for yourself. Yes, a little on the pricey side but we promise you will get what you paid for. Let us not forget to mention that all the products from this brand are chemical-free, cruelty-free and vegan. And let us take time to appreciate that the brand does its part in taking care of the environment. By reducing carbon footprints by using less packaging. By developing sustainable products that protect nature and public health over time. Take care of yourself while you take care of the environment.