What is pineapple curly hair?
Pineapple curly hair is most popular among the curly hair community. It is a loose, high ponytail on top of your head which prevents the frizz, knots and flattened curls that come with lying on a pillow. Only the back and sides of your hair will be subject to your tossing and turning.
How this hairstyle work for curly hair?
In the first place, was it ever lost in the hairstyling scene? I have seen so many people do this pineapple curly hairstyle. From regular women (and men) like you and me going to the grocery or the office to A-list celebrities like Rihanna. So what makes this pineapple hairstyle popular with everyone?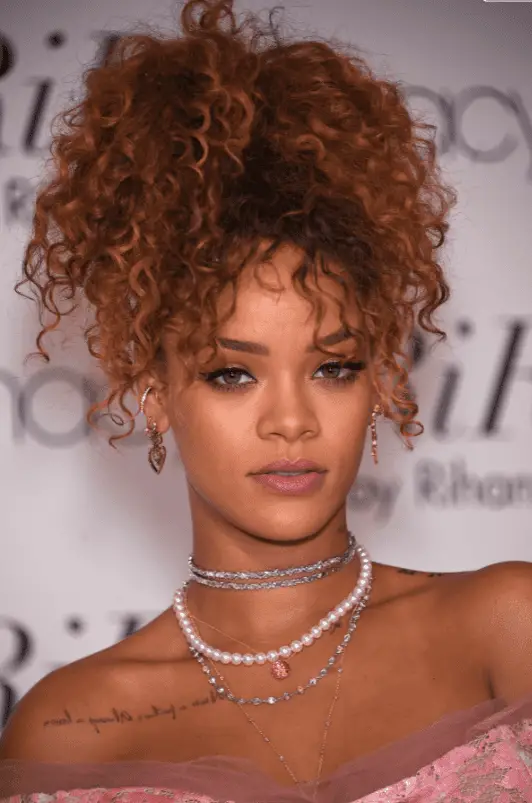 The pineapple curly hairstyle started as a protective hairstyle for curly hair. It aims to reduce damaging the hair during sleep. Gather your hair in a high ponytail and tie it with a scrunchie. Not only does this hairstyle protect the hair but it also looks fashionable. No wonder it has become a regular in the curly hairstyling community. From a protective hairstyle to a hairstyling staple. 
Things you need to prepare for a pineapple curly hair
Doing a pineapple hairstyle is very simple. You only need to prepare the basics. A silk scrunchie or a scarf to hold your glorious curls. You can also add a leave-in cream or hair oil if you want to add moisture and nourishment to your hair.
How to do a pineapple hairstyle?
First, prep your hair with your favourite leave-in conditioner or hair oil.

 This will add moisture and will repair your hair as you sleep. This will also protect your hair from frizz if you plan to wear your pineapple hairstyle in the morning.

You need a silk/satin scarf and a loose scrunchie or hair tie for this look.

Tilt your head upside down and gather all your hair.

Fold the scarf into a triangle.
Tie the wide side around the back of your hair, making a knot in the middle of your forehead.

You have an uber-cool and uber-chic pineapple hairstyle.

Sleeping on a satin or silk pillowcase helps to avoid frizzy hair.
How to undo your pineapple hairstyle?
Remove your scrunchie or your scarf.

Then using a tail comb try to fluff the hair at the roots without disturbing your curls.

Shake your head gently to loosen the pineapple hair.

Revive your curls with a curl refresher or add an oil/serum.
The Best Pineapple curly hairstyle of all time
Pineapple curly hair with a Scarf Wrap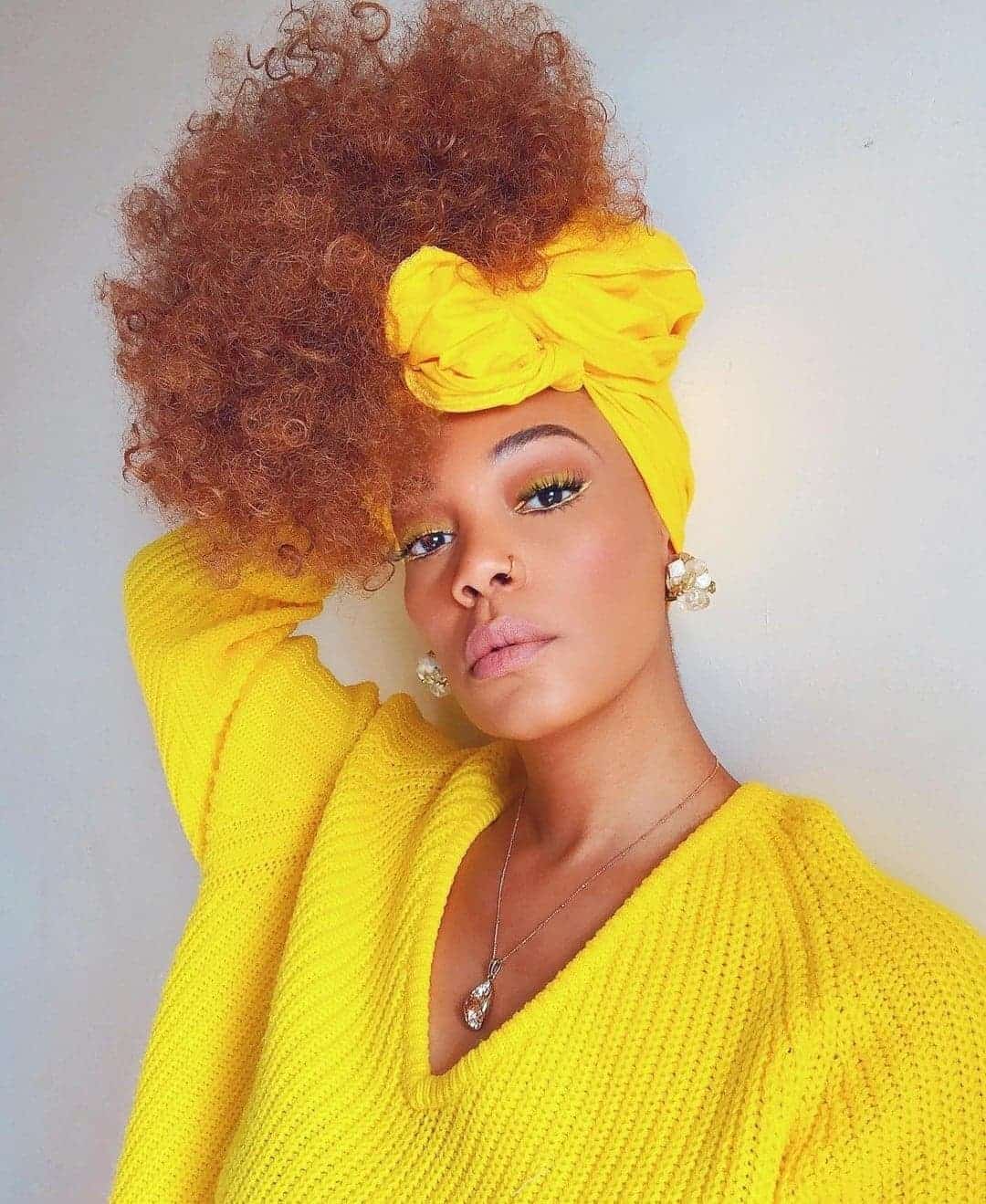 The pineapple curly hairstyle is a popular style that has been around for a while. It's one of the simplest styles to create and it can be worn in many different ways. There are some great accessories that can make a huge difference when it comes to this style! An easy option is a head wrap. You can do different styles for the top of the head, such as wearing it in an updo or letting your hair fall down in waves. A headwrap will also keep your hair from getting too messy throughout the day and keep your hair in place throughout the night.
Pineapple curly Bun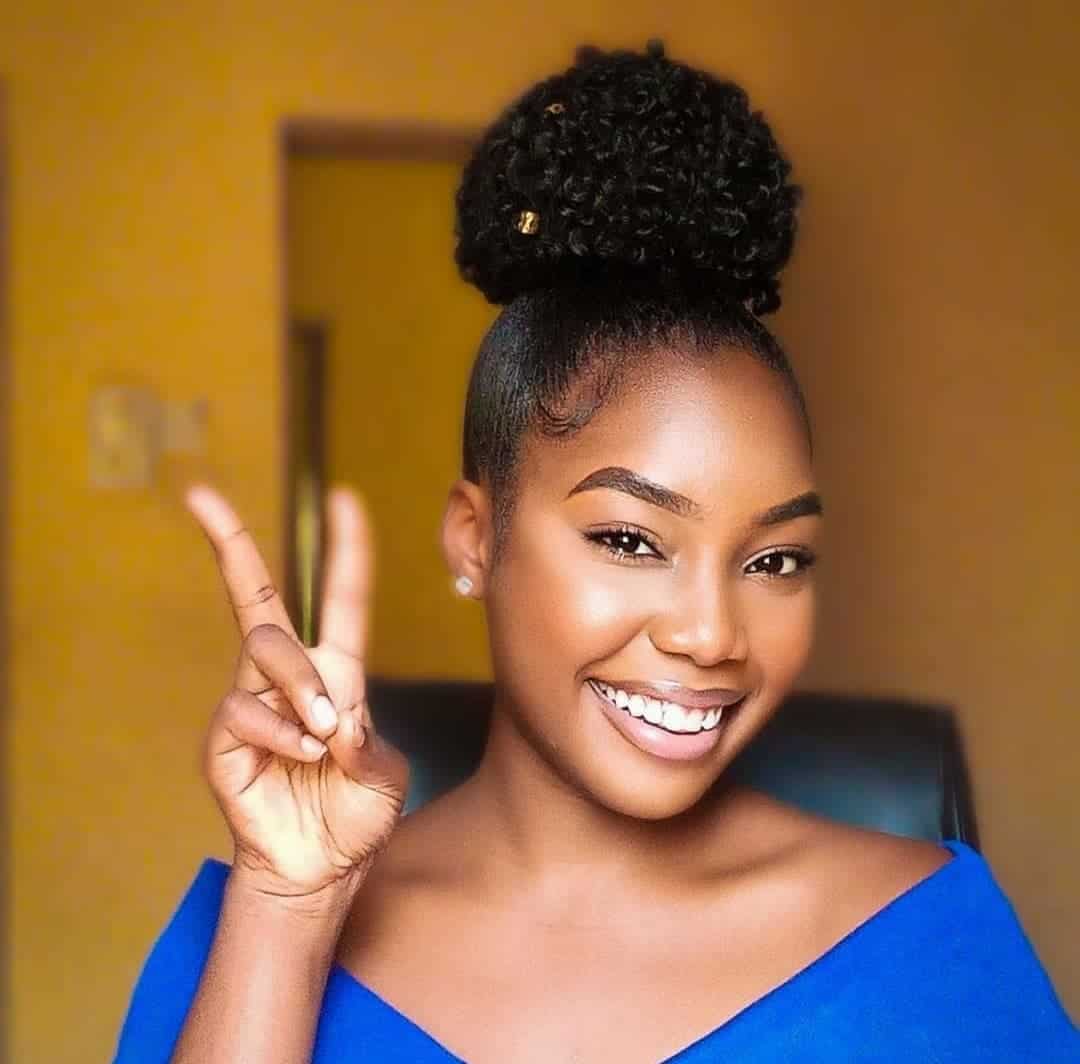 This Pineapple bun is an easy protective hairstyle and can be done in no time. You can do this hairstyle for occasions, for work or just while staying at home. You just need 2elastic hair ties, tie them together in a bun you can opt for a gel to make the trending baby hair swirl with the help of a brush.
Pineapple curly pony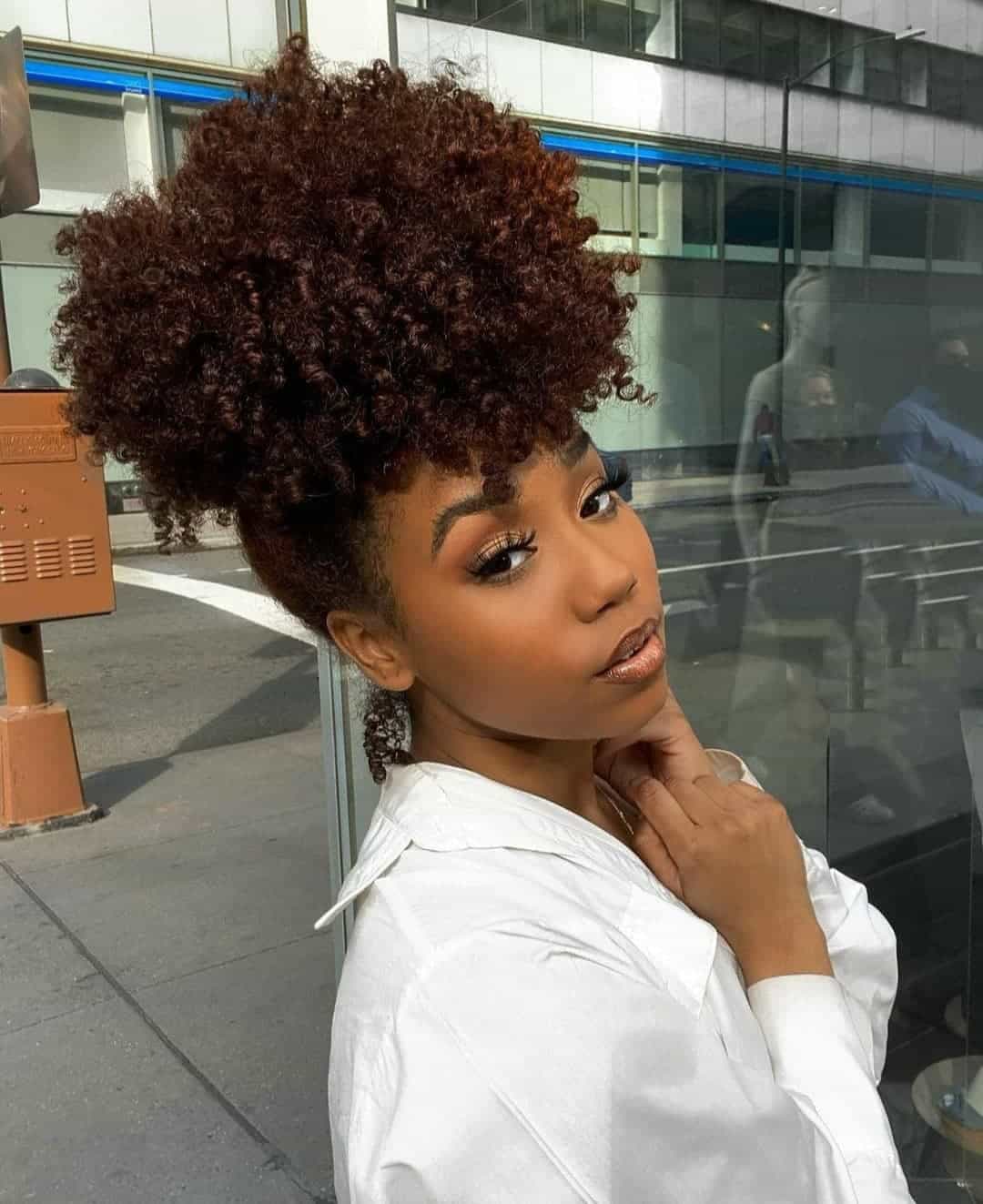 It is a curly version of the ponytail. You just need to tie the hair high with the help of elastic hair ties or scrunchies and leave the ends without making it a bun. Make sure you tie it loose because if you tie it too tight it may ruin your curl pattern. It looks good in curly hair with highlights which gives a shuttle and stylish look. You can accessorise with a fashion clip to add a dramatic look.
Pineapple Hair with Bangs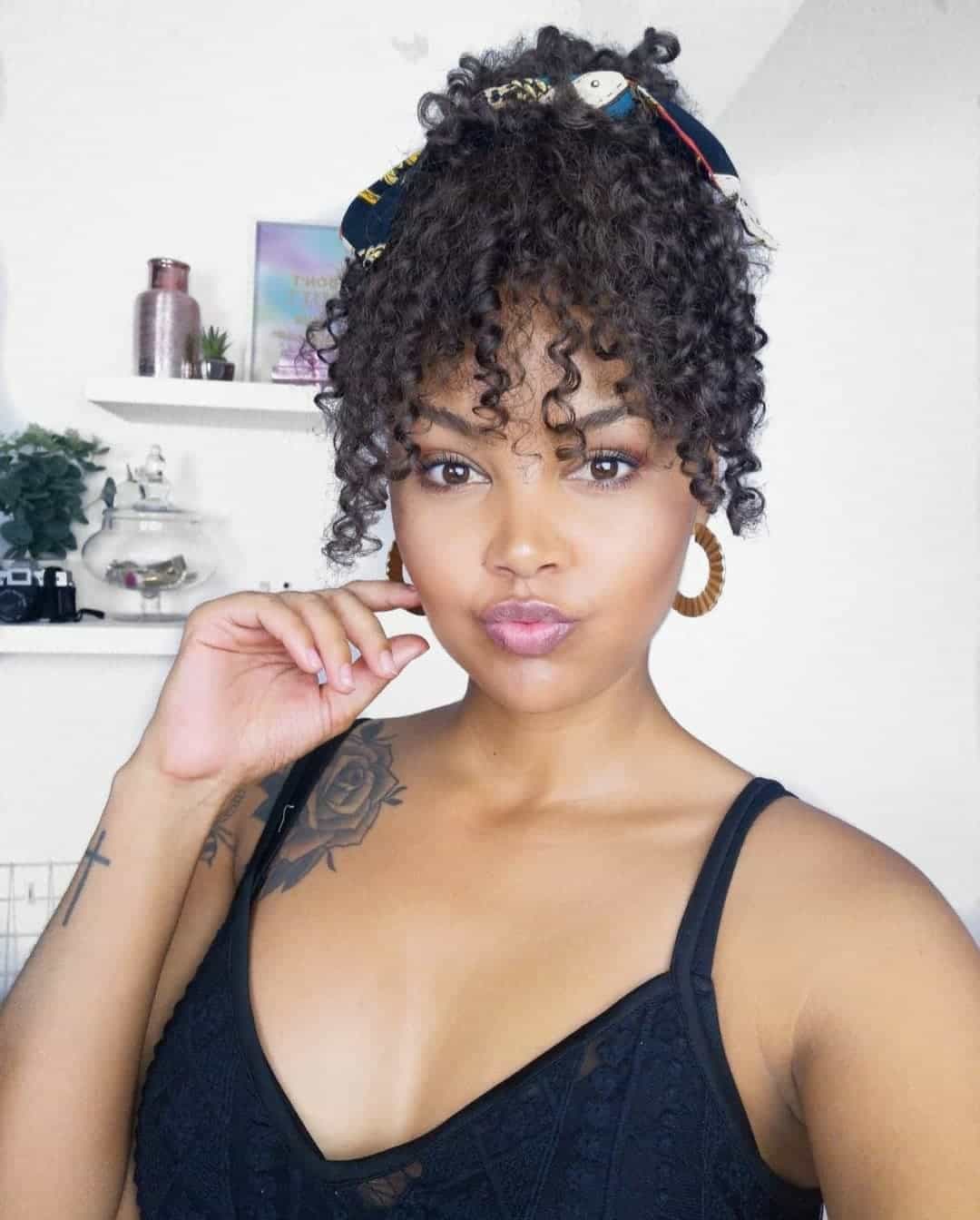 This is one of the trending hairstyles for this year. We can see in the curly hair community most of the fashion models and celebs do this hairstyle for concerts, music videos or even for different occasions. To get this look you should tie your hair on top like a pineapple pony leaving your bangs as it is. It looks good if you have long bangs.
Half up half down with pineapple
This hairstyle is a combination of a bun and loose hair. To get this look section half of the hair up and half down. Tie the upper half making a pineapple bun and leave the rest of the hair loose.
Can you do pineapple curly hair with short hair?
Doing a pineapple hairstyle on short hair can be a challenge. The length of your hair should be enough to have it tied in a high bun. But we are not saying it is impossible. Just be aware that there might be loose strands at the lower part of your head. This may not be the best hairstyle to protect short hair at night. So we highly suggest using a silk or satin pillowcase when you sleep.


How to pineapple your hair without ruining your curls?
When doing pineapple hair, it is recommended to use a satin or silk scrunchie or bandana. A common hair tie can create creases. This can ruin the natural pattern of your curly hair. Also, avoid combing your hair when untying your pineapple hair to avoid frizz.


Can you pineapple your straight hair?
You can also pineapple a straight hair. Just simply gather all your strands and tie them in a high bun on top of your head. Just like pineapple hair for curly hair, this will also protect straight hair during sleep.

Takeaway
Pineapple hair started as a humble protective hairstyle when sleeping that has crossed over to being a staple curly hairstyle. Apart from protecting your hair as you sleep, a pineapple hairstyle can also make you look chic and fashionable. There are many other ways to protect your hair while looking fabulous.