Experimenting with hair color is one fun way to make a statement while reinventing yourself. You can go simple with brown and brunette. Or go bold with ash and blonde hair. Or go fun and playful with bright colors. One favourite fun and playful hair color are purple. Purple is one hair color that has transcended many age groups, races and skin colors. There are purple hues for any skin color, whether you have light or dark-toned skin.
Purple hair color is not just a fun hair color. It is also a statement of your mood and personality. Bright purple hair color can give the impression that you have a bubbly personality. Whilst a platinum purple hair color can give a sense of mystery and drama. You can express your mood and personality by choosing the perfect purple hair color for your curls.
10 Purple Hair color Ideas for Curly Hair Folks
With the many purple hair colors for your to choose from, deciding which one to pick can be a challenge. So we give you a list of the 10 trendiest purple hair ideas for you to try.
Lilac hair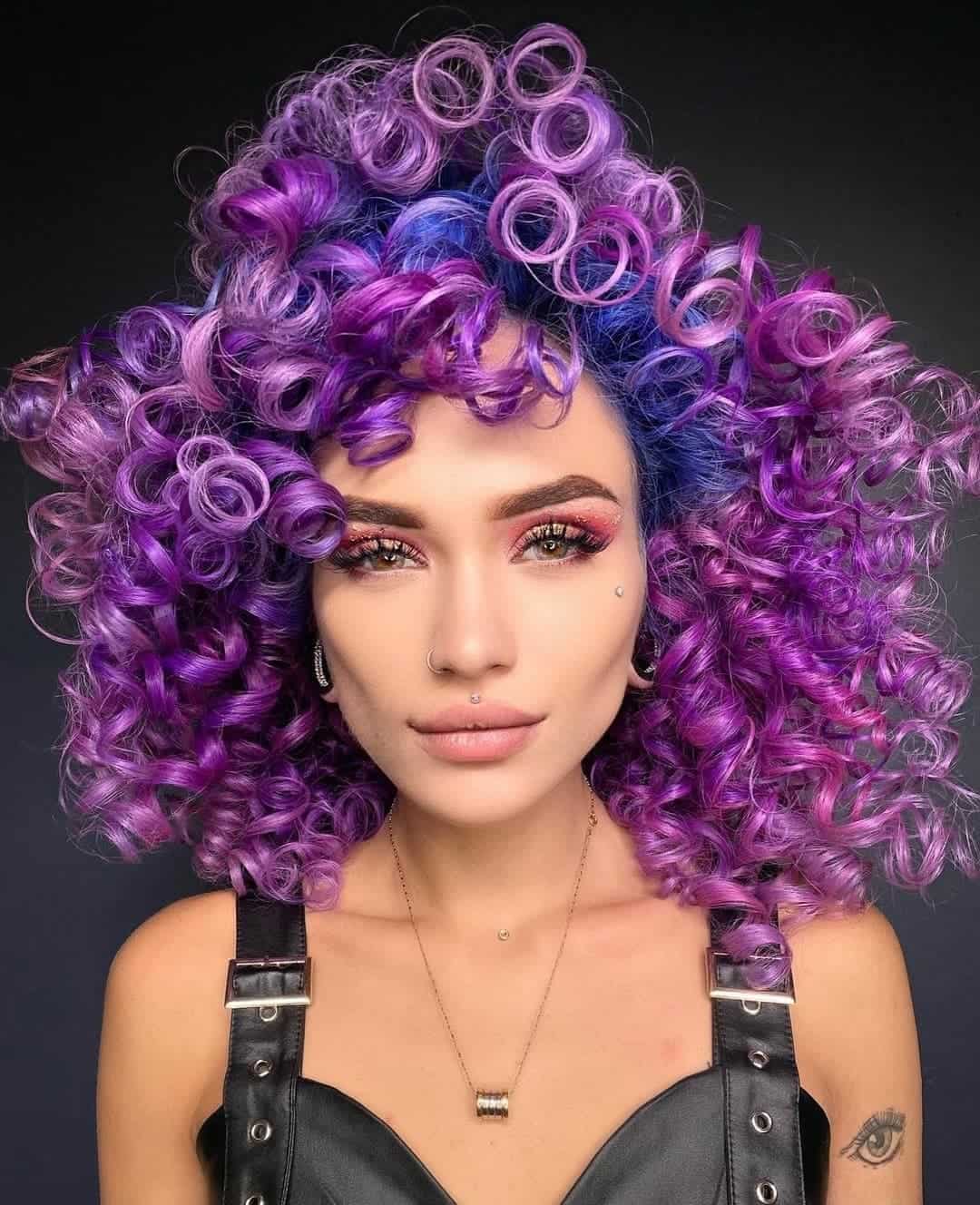 A pale violet hair color that is a combination of dark mauve and light blue shade. This makes for the perfect hair color for light or fair skin tone.
Purple highlight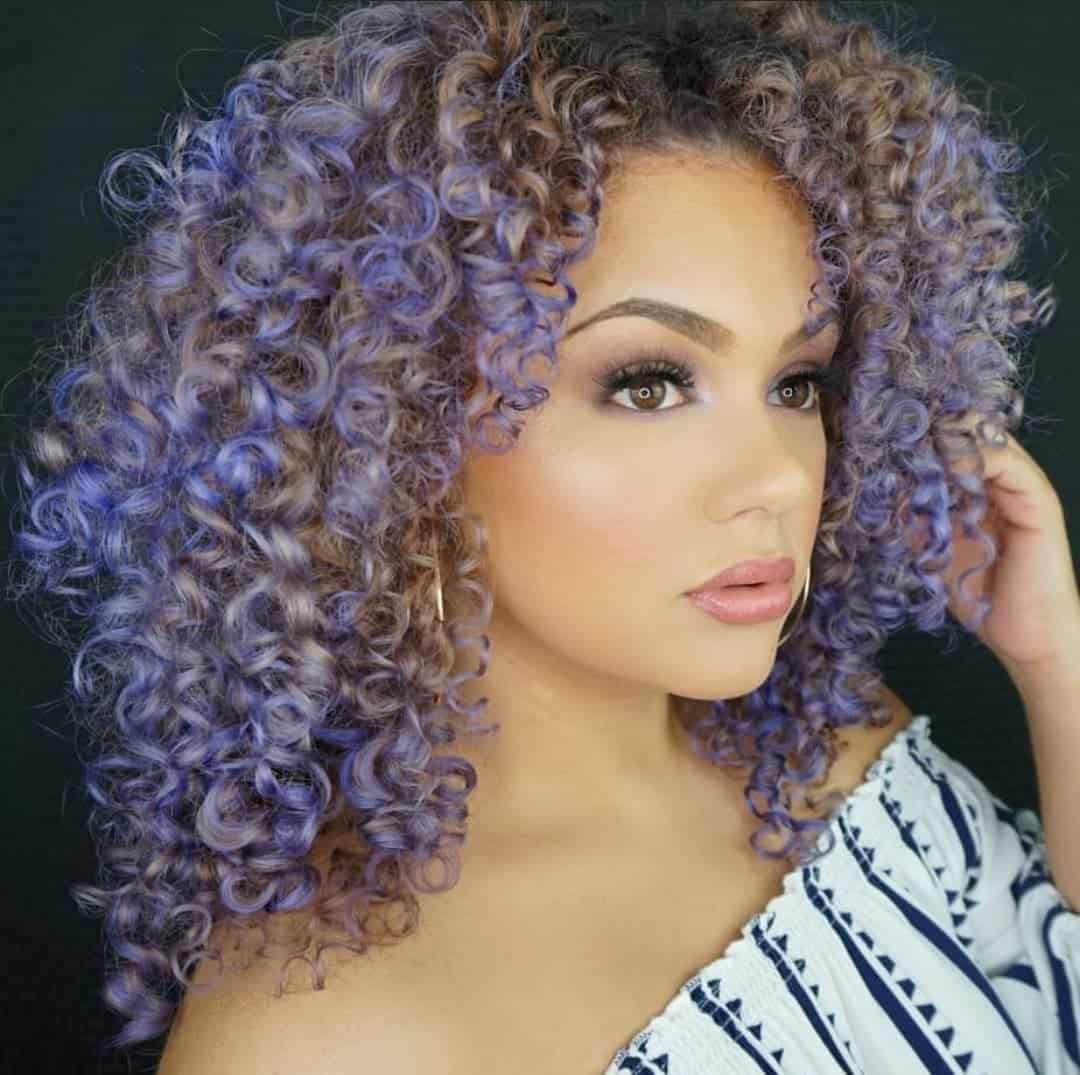 Add purple highlights to your hair and make your curl and wave pattern more defined. For dark-colored hair, choose a light purple highlight for contrast. 
Platinum purple hair color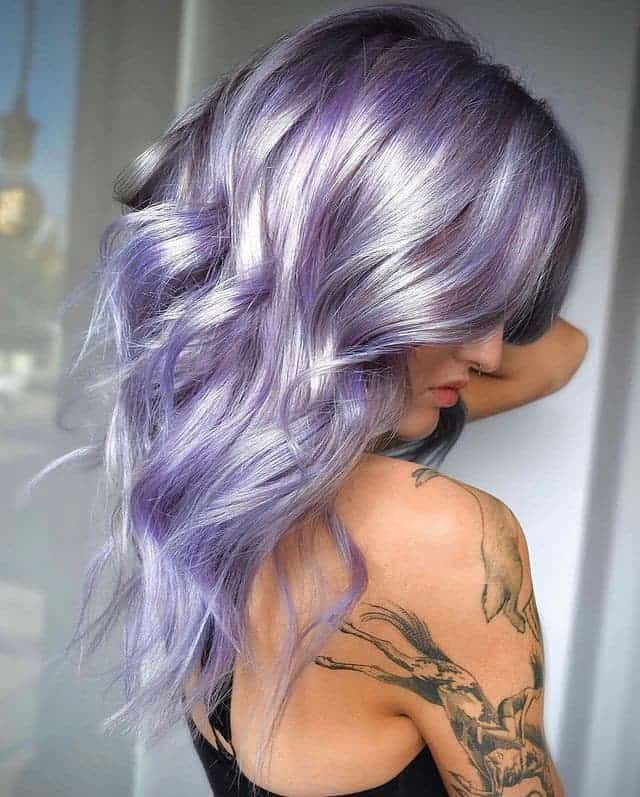 This dramatic combination of purple and ash shade is perfect if you feel like being mysterious. The ashy shade of this hair color gives a ghastly feeling but in a posh way.
Silver purple color
For that whimsical and fantasy hair color, try silver purple. This hair color will make you feel like an ice queen. 
Purple pink color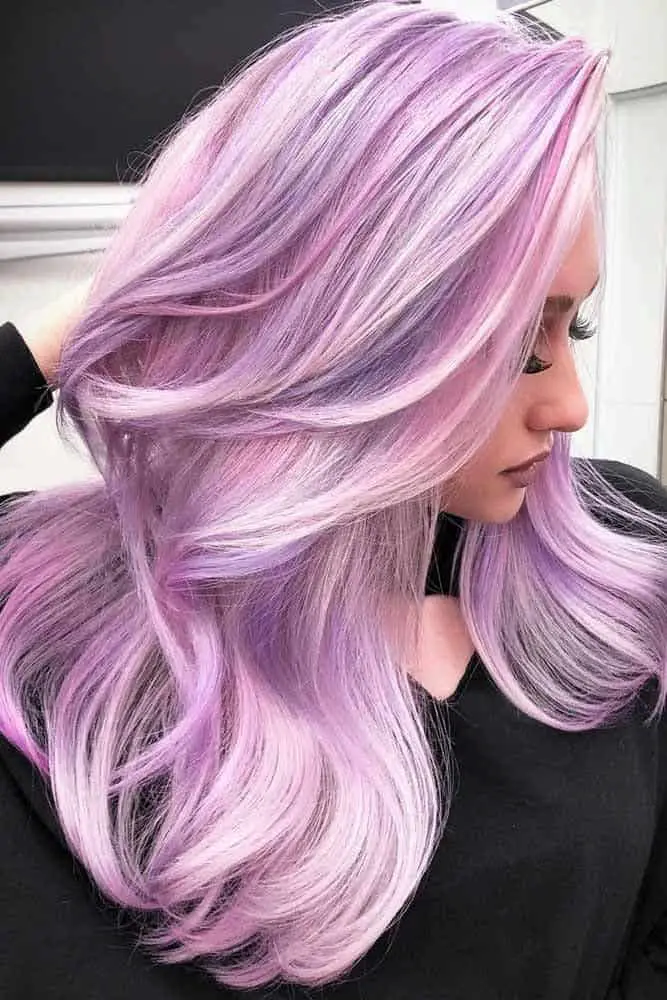 No one is too old to live their mermaid fantasy. The combination of purple and pink is the ultimate dream come true for all the mermaid fans out there!
Purple ombre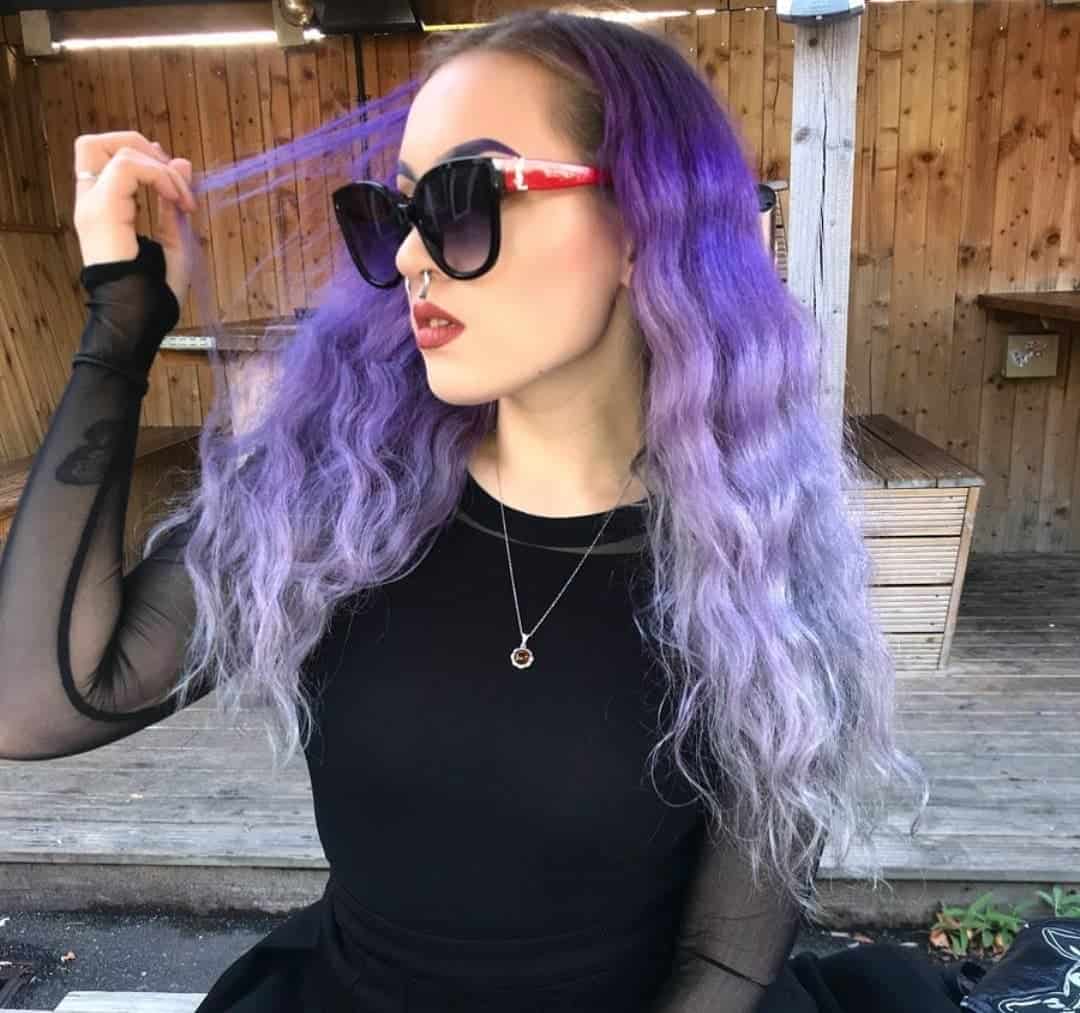 Purple ombre is one of the most popular choices when it comes to purple hair color. The transition of many different colors from dark on top to purple at the bottom makes the overall hairstyle interesting and stylish.  
Galaxy purple hair color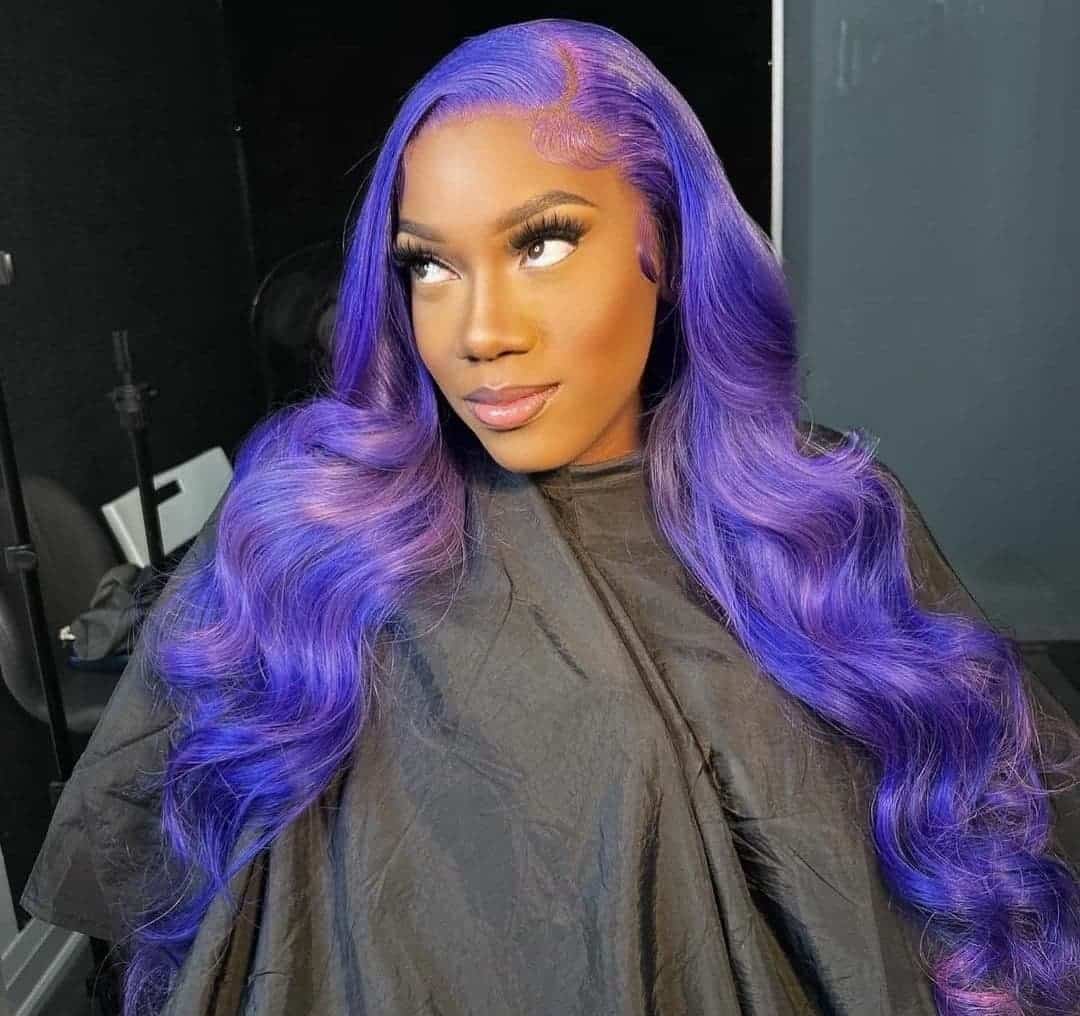 Get your nerd out and own the color of the universe! This fun hair color is a combination of purple, blue and green hues that makes for a fun hairstyle.
Deep purple hair color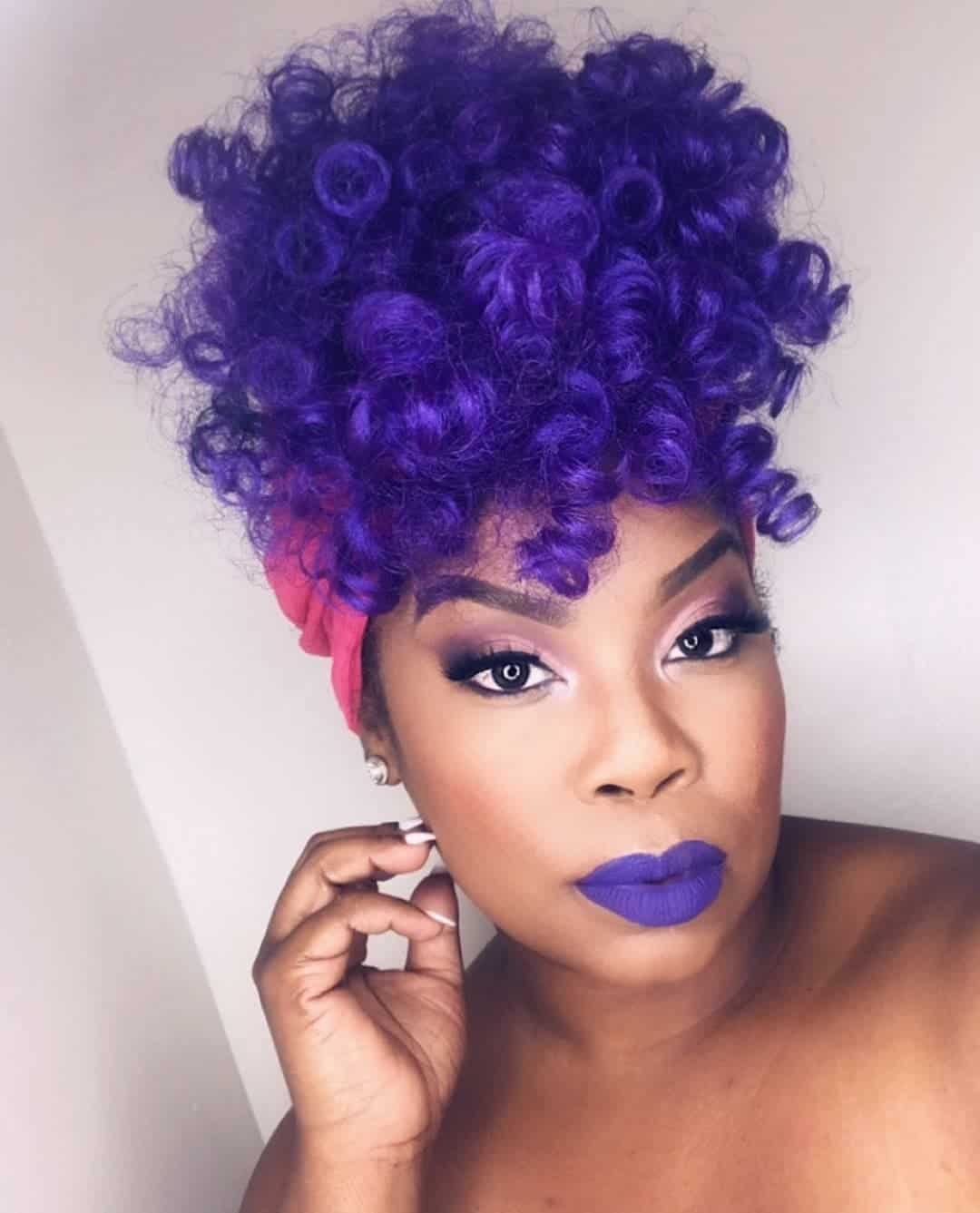 If you want to try purple but do not want to go bold, deep purple is the best bet for your hair. This is a subtle hair color transformation and it works best for dark-colored curls.
Orchid hair color
A mixture of deep purple and pink, orchid hair color compliments fair skin and light complexion. The deep purple hues create a contrast with the light skin color while the pink shade compliments it.
Pastel purple
Most people think pastel color works only for fair skin or light complexion. But not this time! Pastel purple hair color can complement your dark skin, you just need to pick the right shade.
FAQ
What skin tone can wear purple hair?
Every skin tone can wear purple hair. You just need to pick the right shade that compliments your natural skin color.
What color does purple hair go with?
Different purple shade works with different skin tone. A fair skin works well with pastel purple colors while those with medium skin tone, indigo hair color is your perfect match. If you are not sure which purple color is for you, you can try the semi-permanent or the spray-on hair color before getting your hair dyed at the salon.
How do you get temporary hair dye out?
There are many ways to get temporary hair dye out. One way is to use a strong clarifying shampoo. This can wash off the temporary dyes on your hair.  Another easy is to use baking soda to lighten the hair color. 
Can purple hair be dyed blonde?
If you are thinking of dying your hair blonde after purple hair color, you need to bleach your hair. There is no shortcut to transitioning to blonde, or else you will get patches and uneven hair color.
Featured photo by IG @beautiful_by_natalie