If you are finding ways to make your lifeless and limp hair fuller and more volumized, chances are that you have come across reverse washing hair.
What is reverse hair washing?
It is washing your hair in reverse sequence, it is as simple as it sounds. So instead of the usual shampoo and conditioner, this time do the conditioner first followed by your usual natural hair shampoo. This way, the conditioner will leave its hydrating and moisturizing properties to the hair strands while the pores of the hair are open. It's like filling up the hair strand's pores with conditioner to lock in moisture. Followed by the cleansing properties of your shampoo. 
Who should do reverse washing?
Reverse washing is not for everyone. This works best for people with limp and lifeless hair. People with oily hair can also benefit from this method. The natural oil from our scalp is a good thing. But at times, especially for those with fine and flat strands, excess natural oil can weigh down the hair making it look lifeless.
Reverse washing can infuse the hydrating and moisturizing benefits of the conditioner. And shampooing after the conditioner can remove any residue from the hair. This makes the strands lighter and fuller looking. 
Reverse washing for curly hair.
For women with curly hair, we can skip this method. Curly haired women have naturally dry hair. Shampooing after conditioning will further strip the hydration and moisture that we get from our conditioner. But if you want to try this method, we suggest using a deep conditioner instead of your usual conditioner. Use an all-natural hair cleanser instead of your usual shampoo to keep the hydrating and moisturizing effect of the deep conditioner.
The benefits of reverse washing hair
Reverse washing will give you the moisturizing benefits of the conditioner without leaving any residue. Shampooing after your conditioner will remove all the residue from your conditioner making your hair cleaner. Another reason to switch to reverse washing is that it makes the hair look and feel fuller. Since there is no residue from the conditioner that weighs down the hair, the hair strands are lighter. Giving the appearance of fuller and more volumized hair.
How to perform reverse shampooing?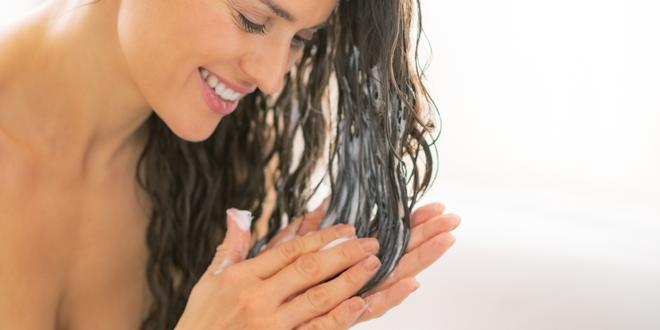 Instead of the usual order of things – shampoo than conditioner, do it in reverse order. After wetting your hair, apply your conditioner focusing on the lower ⅔ of your hair. The lower part of your hair gets the least amount of natural oil from your scalp so a little helping from your conditioner will do wonders. Massage your hair and scalp leaving the conditioner for 5 minutes. Rinse with cold water to lock in moisture. Lastly, cleanse with your usual shampoo.
How often should you wash your hair in reverse?
If you feel that this method works best for your flat and fine hair, you can do this every time you shower. Just like your usual hair cleansing and conditioning regimen. It is best to do reverse washing using warm water to open the pores of the hair. Rinse off with cold water to lock in the moisture in the hair.
Shampoo and conditioner to make your
reverse washing
more effective:
If you have curly hair and want to try the reverse washing method, we recommend using this deep conditioner. Deep conditioning your curly hair instead of a normal conditioner will keep the moisture of the hair even after shampooing.
When doing a reverse wash, we highly recommend using an all-natural cleanser instead of a shampoo. Camille Rose Naturals Sweet Ginger Rinse removes the oily residue from the conditioner without stripping off moisture.
After reverse washing, you can use Shea Moisture Raw Shea Detangler to detangle your curls. This makes your newly cleansed hair easier to manage and comb through.
Instead of using your normal conditioner, you can also opt for Mille Organics Avocado Hair Milk. This hair care product gives that same hydrating effect of a deep conditioner without the heavy residue. Use a light cleanser to clean the hair afterwards.
After your reverse wash, help your curls with more moisture using this all-natural almond oil from Mille Organics. Do not worry about residue build-up. This product is lightweight and a little goes a long way. So a few drops are all you need for that shiny hair.
Nowadays, there are many different factors affecting the health of our hair. Not just the food we eat, or the products that we use. But how we use them. We can try a gazillion of hair care products but if we don't use them properly, then it's just a waste of money.
Reverse washing might not be for everyone. It might work for women with oily scalp but it will not work for women with dry hair. Like all the other hair care products and methods, you need to try and find out which one is suitable for you.