Type 2 hair, also known as wavy hair, is characterized by its S-shaped or bent pattern. It falls between straight hair (Type 1) and curly hair (Type 3) in terms of texture and curl pattern. It has a natural wave to it, and the curls tend to be looser and less defined than those of Type 3 hair.
Some days, your hair feels straight and some days, it feels curly. If you experience this, you are most likely to have type 2 wavy hair. It is important to know your hair type so you can properly identify how to care for your hair. To help you with your type 2 hair journey, let us talk more about this curly hair type. 
Characteristics of type 2 hair type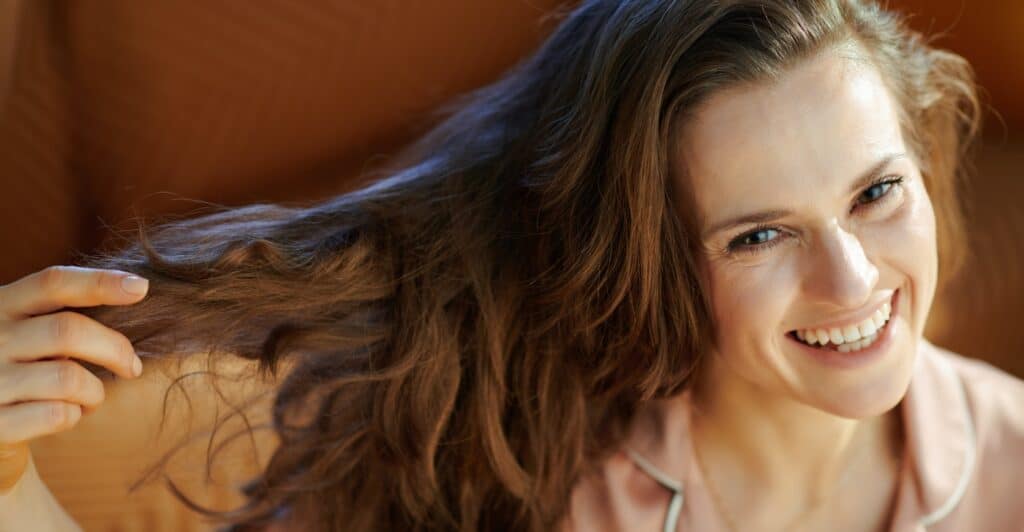 Type 2 hair is wavy in texture and is characterized by loose waves that form an "S" shape. It is relatively easy to style and can be easily straightened or curled.  It does not have much frizz or curl, making it less prone to tangling. However, it can become frizzy in humid weather or if it is not properly cared for. This hair type is typically thick and voluminous, but can also be fine and flat. It requires regular conditioning to keep it looking healthy and shiny, and it is best to avoid heavy products that can weigh it down. This type of hair can be further classified into three subcategories – 2A, 2B, and 2C – depending on the intensity of its wave pattern.
Classification of type 2 hair
There are three subtypes: 2A, 2B, and 2C. Type 2A hair has a slight wave pattern or a flat S pattern that is usually easy to style, while Type 2B hair has a more defined wave with a strong S pattern that can be styled in a variety of ways. Type 2C hair has a very defined wave pattern and can be prone to frizz.
Type 2A Hair
Type 2A hair is characterized as having slightly wavy strands that are relatively thin and fine in texture. The waves in this hair type are usually loose and more defined towards the ends of the strands making it less capable of holding an S pattern, hence the soft waves. This hair type can sometimes be mistaken for straight hair or type 1 hair. Type 2A hair tends to be easy to manage and style because of its natural straightness. 
This hair type lacks volume and tends to be flat, especially at the roots. This hair type is ideal for those who prefer naturally straight hair that is easy to style with minimal effort. People with this hair type should avoid using heavy styling products as they can weigh down and flatten the hair further. Instead, they should opt for lightweight products that offer some hold, such as mousse or hair spray. Proper hair care, including regular trimming and conditioning, can help maintain the healthy appearance of type 2A hair.
Type 2B Hair 
Type 2B hair is a wavy hair type that sits between straight and curly hair which has a more defined S pattern. This hair type looks like a loose beach waves curls without the body. Those with type 2B hair have thicker hair strands that are prone to frizz especially in humid climates or when exposed to moisture. This hair type features waves that are usually loose and have a naturally unstructured feel to them. It is the happy medium of hair types, not too straight and not too curly. Hair strands in type hair typically have a slight "S" shape, and are often flat around the roots and begin to wave towards the middle of the hair shaft.
It is prone to frizz, and requires a range of hair products to maintain its definition and prevent signs of damage. Type 2B hair is versatile, as it can be easily straightened or curled with heat styling tools or left to air dry, enhancing its natural wave pattern. This hair type tends to be thicker and coarser in texture, which requires proper maintenance and nourishment. Using a sulfate-free shampoo, regularly conditioning the hair, and minimizing heat styling can all help keep Type 2B hair healthy and looking its best.
Type 2C Hair  
Type 2C hair is typically characterized by its slightly wavy and defined curls. It falls somewhere between Type 2B and 3A, with a little more wave than the former and less curl than the latter. This hair type is often prone to frizz and requires special care and attention to maintain its texture and shape. Type 2C hair can be fine or coarse, and may have a tendency to be dry, which means it needs more moisture to maintain its health and vibrancy.
Those with Type 2C hair typically find it easy to style and can achieve a variety of looks depending on how they treat their hair. With the right products and techniques, Type 2C hair can look gorgeous and healthy all year round.  
Type 2 hair care tips: Washing, Conditioning, Styling, and Colouring
Caring for Type 2 hair requires a different approach than caring for other hair types. It is important to use products that will enhance and define the natural wave pattern without weighing the hair down. Avoid using heavy oils or silicone-based products, as they can make the hair look greasy and flat.
Instead, opt for lightweight styling products like mousse, foam, or gel, that will help to enhance the natural wave pattern without weighing it down. It is also important to avoid using hot styling tools like flat irons or curling irons, as they can damage the hair and make it look frizzy.
To care for type 2 hair, it's important to use products that enhance the natural wave pattern – this can include lightweight mousses, gels, and leave-in conditioners. It's also important to avoid products that weigh down the hair or create buildup, as this can lead to limp, lifeless waves. Regular trims are also important to keep hair healthy and prevent split ends, which can cause frizz and make waves less defined. For overnight care, loosely braid or twist hair while sleeping to help preserve the wave pattern. Overall, caring for type 2 hair involves embracing and enhancing its natural texture, while also keeping it healthy and free of product buildup. Here's a simple guide to help you care for your type 2 hair
Washing: When washing Type 2 hair, it is best to use a sulfate-free shampoo and a moisturizing conditioner to help keep the hair hydrated and healthy. It is also important to avoid over-washing the hair, as this can strip it of its natural oils and make it look dry and frizzy. You can also use a clarifying shampoo once a month to remove any buildup from styling products. Avoid washing your hair too frequently, as this can lead to dryness and frizz so aim to wash every other day or every two days. 
Conditioning: Conditioner is essential for Type 2 hair care, as it helps to hydrate and detangle your hair. Use a moisturizing conditioner every time you wash your hair, focusing on the ends of your hair where it tends to be drier. You can also use a leave-in conditioner for added moisture and to help control frizz.
Styling: Type 2 hair can be styled in a variety of ways, including straightening or adding waves or curls. To protect your hair from heat damage, use a heat-protectant spray or serum before using heat-styling tools. You can also air dry your hair and use a diffuser on low heat to enhance your natural waves or curls.
Coloring: If you want to color your Type 2 hair, it's important to do so carefully to avoid damaging your hair. Consider getting your hair professionally colored, as a stylist can help you choose the right shade and avoid damaging your hair. If you choose to color your hair at home, be sure to follow the instructions carefully and choose a gentle hair dye. Be sure to deep condition your hair after coloring to restore moisture and prevent damage.
In summary, caring for Type 2 hair involves using lightweight styling products, avoiding heavy oils and silicone-based products, and using a sulfate-free shampoo and moisturizing conditioner. By following these simple tips, you can enhance the natural beauty of your Type 2 hair and keep it healthy and vibrant.
How to wash your hair?
When washing type 2 hair, it is recommended to use a shampoo and conditioner that can add moisture to the hair. Wash your hair upside down and finger combs them to loosen the strands and to remove the tangles. Massage your scalp to get those blood vessels working. After washing, use a microfiber towel to dry them. Scrunch your hair and while it is still damp, you can add hair mousse or volumizing leave-in conditioner for that extra body.
How to protect the wavy curl type in between washes?
The use of shampoo and conditioner every day can strip off the natural oil in your scalp and hair strands. This can make your waves even more limp and flat. Instead, you can use dry shampoo to clean your hair. You can also do the no-poo method to keep your hair and scalp clean. 
Products for type 2 hair
Type 2B hair
Shea Moisture Coconut and Hibiscus set

This is a great product for type 2b hair which help to detangle, prevents frizz and damage during styling, and offers a silky smooth texture to hair. It also helps to repair damaged and unmanageable hair give definition to your wavy hair.
Got2b Kinkier Curling Mousse

It is a weightless mousse that eliminates frizz and defines curly and wavy hair. It is suitable for all types of hair wavy, curly and kinky and adds shine to the hair. It will hold the waves and curls tight without making the strands feel tight. So if you want to style your hair while making its texture smooth, this is a great product.
Curls Blueberry Bliss Reparative Leave-In Conditioner

This leave-in conditioner prevents damage and restores the texture of curly or frizzy hair. It is enriched with organic ingredients which is great for curly, wavy and kinky hair types. This leave-in conditioner is the one that will improve the texture of your natural hair and will give you the confidence to wear it natural.
Type 2C hair
Jessicurl Spiralicious Styling Gel

This gel is great for type 2c hair to make your style stay longer. It is gentle in texture contains no silicones or sulphates, so you can be sure that there won't be any build-up and frizz while experimenting with wavy hair ideas.
Carol's Daughter Monoi Repairing conditioner

This conditioner will give you your softest strands yet. Incredibly nourishing, your 2C waves will come out looking restored and refreshed after each use. After just one wash, 92% of people noticed less damage.
As I Am Coconut Cowash Cleansing Conditioner

A cleansing conditioner that gives your natural hair the treatment it deserves with the As I Am Coconut CoWash. This hydrating conditioning cream gently removes residue, oils, and build-up, resulting in cleansed hair that's not stripped of its moisture. This co-wash adds moisture to the hair, whilst promoting healthy hair growth.
Can Type 2 hair become Type 3 hair?
No, your hair type is determined by your genetics and cannot be changed. However, your hair's texture and curl pattern may change due to age, hormonal changes, or damage.
Can I straighten my Type 2 hair?
Yes, you can straighten your Type 2 hair, but be sure to use a heat protectant and avoid excessive heat styling to prevent damage.
What is the best way to enhance my Type 2 curls?
Using a curl-enhancing product and following the proper styling techniques, such as scrunching or plopping, can help enhance your Type 2 curls.
Can Type 2 hair be thin and fine?
Yes, Type 2 hair can range from fine to coarse in texture, and it's common for Type 2 hair to be thin and fine.
How To Sleep With Type 2 Hair?
Like curly hair, wavy hair can also be prone to damage and breakage from friction as we sleep. Protect your waves while you sleep by using a silk or satin pillowcase. You can also adopt the pineapple hairstyle, but instead, tie your hair in a bun on top of your head. This way, you can protect your hair from damage as your sleep
Conclusion
Type 2 hair is considered as wavy hair with a slight texture. If you have type 2 hair, it is essential to choose products that will enhance the natural wave pattern of your hair. Try to avoid heavy products that can weigh your hair down, and instead, opt for lightweight products such as mousse or foam. It is also important to use a wide-tooth comb or your fingers while your hair is wet to avoid damaging your natural wave pattern.
When styling your hair, you can enhance your waves by scrunching your hair with a towel or diffusing it with a hair dryer on low heat. Although it is less prone to frizz, but it is still important to use anti-frizz products to keep your hair smooth and under control. Overall, with gentle care,styling technique and the right products, you can make your hair natural beauty and make it look and feel amazing. Remember to use gentle products, condition regularly, and follow proper styling techniques to keep your Type 2 hair healthy and beautiful.