Workout Hairstyles to Keep You Looking Fresh
Look pretty and sporty when you hit the gym with our 10 workout hairstyles for curly hair. Try these hairstyles and say goodbye to annoying hair on your face and forehead while working out. 
I know a lot of you will relate when I say that the work-from-home setup has changed everyone's daily routine. No more marathon from the bus stop to the office because you are running late. No more walking up and down the stairs during lift breakdown. Now, you can wake up at 8:55 am and at 9:00 am you are already in front of your computer ready to work. We take for granted the simple walking and running that we do every day. Simple exercises that keep us moving and fit which we do not do when we work from home. And little by little, belly fat starts to build up and our leg and arm muscles start to sag. Then now we hit the gym. We are ready to work out but we are not ready for the sticky feeling on our curly hair. As much as I want to sweat, I just hate when my curly hair sticks to my face and much more, get sticky when I start sweating. Good thing I came across the idea of doing some pretty workout hairstyle to my curls. It is like hitting 2 birds with 1 stone. I get to workout without my hair dangling on my face and I get to look good every time I go to the gym.
What to do with your curly hair at the gym?
As I said, I really get irritated when my hair and scalp get sticky every time I workout. I also do not like my hair sticking on my sweaty face. The solution is very simple – to tie my hair. But I do not just tie my hair. I tie my curly hair with style. I do a sporty curly hairstyle every time I go to the gym. See, you can still be pretty while getting that toned body back!
How to achieve the perfect sporty curly hair?
There are many ways to achieve that perfect sporty curly hair. If you have long curls, you can do braids. If you have medium-length hair, a pineapple hairdo will work best for you. But if you have short curls, a sweatband or a headband will work for you.
How to create a sportier look for your hair?
Creating a sporty look with your curls is just like styling your hair if you are going to a party. The only difference is, you are preparing to sweat while looking good. Here are a few ways how to style your hair like an athlete.
Casual Bun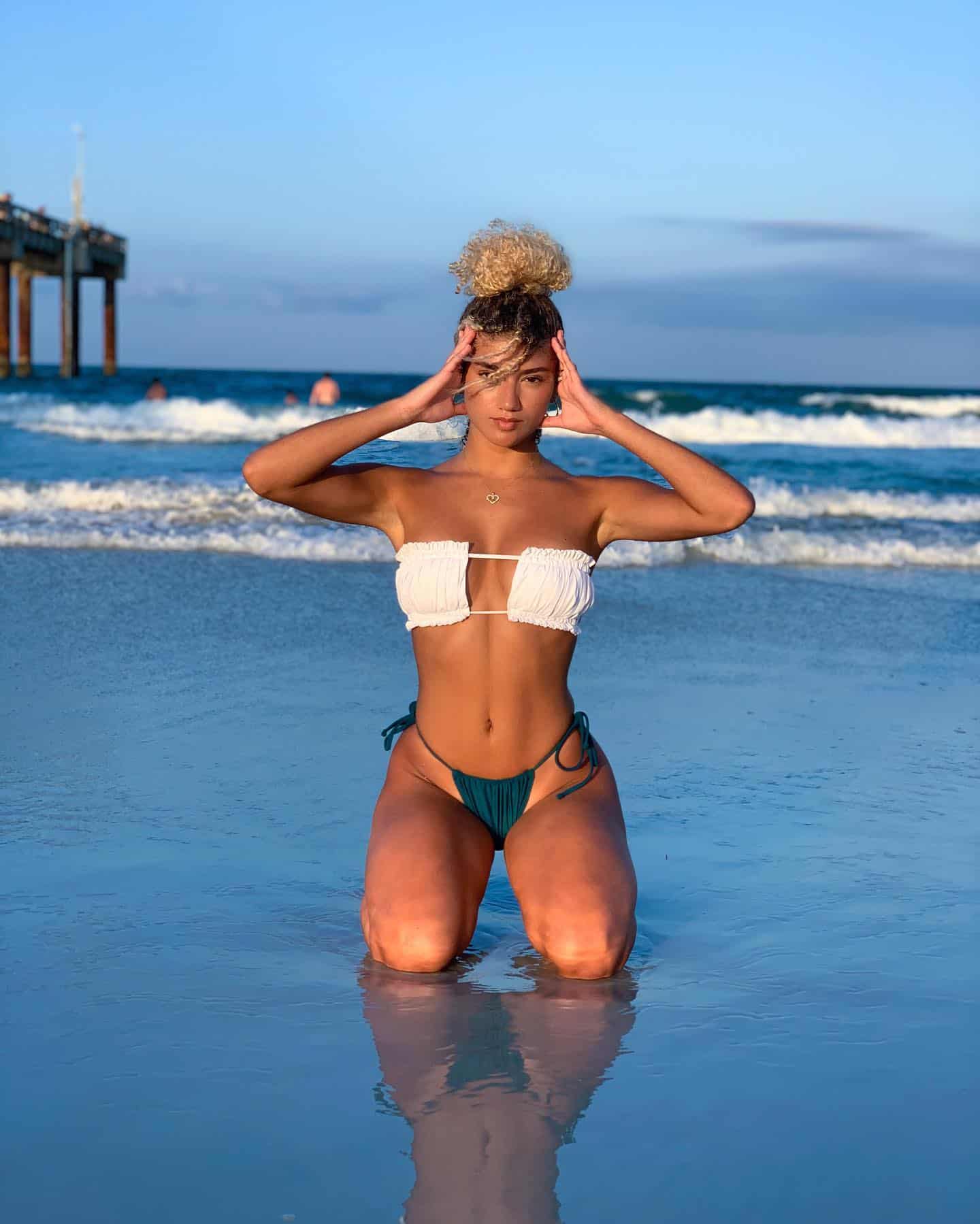 The very simple and very basic way of styling your curls when you do your workout is a casual bun. Just simply tie your hair in a simple bun and you are ready to hit the gym. The best thing about this is that it's so easy you can even do it in less than a minute.
Half-up and half down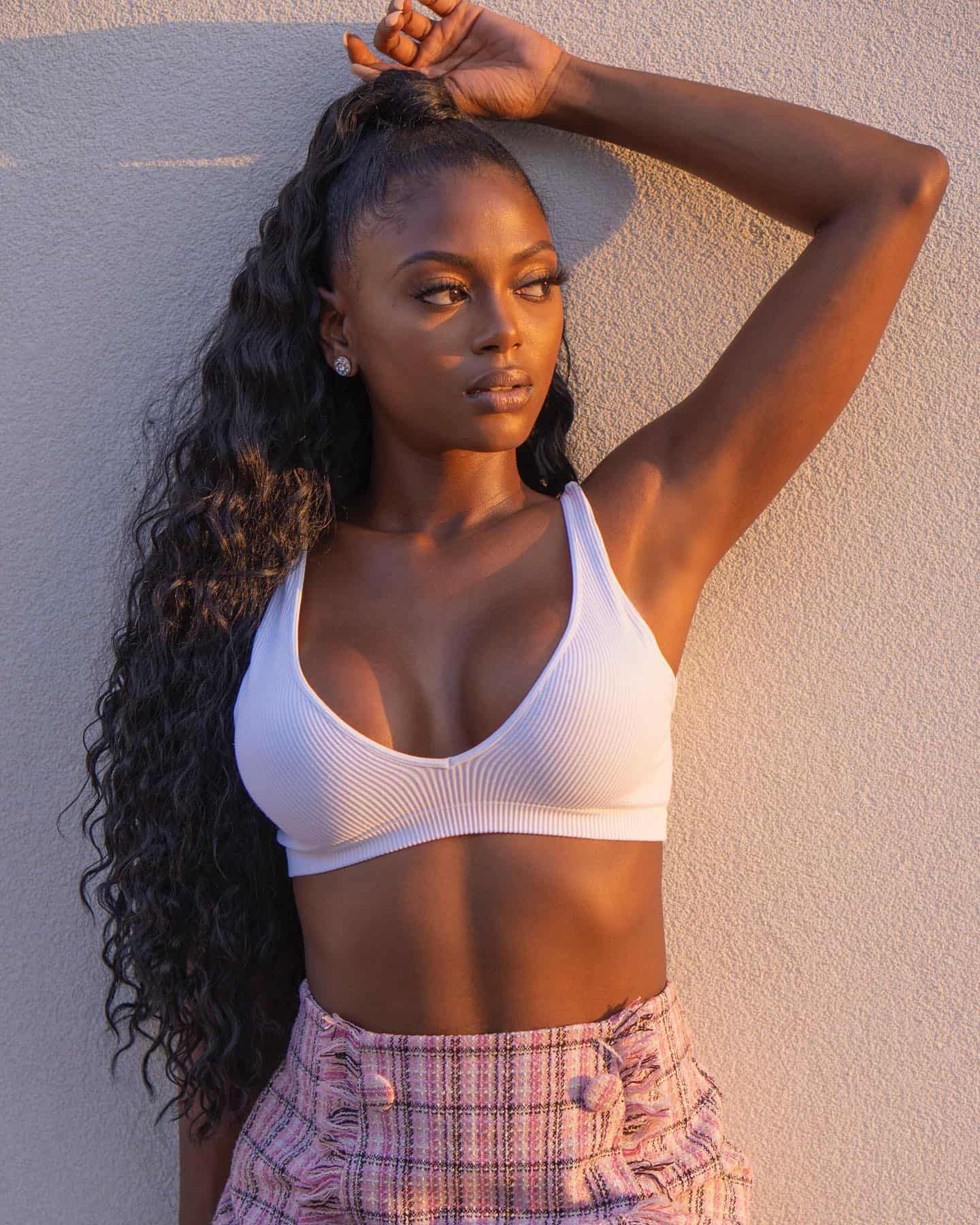 Be sporty at the same time look feminine with half-up and half-down. This sexy haircut is ideal for those with short to medium hair. This fabulous can also be worn even post-workout, straight to meeting your friends for dinner.
Braided ponytail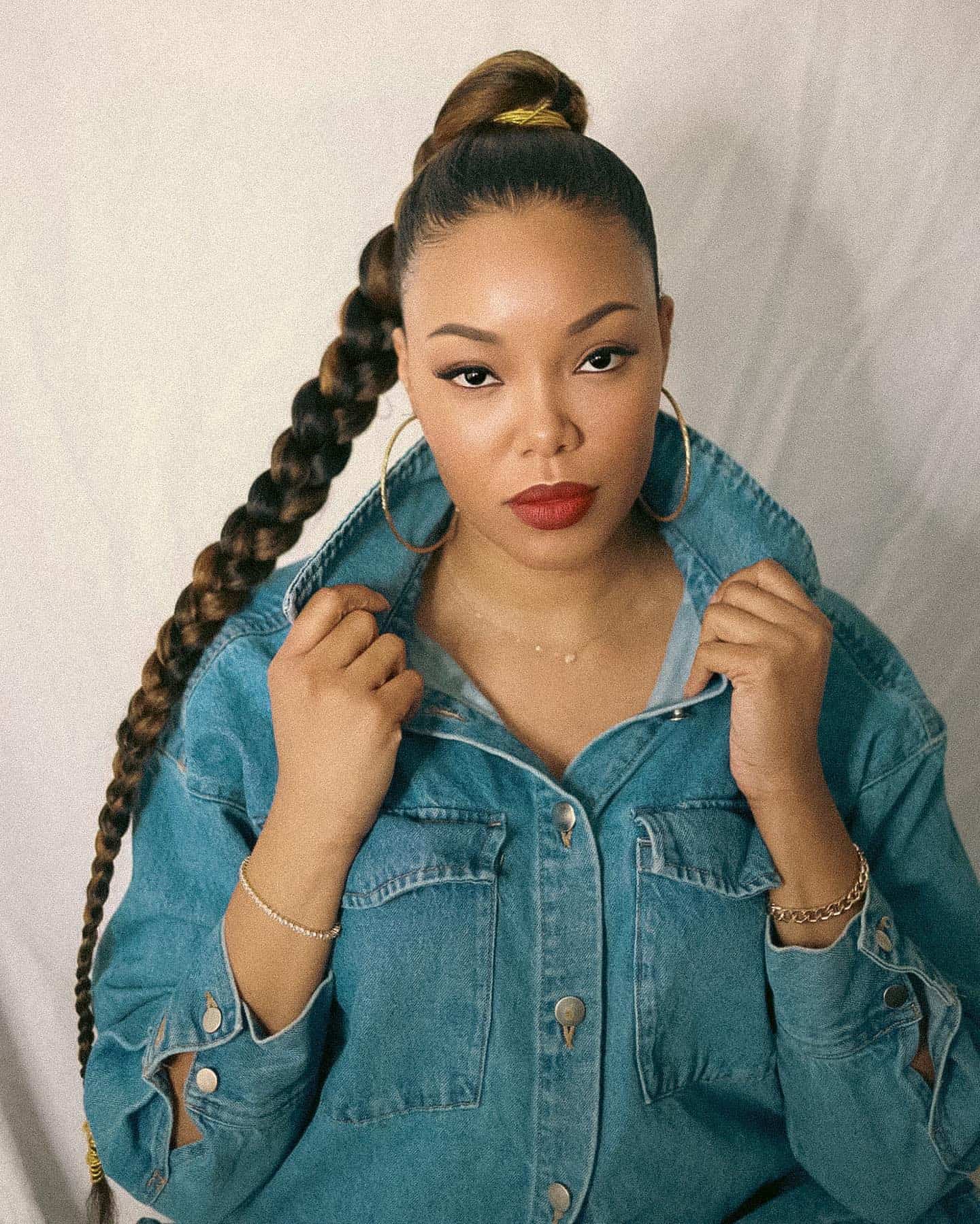 This is a hairstyle that you can ever before, during and after a workout. Not only does it make for a good workout hairstyle, but it also protects your hair from breakage due to sweat drying on your scalp. Remember to use a dry shampoo after working out to clean your scalp from sweat.
Dutch braids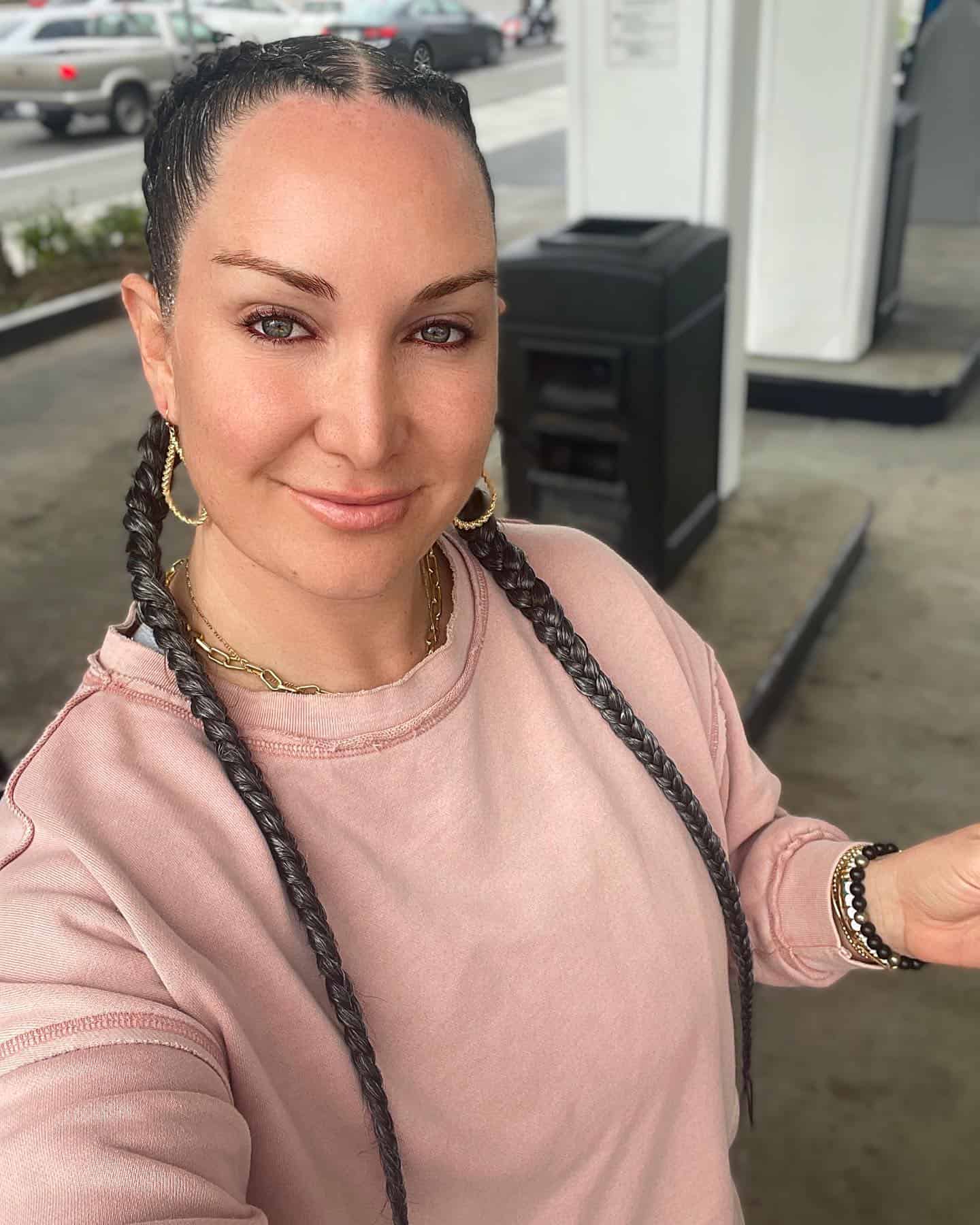 Even if you are sweating out, you can still look pretty and feminine by doing a dutch braid. You can do it with a pigtail or with just one braid at the back. This will keep your hair from falling to your face as you work out. 
Two ponytail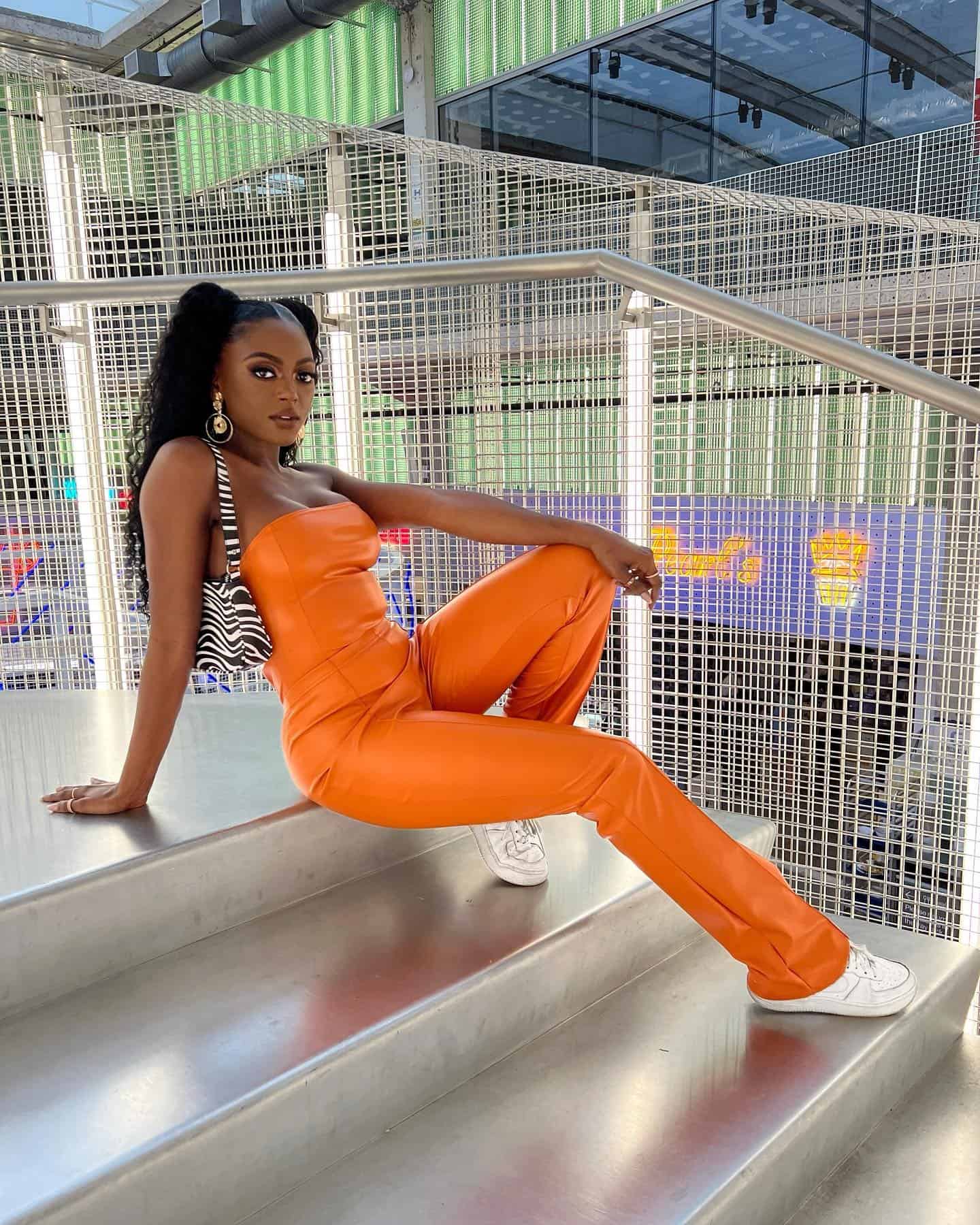 Get your pom-poms ready and relieve your high school cheerleader days with this hairstyle. Part your hair on the middle and tie both sides in a high ponytail. Or if you want to level up your hairstyle, you can braid each side of your ponytail.
Pineapple hairstyle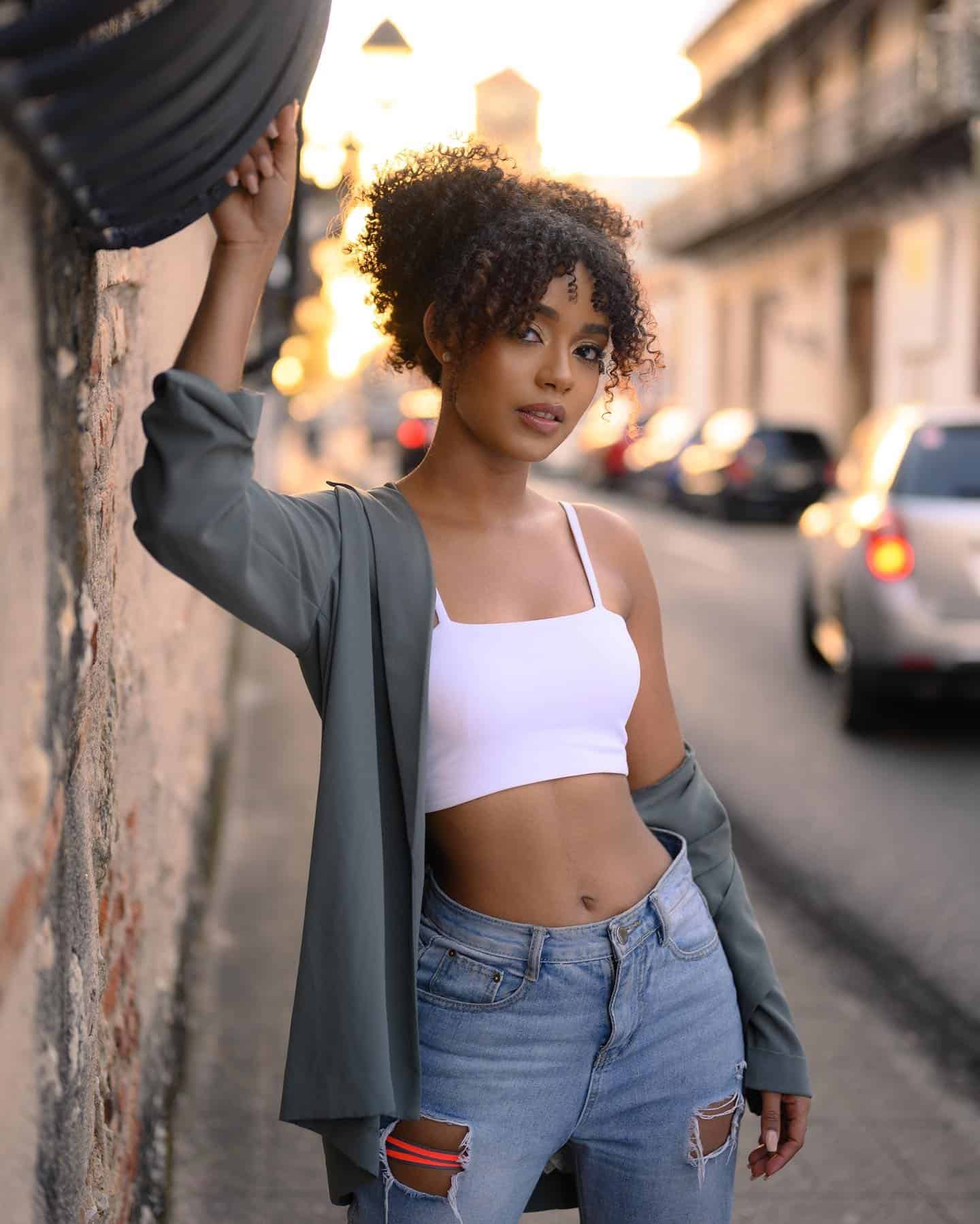 You can now promote this super easy yet super stylish hairstyle from your sleeping hairstyle to your workout hairstyle. Gather your hair on top of your head and tie it in a bun. This might not be a perfect post-workout hairstyle but this surely holds your hair as you work on your muscles.
Cornrows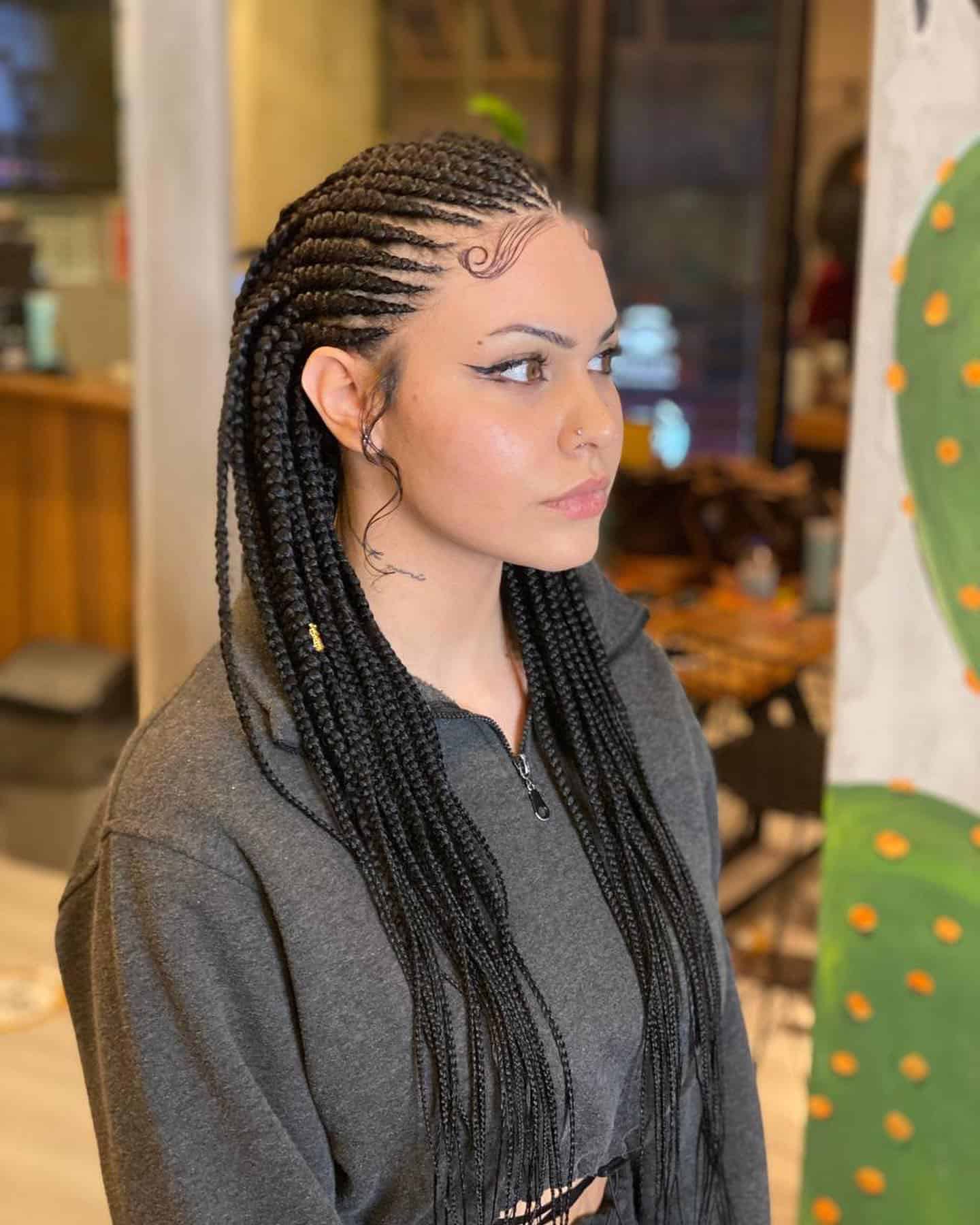 We often see MMA fighters, both men and women, wear this hairstyle. Thanks to its superior holding power this hairstyle will not budge easily. Though you might need to clean your hair more often when you do this as a workout hairstyle due to the sweating. 
Low bun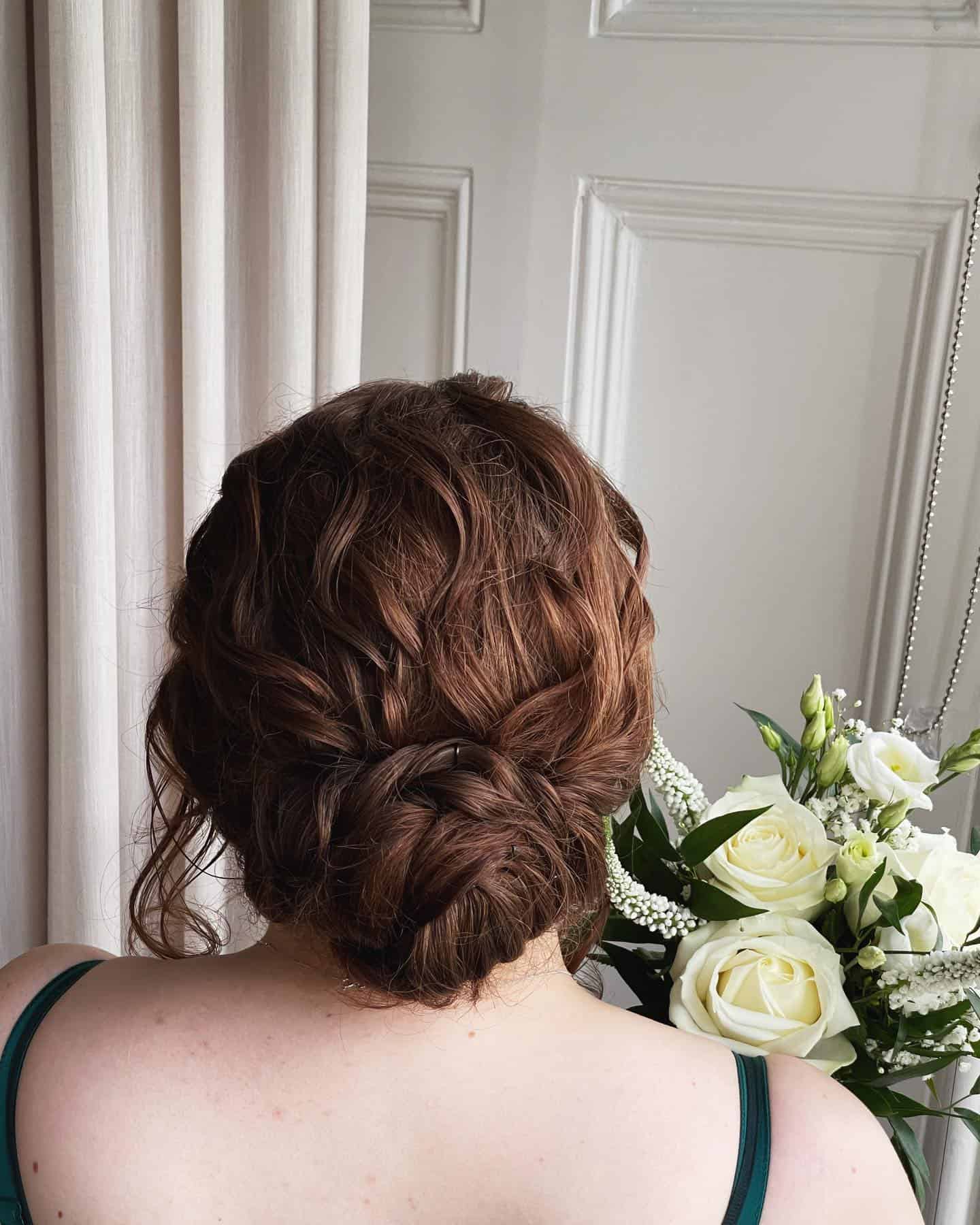 I personally am not a fan of this hairstyle because I do not like my hair sticking at the back of my neck. But the best thing about this hairstyle is you do not need anything fancy to do a low bun. All you need is a hair tie and your fingers to comb through your hair.
Space bun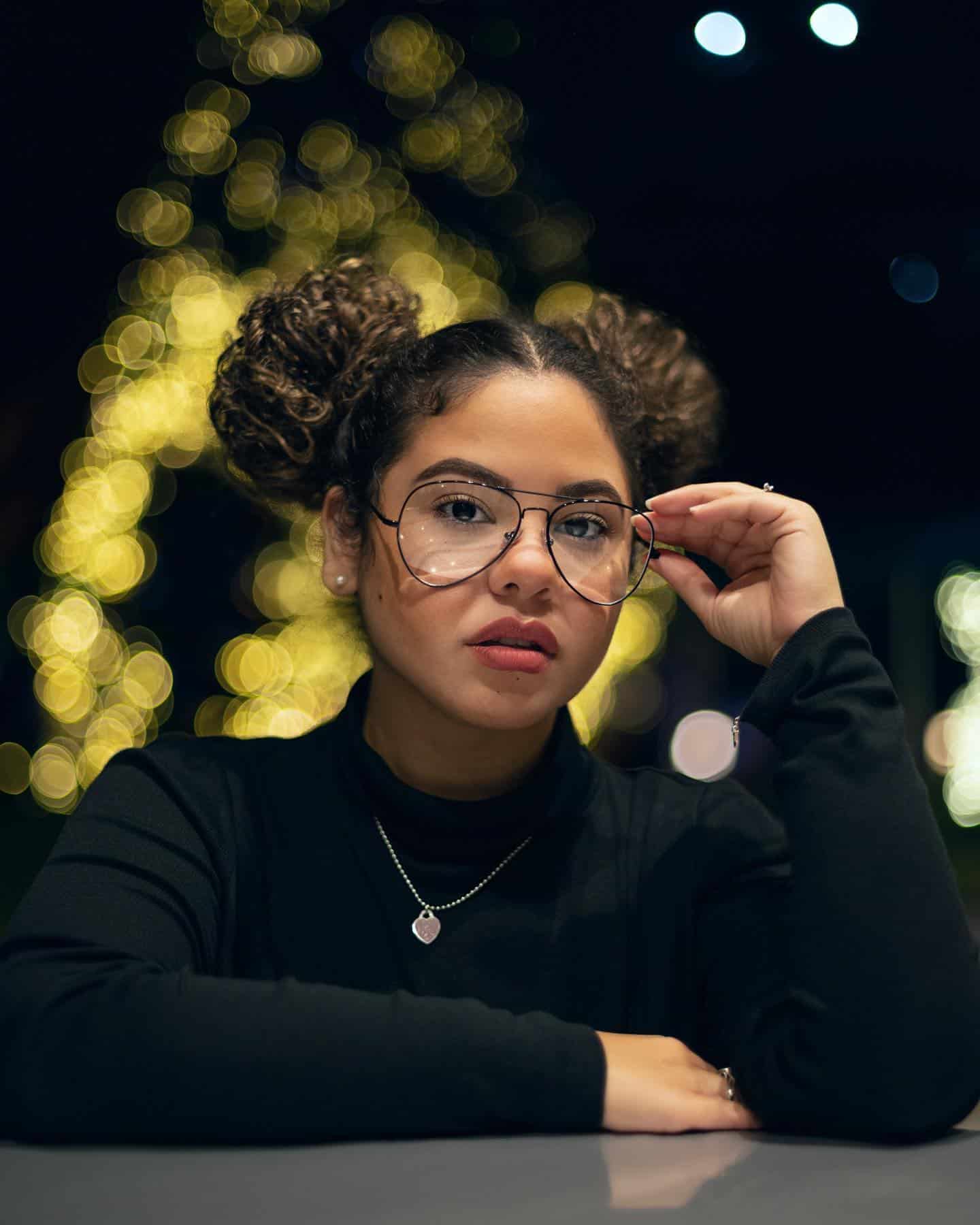 Bring your geek as you work out with this space bun. Part your hair in the middle and tie both sides into a high bun. This will keep your hair from falling on your face while you work out. At the same time, you will surely look cute and fun!
Braided Bun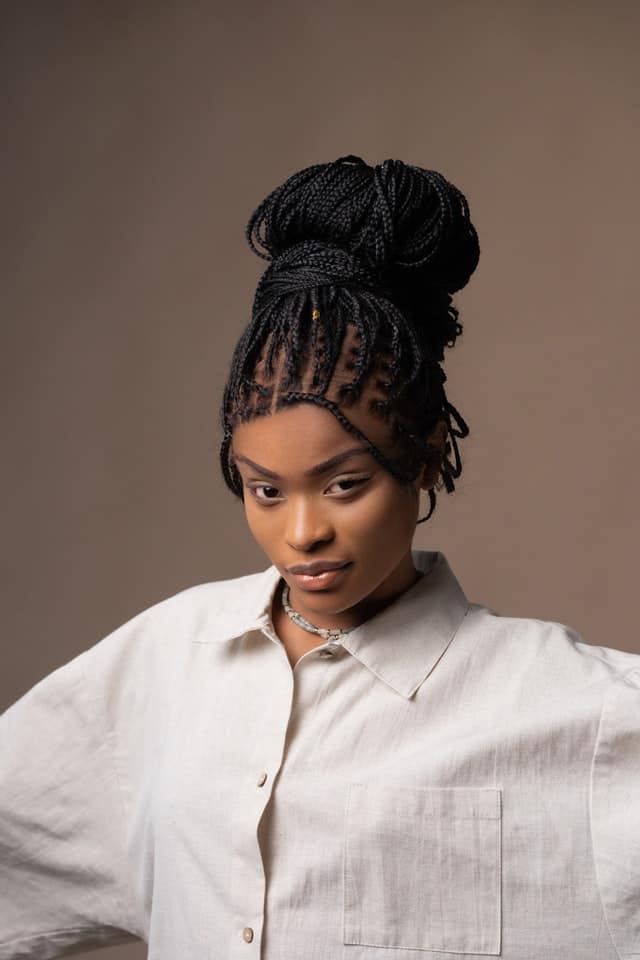 Braided buns are a great hairstyle perfect for those who work out. They can keep your hair out of your face and off your neck, which will prevent you from getting too sweaty.
How can I protect my curls while working out?
When you work out, normally you will sweat a lot. This sweat will dry on your scalp and might damage your strands. After doing your workout, it is best to wash your hair with a clarifying shampoo to remove sweat and dirt on your hair and scalp. But washing the hair too often can strip off the natural oils in our hair and scalp. A good alternative is a dry shampoo to clean your hair.
How to protect your hair from sweat while working out?
You cannot avoid sweat every time you work out. But you can protect your hair from the damages from sweat drying on the scalp. Clean your hair and scalp regularly by shampooing or by using a dry shampoo. The key is to remove the dry sweat, which contains salt, from the hair and scalp.
Should you wash your curly hair after exercise?
It is best to wash your curls after exercise. It's just that too much washing can strip off hair's natural oil. So instead, use a dry shampoo to clean your curls. You can also switch to the no-poo method when washing your hair. But we still recommend doing a reset wash on your hair to make sure that all gunk and build-up on your scalp are removed.
Tips to refresh your hair after a workout
Once you are done sweating it out, you will surely want to feel refreshed. Apart from using dry shampoo to clean your hair, we highly recommend using a curl refresher to bring back the volume and body of your curls.