If you spend most of your time on social media, chances are you have heard of Denman Brush. The denman brush has become a sensation not only in the curly hair community but on TikTok and Youtube as well. But what really is Denman Brush and what's with the craze? Denman brush is a popular styling tool for curly girls.
It is a versatile hair tool that can be used in blow-drying, detangling, styling, smoothing, and defining the curls. Don't get us wrong! You can also use this if you have straight hair.

This brand has the right kind of brush for every hair type. But this is a miracle styling brush for us, members of the curly hair community. 
Why A Denman Brush Is A Special Key Tool In A Curly Hair Care Routine?
We know that time and time again we have advised you not to brush your curly hair when it is wet. But this time, we are giving you our blessings. As long as you use the right kind of brush a.k.a. The Denman brush. What makes this Denman brush an important part of the curly hair care routine?

Denman brushes are made from strong nylon bristles that provide the tension for creating more defined curls. It has a round cushion that helps prevent static that causes frizz. It is a versatile tool that can be used for styling, smoothing and defining your natural hair type. Plus, it has an ergonomically shaped handle that gives you a good grip when brushing your curly hair. 

Different Types of Denman Brushes and Which Denman brush do I need?
Denman brush has many different variations. It has a range of brushes for detangling, blow-drying and styling and finishing. With its many different kinds of brushes, you can surely find one that is perfect for your hair type.

Here are the types of Denman brushes all of them 'Original Stylers'. We highly recommend these Denman brushes for wavy, curly, and coily hair types.

D3 medium has 7 rows have more teeth and are closer together. It is suitable for short to medium hair for improving curl definition. Whereas the D31 medium has 7 rows have fewer teeth but are further apart. It is suitable for short to medium hair for detangling curls.
D4 has 9 rows with more teeth that are close together. It is suitable for medium to long hair for improving your curl definition.
D41 large has 9 rows have fewer teeth further apart which is suitable for detangling curls.

D3 or D4? Choose the right denman brush for your hair type. 
When it comes to selecting the right Denman brush for your hair type, there are two options to consider, the Denman D3 or the Denman D4. Both types of Denman brushes have different benefits and weaknesses that you should be aware of before making a purchase.
The Denman D3 is best for those with curly or thick hair as it has more widely spaced and longer bristles that help to detangle and smooth the hair quickly. Meanwhile, the Denman D4 is better suited for those with finer or thinner hair as its shorter and more compact bristles add volume and lift. When using the Denman brush, it's essential to know your hair's specific needs and choose the right one to minimize the risk of breakage or damage while creating the best result for your hair type.
For those with curly hair, the Denman D31 brush is a great choice. This brush has five rows of nylon bristles with rounded tips that are set in a rubber pad. The brush is designed to detangle and define curls and can be used to create a range of curly hairstyles.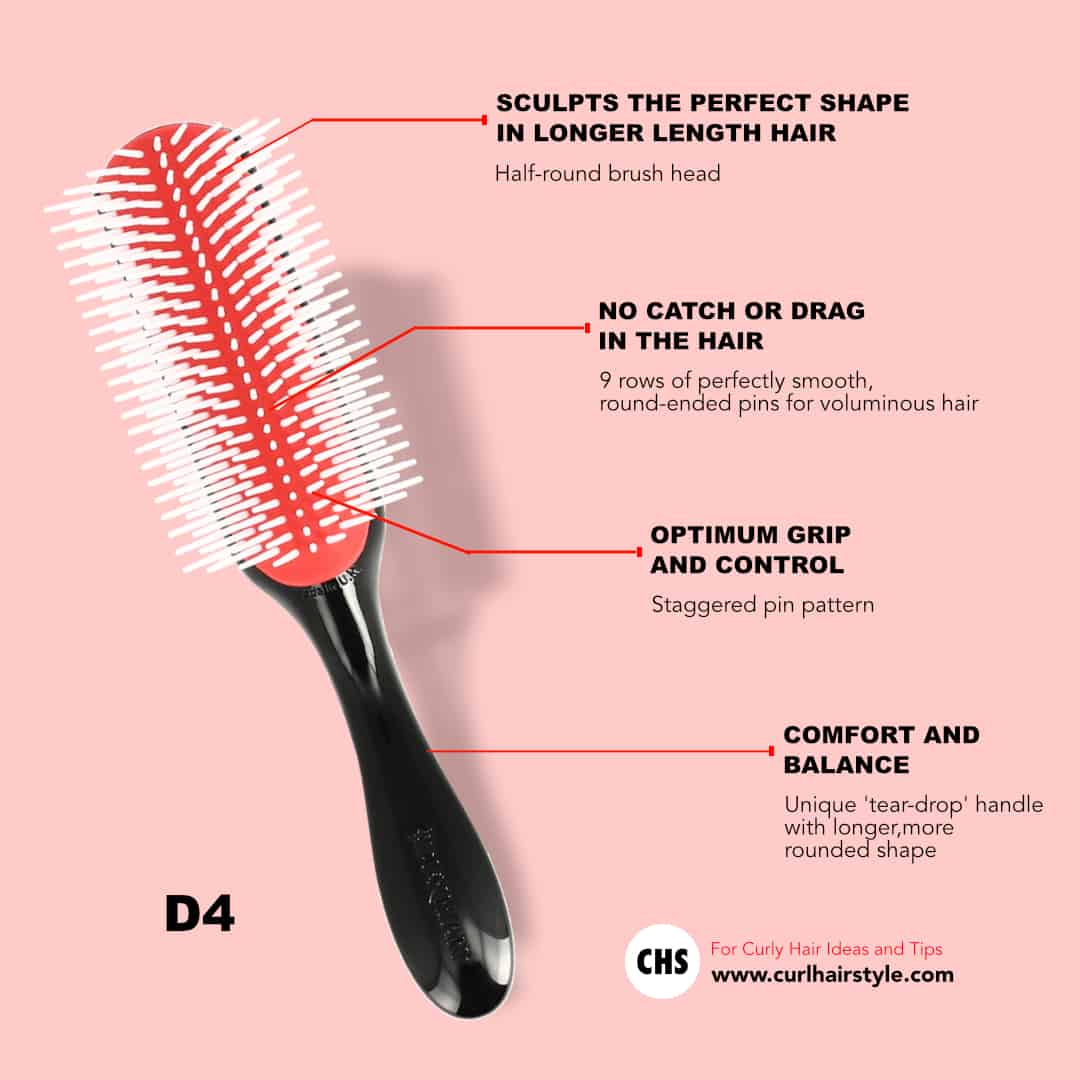 Choosing the right Denman brush is quite tricky because when we see the brushes at first all the brushes looks the same. We need to pick the right Denman brushes according to the hair texture and length.
The Denman brush for Type 2A, 2B and 2C: Wavy Hair
Denman Original Styler 7 Row – D3

This brush is for styling naturally curly hair. It has seven rows of sculpted round-ended nylon pins that give softer, denser, increased movement and defines curls in wet hair.
If you have type 2 hair or wavy hair, we highly recommend using type D3 or D4 brushes. Type 2 hair usually has a fine and thinner texture that is why we recommend this brush with finely spaced bristles. The styling edges of the half-round brush create tension when shaping the hair during blow-styling & unique pin patterns deliver extra grip & tension. It is perfect for controlled styling, detangling wet & dry hair, separating and defining wet curls, sculpting and styling hair. Plus it comes in many different colours that you can choose from. 

The Denman brush for Type 3A, 3B and 3C: Curly Hair
Denman D31 Medium Volumising Brush

This brush is perfect for voluminous or thick hair. It has 7 rows staggered sculpted round-ended nylon pins that create softer, fuller shapes and increased movement. The round-ended nylon pins separate, shape hair and define curls when hair is wet.
Curly type 3 hair tends to be more on the dryer and fragile side compared to type 2 or wavy hair. That is why for this hair type, we recommend a D31 brush for short to medium hair. It has 7 rows of bristles that are spaced far enough for the bristles to glide through smoothly while clumping your curls together. For medium to long hair D41 is a good choice. This will detangle your curls without damaging the strands. 

The Denman brush for Type 4A, 4B and 4C: Coily Hair
D41 Denman Brush

This D41 Denman brush has 9 rows of staggered sculpted round-ended nylon pins gives softer, denser, & increased movement in the hair. The unique styling edges of the half-round brush create perfect hold when shaping the hair & detangling the strands.
Curly type 4 is the most fragile but definitely the envy-worthy of all! You gotta give much love and care to type 4 hair because of its fragile state. That is why we highly recommend D31 which helps you to detangle your curls. This Denman hair tool helps in lifting your hair from the scalp and adding volume to your curls. 

Tips For Using Denman Brush For curly hair
How to use a denman brush?
To use a Denman brush, start by detangling your hair with a wide-toothed comb to avoid pulling and breaking your hair. Then, section your hair into manageable parts and start brushing from the ends of your hair toward the roots. Use gentle strokes to avoid damaging your hair, and repeat the process until all sections of your hair are smooth and tangle-free. A Denman brush is also helpful in creating volume and definition for curls. To achieve this, take a small section of hair and brush it in an upward motion towards the root of your hair, then continue doing this throughout your entire head until your desired volume is achieved. With these simple steps, anyone can easily use a Denman brush to achieve various hairstyles!

Brush your hair while it is still wet
Use a Denman brush while your hair is wet to achieve your most defined curls. When your hair is wet and saturated with curl-defining products, the Denman brush will glide through easily on your curls. Thus creating the perfect amount of clumping. 
Brush face up
To get the best curl definition using a Denman brush, brush your hair from roots to tips with the bristles facing up. This way, the hair strands touch the round cushion reducing frizz.
Take your time
When brushing your hair, separate them into small sections. Slowly brush each section and do not hurry. Do not thug your hair when you encounter stubborn tangles. Slowly glide your way through the tangle. 
Pluck out the excess
Remember that if your brush does not glide through smoothly on your curls, you better switch to a Denman brush with fewer rows and more spacing. But if you are tight on budget, you don't need to waste the Denman brush that you have. You can just pluck out the nylon bristles to your preferred spacing. 
Overall
The Denman brush is a popular type of hairbrush used for detangling and styling hair. It comes in different types designed for various hair types and styles. The classic Denman brush is great for detangling wet or dry hair and creating smooth, sleek styles. The Denman D3 and D4 brushes are designed for medium to long hair, with the D4 being ideal for long, thick hair. The Denman D31 brush is perfect for those with curly hair, as it detangles and defines curls. With a range of types and sizes available, the Denman brush is a versatile and effective tool for styling and detangling hair.